This super colorful Funfetti Rainbow Dip is perfect for all your St. Patrick's Day or rainbow-themed celebrations!
When holidays roll around, I like to celebrate with food. I mean, who doesn't like food? My choices aren't always the healthiest, but they are pretty darn tasty. And since we eat with our eyes first, I like to make sure it looks appetizing, too.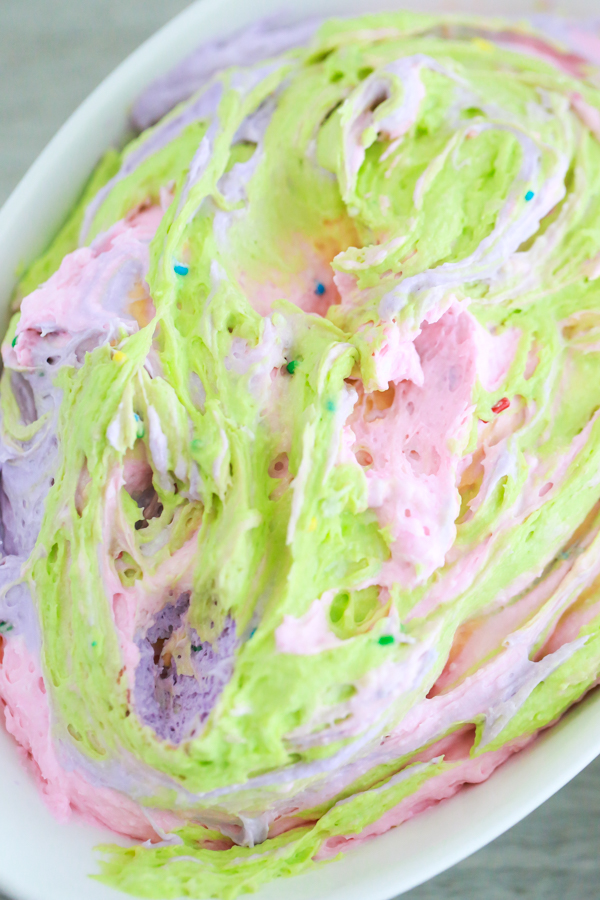 This Funfetti Rainbow Dip fits all that, y'all!
Like most of my recipes, this colorful dip recipe is so easy to make!

Pillsbury Funfetti Cake MixGet it now!
Pure Vanilla ExtractGet it now!
Food Color Neon GelGet it now!
Stauffer Animal CrackersGet it now!
You don't need any fancy equipment to make this Funfetti Rainbow Dip. You will however need 6 bowls. I know it seems a little bit excessive, but you'll need to mix all the different colors in separate bowls. The end result is worth it y'all.
How to Make Funfetti Rainbow Dip
Scroll down for a free printable recipe card.
Gather all your ingredients and tools you'll need to make the dip.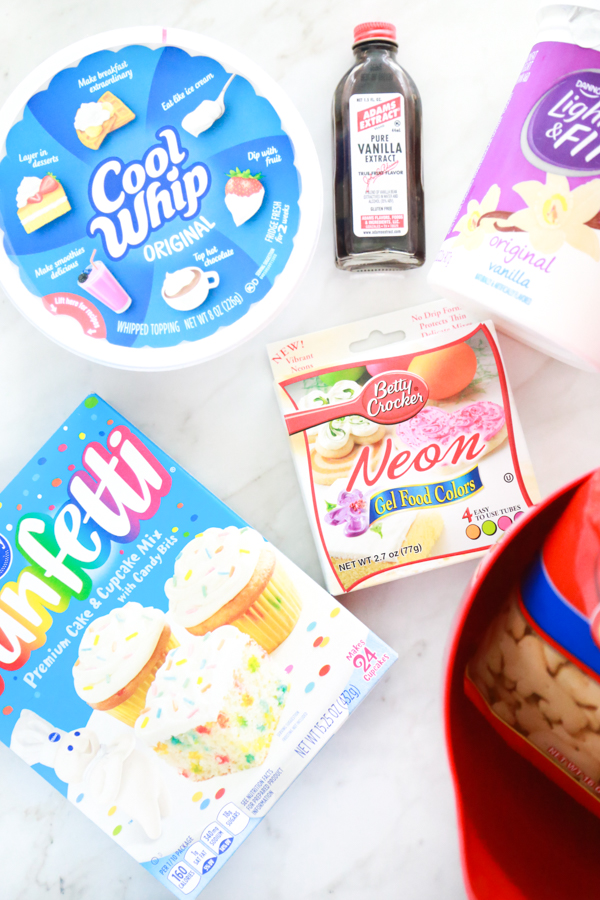 In a large bowl, mix together the first four ingredients in the recipe until smooth. You don't want any clumps in the mixture. Divide the mixture evenly between four bowls and color with gel food coloring.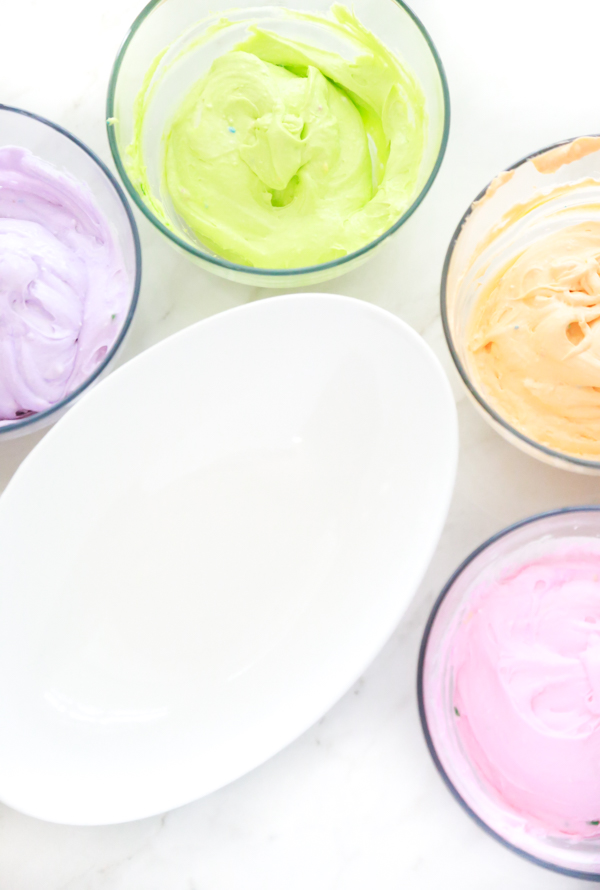 With a large spoon scoop the colored dip into the larger bowl, switching between colors.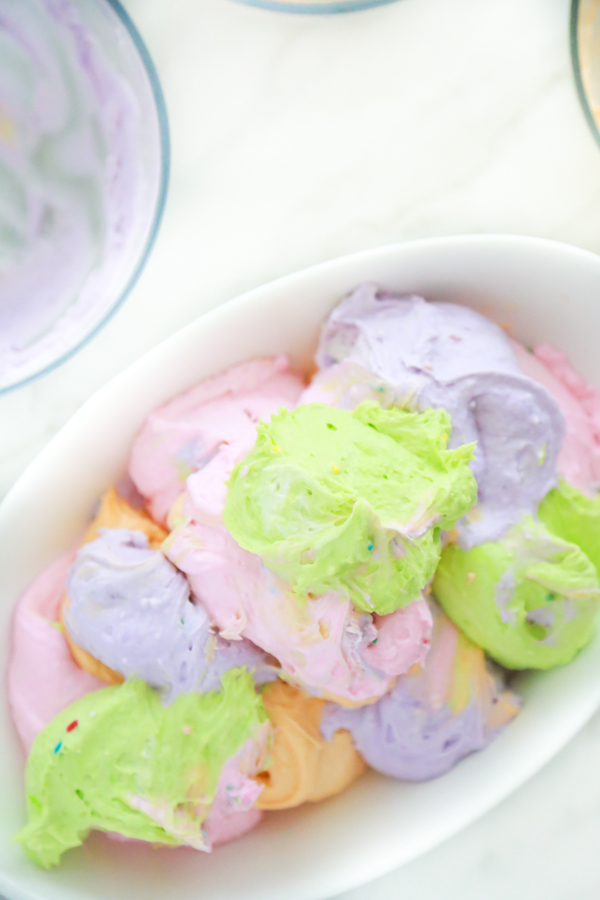 Mix the colors together slightly. Make sure you don't over mix so that you can see all the different colors in the dip. If you mix to much the colors will blend together and won't be very pretty.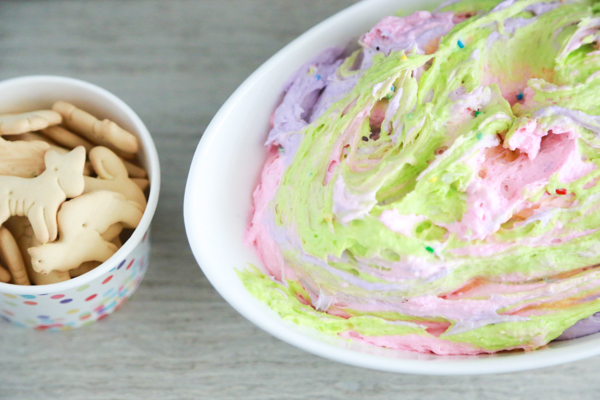 I absolutely love how colorful this dip is! It's absolutely perfect for rainbow-themed celebrations as well as St. Patrick's Day. But really, you can serve it whenever!
Funfetti Rainbow Dip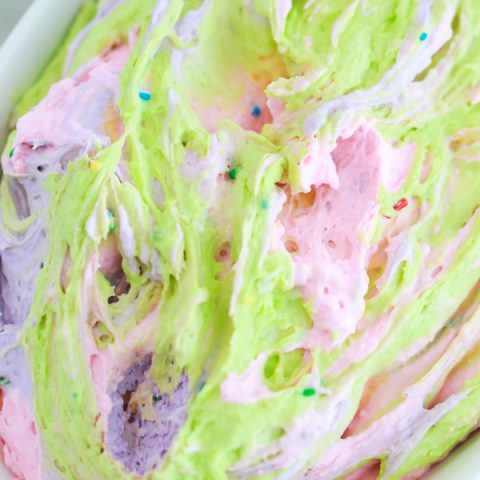 Funfetti Rainbow Dip
Ingredients
1 box Funfetti Cake Mix
1 (8 oz) tub Cool Whip
1.5 cups vanilla yogurt
1 teaspoon vanilla
neon gel food coloring
Other Items Needed:
Instructions
In a large bowl, stir cake mix, cool whip, vanilla yogurt, and vanilla until smooth.
Divide the mixture into four equal parts and place in separate bowls. Add a single food coloring to each bowl until you reach the color you desire.
With a large spoon, add the four separate colors into one bowl and swirl the colors together. Make sure not to over mix so that you can see all the separate colors in the dip.
Serve with animal crackers.
Notes
We recommend using gel food coloring.
Don't forget to pin this recipe to your favorite Pinterest boards to find it again easily. If you're not following me already, make sure you do so that you can see all the yummy pins I'm saving.

Need more St. Patrick's Day or Rainbow inspiration? I've got you covered: