If you're looking for a fun and easy way to keep the kids entertained, this easy to make Marshmallow Play Dough doesn't disappoint.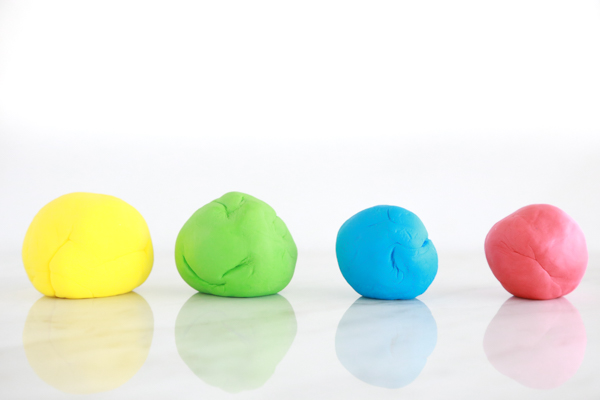 Keeping the kids entertained during the summer, school holidays, or rainy days can sometimes be a bit difficult. But now you can keep those little hands busy with this super fun kids craft.
Making Marshmallow Play Dough
I love that we can make Marshmallow Play Dough on the cheap. With just 4 simple ingredients you can make a super fun, taste-safe play dough that the kids can help make.
Since this does require the use of a microwave and hot ingredients, I highly recommend that parents assist their children when making Marshmallow Play Dough.
Because Marshmallow Play Dough is made with edible ingredients, it is taste-safe. However, I don't recommend it as a snack (LOL!). If your children are curious, it is safe for them to taste. But I don't think they'll eat very much – it doesn't taste all that great.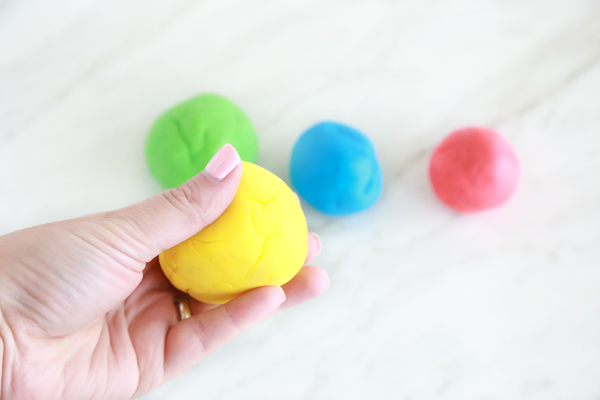 Marshmallow Play Dough Recipe
Ingredients
(please note: these quantities are per color of play dough)
6 jumbo marshmallows
3 tbsp of corn starch, + extra for kneading
2 tsp coconut oil (most other oils will work as well)
Marshmallows
Pure Corn Starch
Coconut Oil
Gel Food Colors
Instructions
Combine all of the ingredients into a microwave-safe bowl and heat for about 20 seconds or until the marshmallows expand.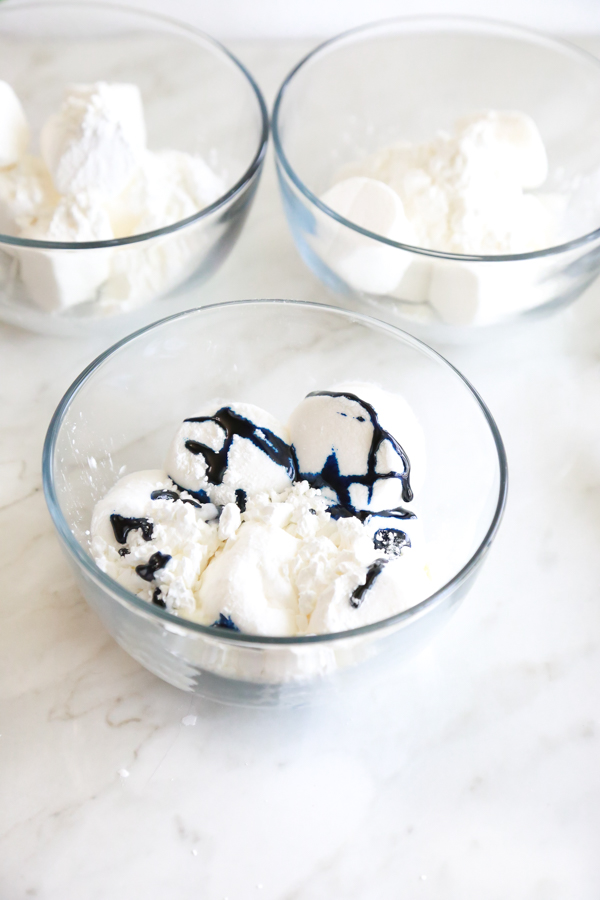 Carefully remove the bowl from the microwave and mix the ingredients with a spoon. The mixture will get really sticky; just keep stirring. If needed, you can add a bit more corn starch at this point. Then, once the ingredients are cool enough to touch, remove mixture from bowl and knead with your hands.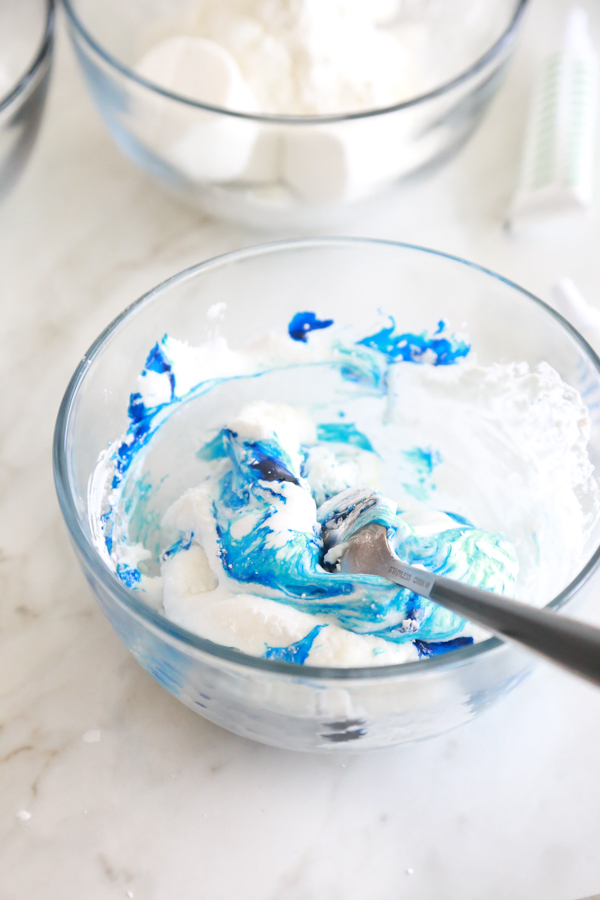 Add more corn starch as needed while kneading. Keep adding corn starch in small quantities until the dough is not sticky and has reached the desired consistency. Be careful when adding corn starch that you don't add too much and you knead well between each addition. If you add too much corn starch the mixture will become crumbly.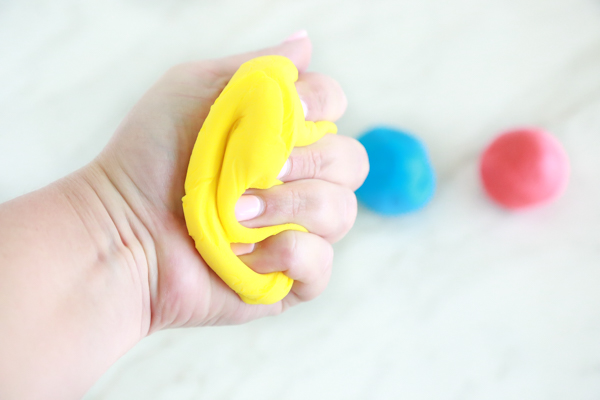 Once the Marshmallow Play Dough has reached the point where it's not sticky, wash your hands. Then begin kneading again with clean hands. After you've handled it for a bit you'll notice that it's super soft and playable. Repeat for each color.
I love the way that Marshmallow Play Dough smells! It actually smells good, unlike some of the other play doughs we have made and/or bought.
You could throw in some play dough tools for a little added fun. If you don't have any of those, regular kitchen utensils will work too. Cookie cutters are also a great idea for playing with Marshmallow Play Dough.
Don't forget to pin this Marshmallow Play Dough recipe to your favorite Pinterest board so that you don't lose it. It makes a great activity for you to do with your children.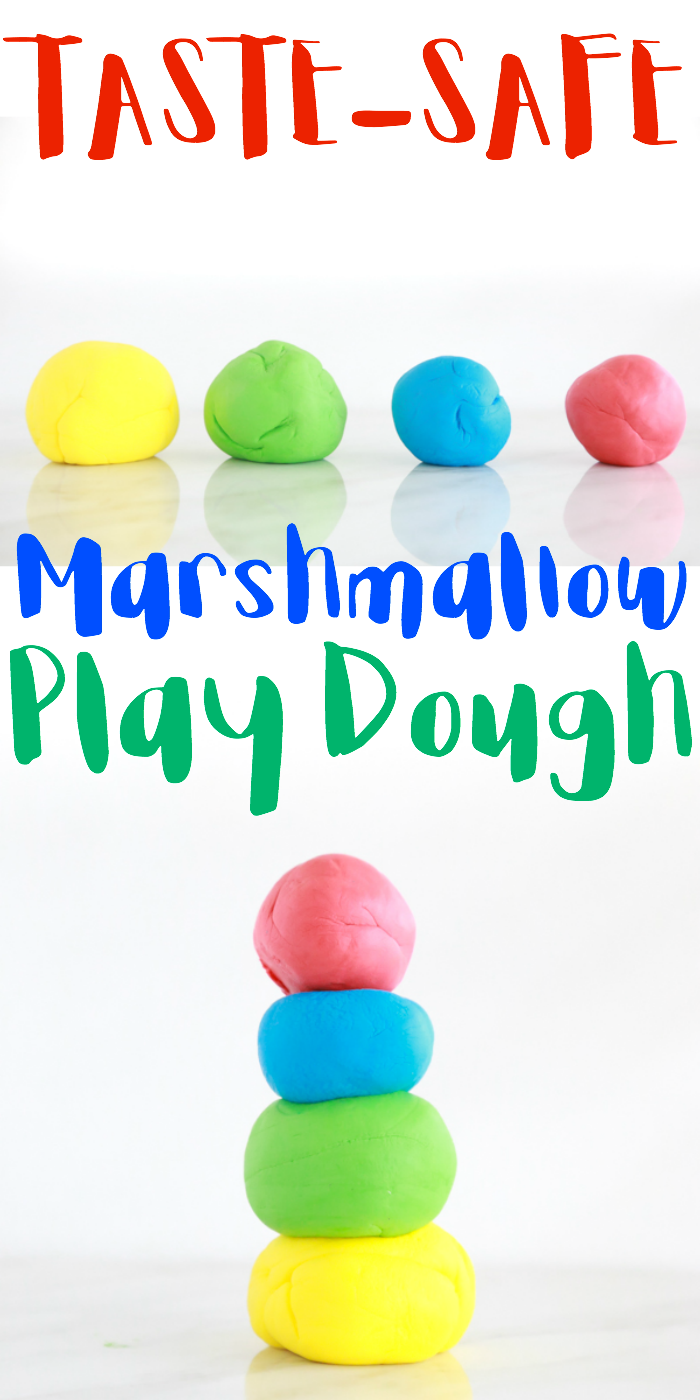 Needs more ways to keep the kids entertained? Check out these great ideas.