Letter boards are a lot of fun to use, but organizing all those letters is a completely different story. I wanted to share one way I've learned how to organize letter board letters.
Letter boards are all the rage these days and rightly so. They're so much fun to have around the house. I've used mine for a baby shower, a graduation party, and just when I have a silly saying or quote on my mind.
Organizing Letter Board Letters
But the downside to this new trend is finding out how to organize all those letters. When you buy them they usually come in a throw away package so storing them in what you bought them in really isn't an option. And once you start taking the letters off the plastic piece they come on, sorting through letters to find the ones you need really isn't any fun.
But before I tell you how to organize letter board letters, look at all these cute letter choices. Right now I only have a set of white letters and a set of black letters, but look at how cute all these colorful letters are – I need them all, y'all!
Colorful LettersBuy Now!
Turquoise LettersBuy Now!
Pastel LettersBuy Now!
But organization for your letter board letters, that's why you came…
How to Make a Letter Board Organizer
Supplies for Organizing Letter Board Letters
You can make this letter organizer for your letter board on the cheap. I think once all was said and done I spent less than $10 on the letter board organizer.
Tip: If you have larger sets of words to organize, make sure you buy an organizer that is adjustable, meaning you can move the dividers around. If you're just dealing with letters and numbers you'll be fine with a non-adjustable version.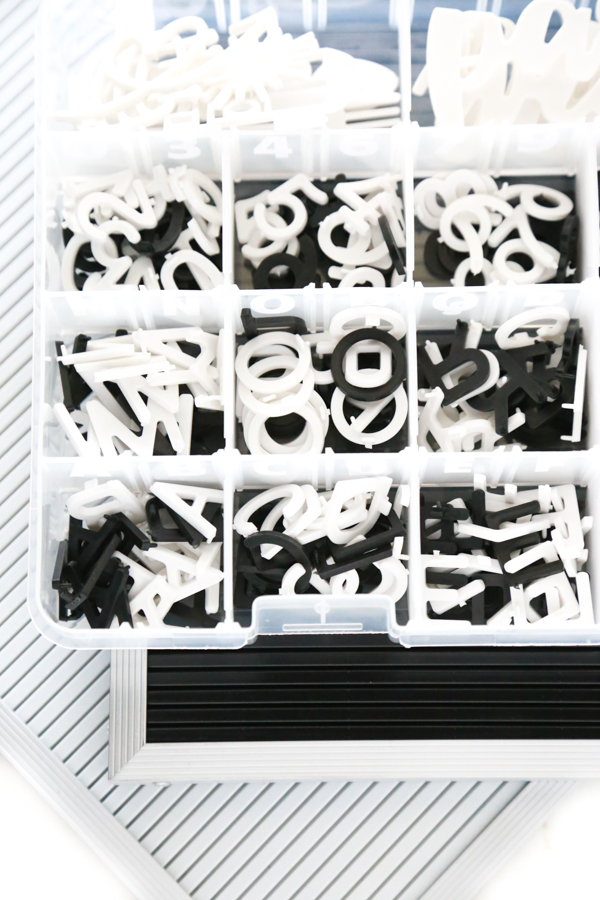 How to Organize Letter Board Letters
Remove all the letters from the plastic pieces they come on. The easiest way I found to do this was either with a pair of sharp scissors or with wire cutters. It will save your fingers, I promise.
Then sort them out in alphabetical order. This will probably take the longest. But once you're done, you'll be forever grateful to not have to dig through a pile of letters again.
Now, if you want, before putting the letters into the organizer, put alphabet stickers into each section of the organizer. I didn't have any stickers on hand and I didn't want to get out, so I just made some using my Silhouette cutter.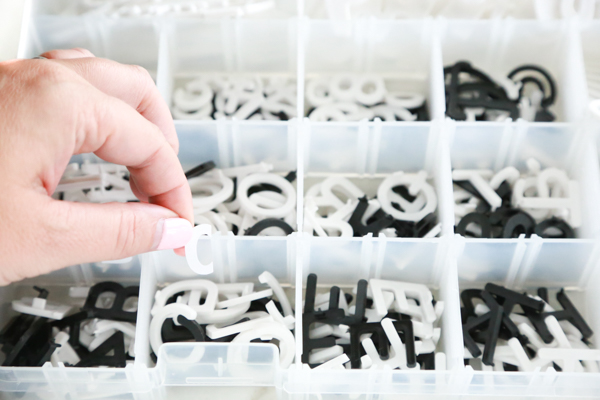 I absolutely love the way this organizer for my letter board letters turned out. It's not necessarily the prettiest of organization methods, but it was affordable and it works.
And because I'm going to need many more organizers for letter board letters (hello pretty colors), I love that these are easily stackable or can be stood up side by side in a cabinet or underneath a counter.
If you're in need of some organization for your letter board supplies, don't forget to pin this post to your favorite DIY Pinterest board just in case you need a refresher.

Love to put your DIY skills to work? Then you'll probably love these other projects: