If you're looking for some extreme, family-friendly fun, check out VIP Express at Fiesta Texas. With front of the line access, you'll be able to enjoy all the rides the park has to offer in just one day.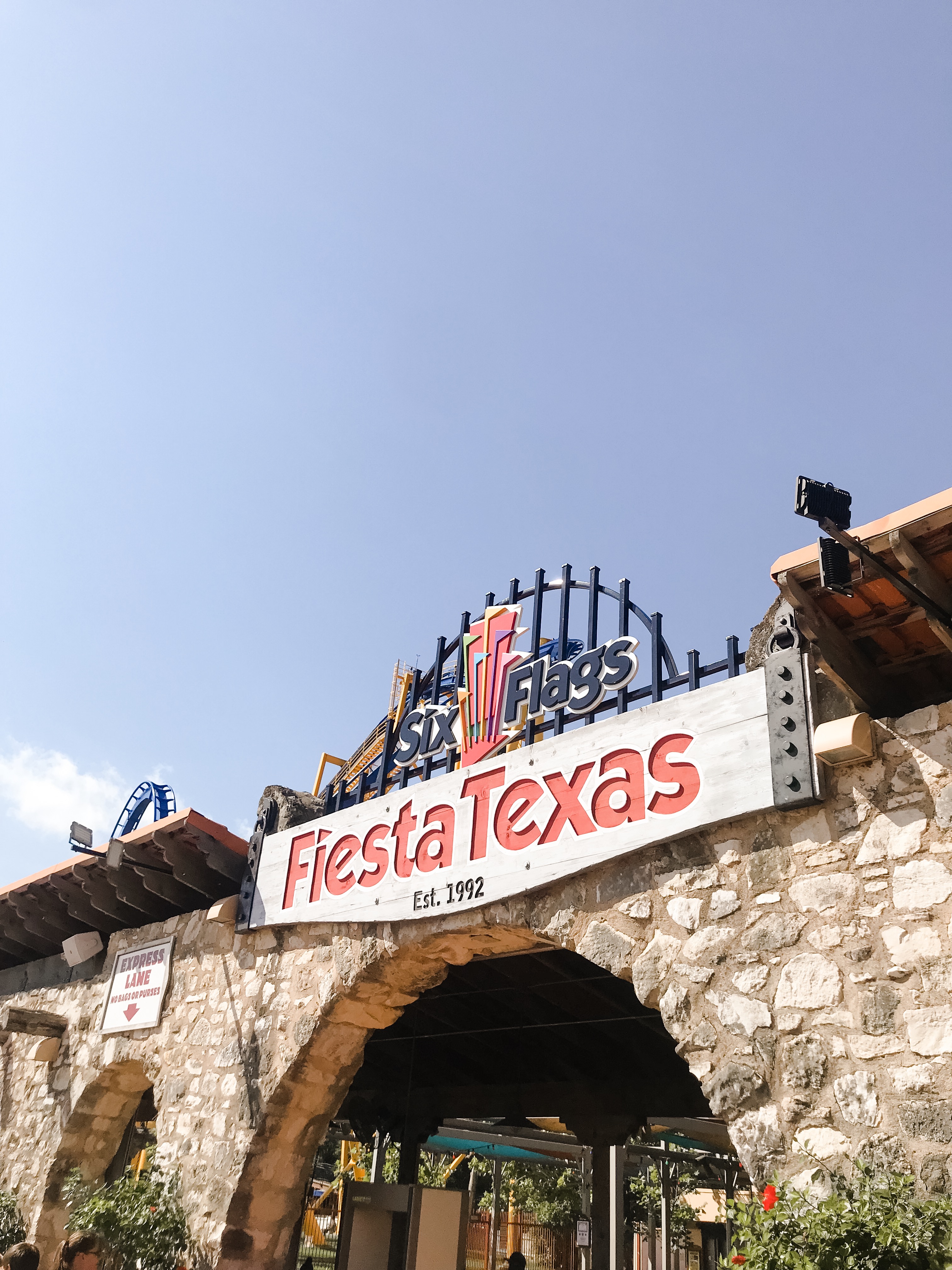 My family and I went to Fiesta Texas in San Antonio this past June and we had such a great time. Since we went for my daughter's 16th birthday (it's what she wanted), we decided to purchase VIP Express at Fiesta Texas. It totally made her birthday so much more special since she did get the BEST VIP treatment.
VIP Express Fiesta Texas
I love that theme parks are offering these types of premier tickets for people who are willing to shell out a few extra bucks. Since I absolutely hate waiting in lines, I will happily pay an added fee to enjoy reduced wait times in line.
But with VIP Express at Fiesta Texas, you get so much more than just reduced wait times in line. You get front of the line privileges for every single ride at Fiesta Texas. That means there is no waiting in line, y'all.
In addition to front of the line privileges, VIP Express also gets you preferred parking (regular parking is normally $27 per vehicle), two meal vouchers, and a souvenir bottle with unlimited refills for the day of your visit.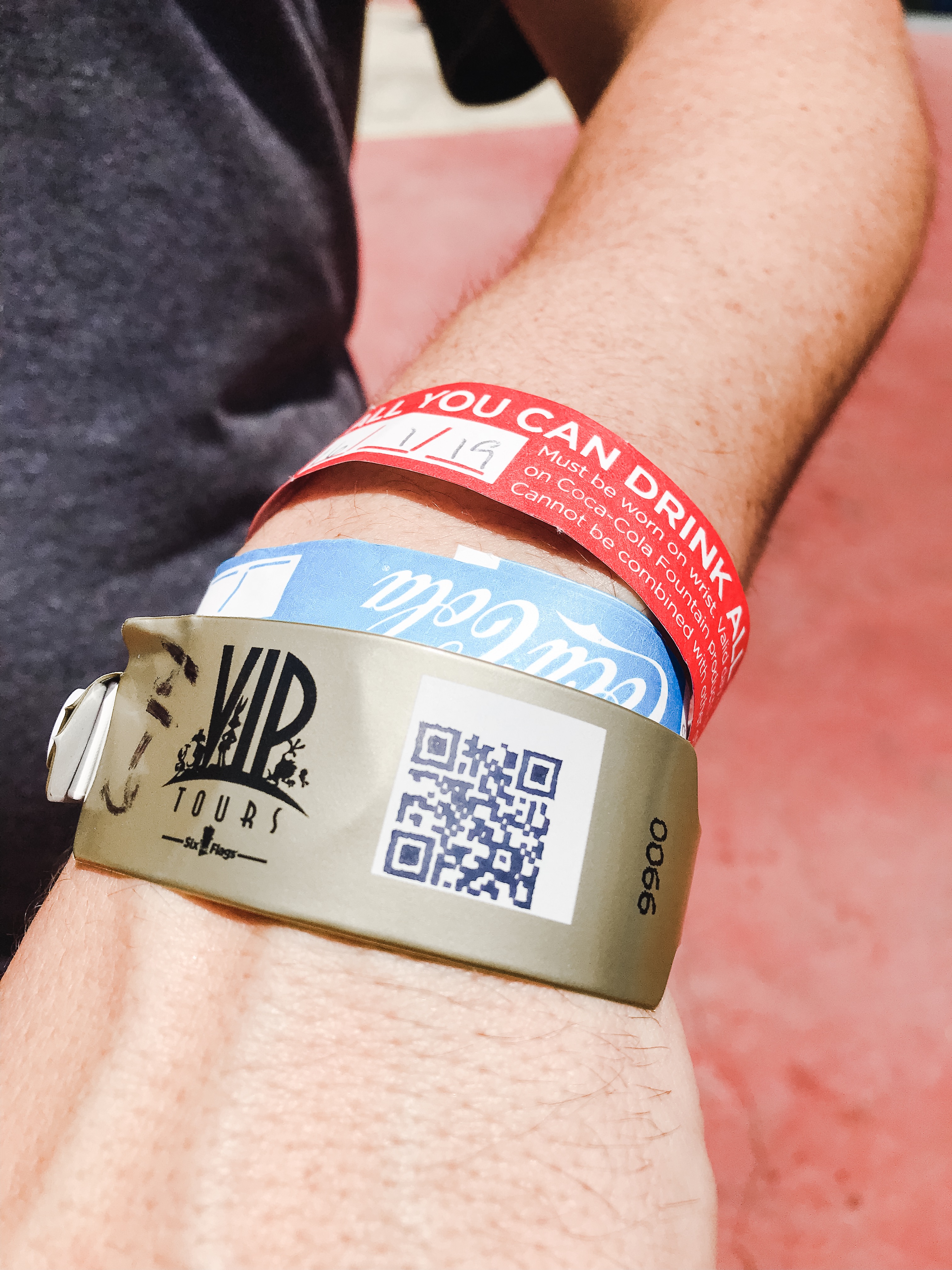 When you purchase VIP Express, upon arriving at the park you'll need to visit guest services to pick up your gold VIP wristband. The wristband lets park employees know you're a VIP for the day and it holds your two meals and snack vouchers.
How Much Does VIP Express Cost?
At the time of this publication, VIP Express Fiesta Texas costs $199.99 per person. You may look at that price and think that it's a bit outrageous. But when you think about everything you get for that price, it's actually a really great deal, I think.
General admission to the park if you purchase at the park entrance is $84.99. If you purchase your ticket online at least 24 hours in advance, general admission is $54.99. Even if you're not doing VIP, just by purchasing your ticket online in advance saves you $30 per ticket.
Preferred parking is also included with VIP Express Fiesta Texas. I couldn't find a price for preferred parking, but the price for regular parking is $27 per vehicle.
In addition, VIP Express includes two meal vouchers and a snack item. When you add in the two meal vouchers, the value there can be upwards of $15+ per meal. When we were there, we were told that the VIP vouchers would get you any menu item. However, we weren't told this until we ordered one of the "meal plan" items. I would guesstimate that the meal vouchers and snack could equal at least $35+.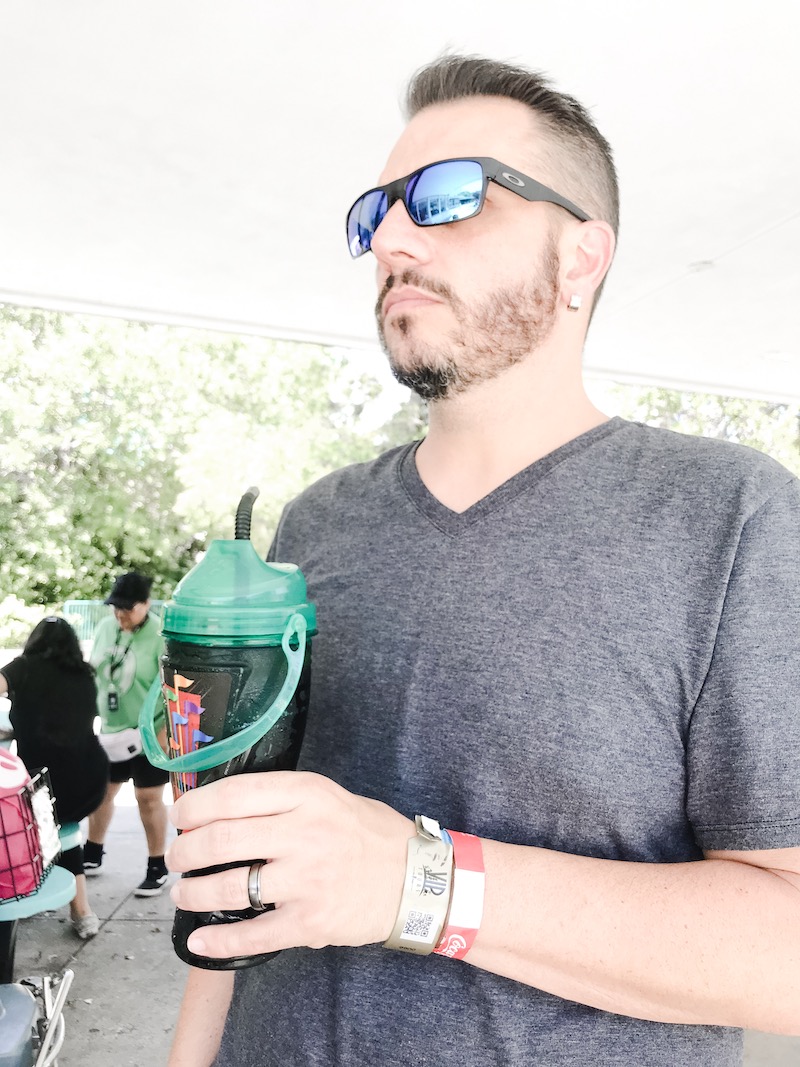 Upon arrival, your gold VIP wristband will also get you a souvenir bottle with unlimited refills for the day. You will receive a wristband with the souvenir bottle that shows park employees you're entitled to unlimited refills throughout the day. I don't remember the exact cost of the souvenir bottle with unlimited refills, but I think it was about $20.
How Does VIP Express Work?
No one really explained to us how VIP worked when we picked up our wristbands, so we spent the better part of the day not using the wristband correctly. I don't want you to do what we did, so I'm going to explain how VIP Express Fiesta Texas works.
Front of the line privileges is just that – FRONT OF THE LINE! You do not use the general line to board rides. In fact, you go to the ride using the exits. If you use the Flash Pass lines, you'll still probably have to wait in a line with the rest of the Flash Pass holders. Since VIP has front of the line access, skip all that and just go to the exit and tell a ride operator that you're VIP. Show them your wristband and you'll be able to board the ride choosing whatever seat you want.
That's what makes VIP Express so much better than using the Flash Pass. You get front of the line privileges plus you get to choose your seat. When using the Flash Pass, on most rides you can't choose the front row.

We were at the park from opening to closing and we rode every single ride multiple times, including water park rides. You can use your VIP Express wristband on almost every ride at the water park, too! I'm telling you, VIP Express is worth it! Especially if you only have one day to spend at the park and want to experience everything.
While we were there, we didn't see anyone else that was VIP which was a bit surprising. I just can't imagine spending my day waiting in lines. VIP Express is the way to go.
There's more to see and do in San Antonio! Check out these posts for more fun ideas:
Don't forget to pin this post to your favorite travel board!