Do your kids think summer is a free pass to play electronics all day? Get your FREE printable summer chore checklist to keep your kids on task this summer.
Pin this to Pinterest!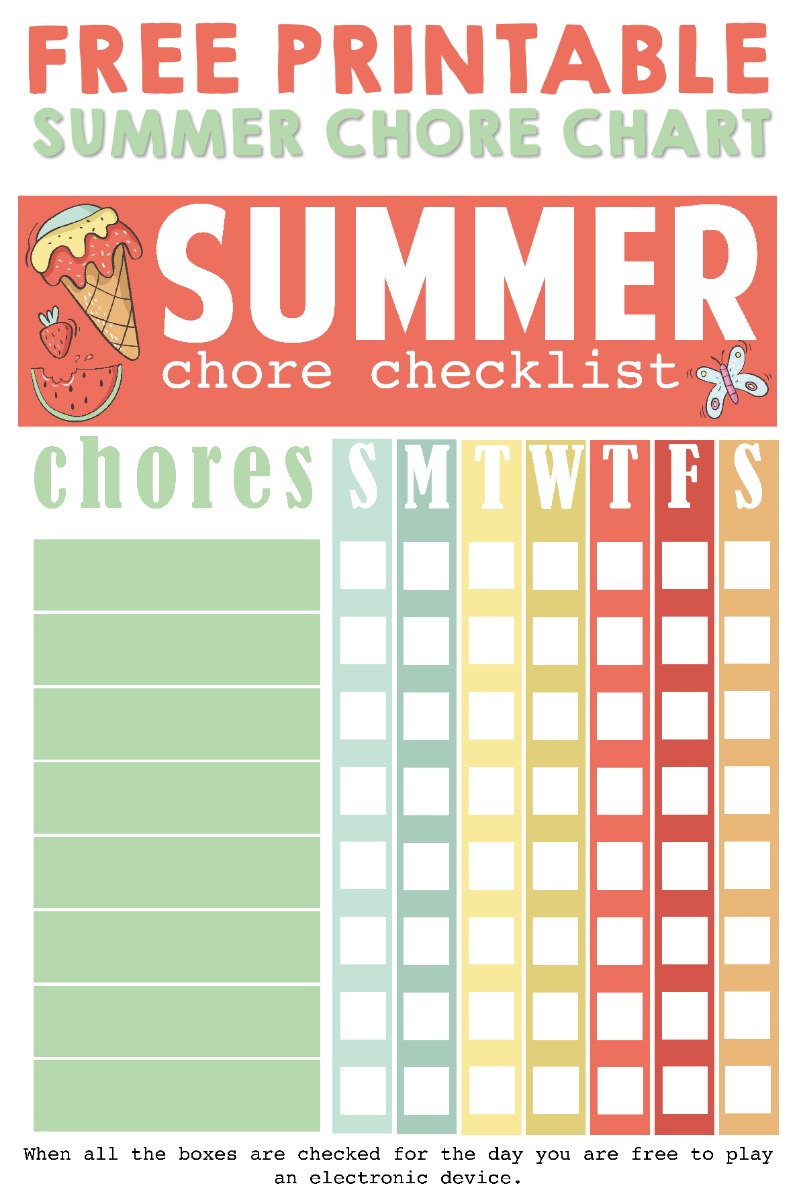 With summer in full swing I'm noticing that my kids are slacking on doing their part to help out around the house. I definitely don't mind them taking it easy during the summer, but I do mind them sitting around all day playing video games.
I created this printable summer chore checklist so that they can see a visual of what needs to be done before electronic privileges are earned.
Free Printable Chore Chart
I'm a parent of three and know that every child is incredibly different. I made this free chore chart in a way that would allow the parent to easily customize it to each child.
I could have easily filled in the blanks with the tasks I want my children to complete each day, but I'm guessing yours may be different. In designing this chore chart, I wanted to make it as usable as possible for every parent, no matter the age of the child.
The printable chore chart has 8 blank spaces for chores and a box to check off for each day of the week.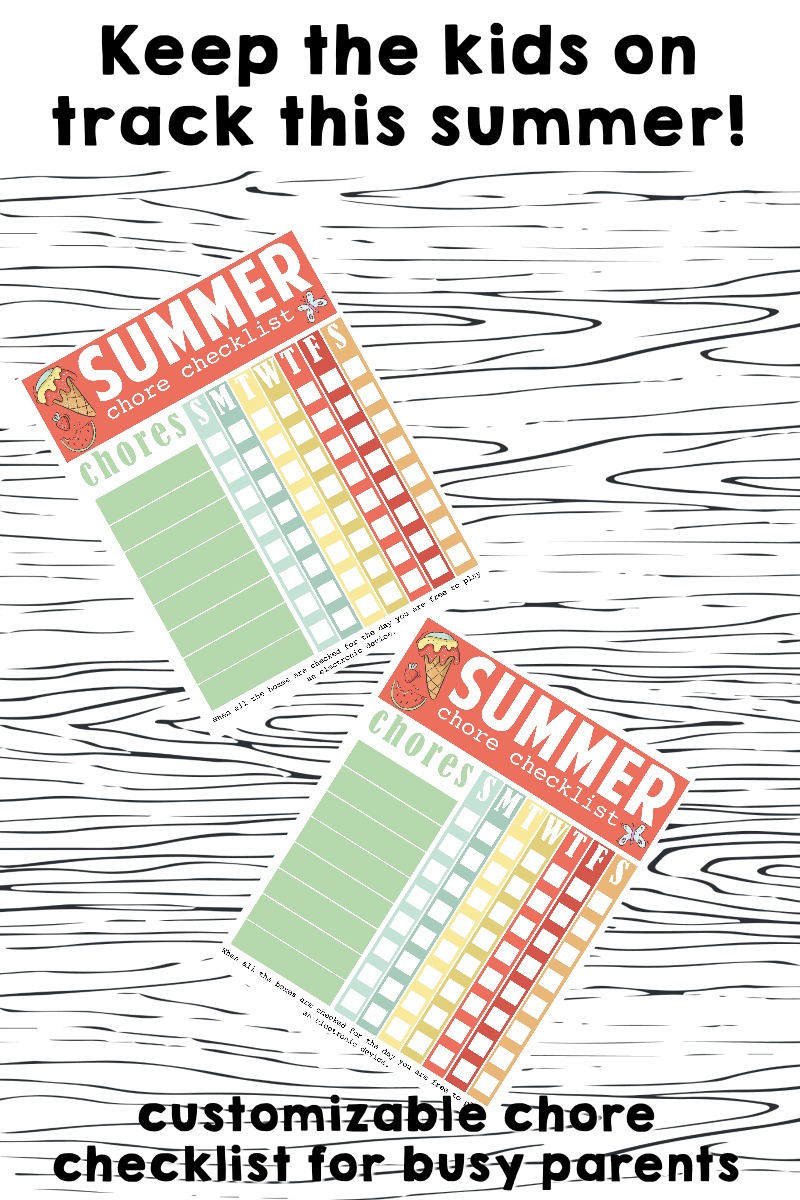 I know you're busy and this chore chart will help you in keeping the kids on task this summer and off the video games.
Summer Chore Checklist
While I adore printables and use them frequently throughout my home, I hate wasting stuff. It's easy enough to print one of these out each week, but I highly recommend printing one out for each of your children, and then laminating it before using it.
I'm a big fan of laminating things that I can use time after time. I use my laminator so much in our homeschool room, but it has also come in handy around the house. This is the one I have and I love it. It's not super expensive but it works like it is.
I love this way of using the summer chore checklist because I'm not wasting paper and color ink for the printer – that stuff is expensive.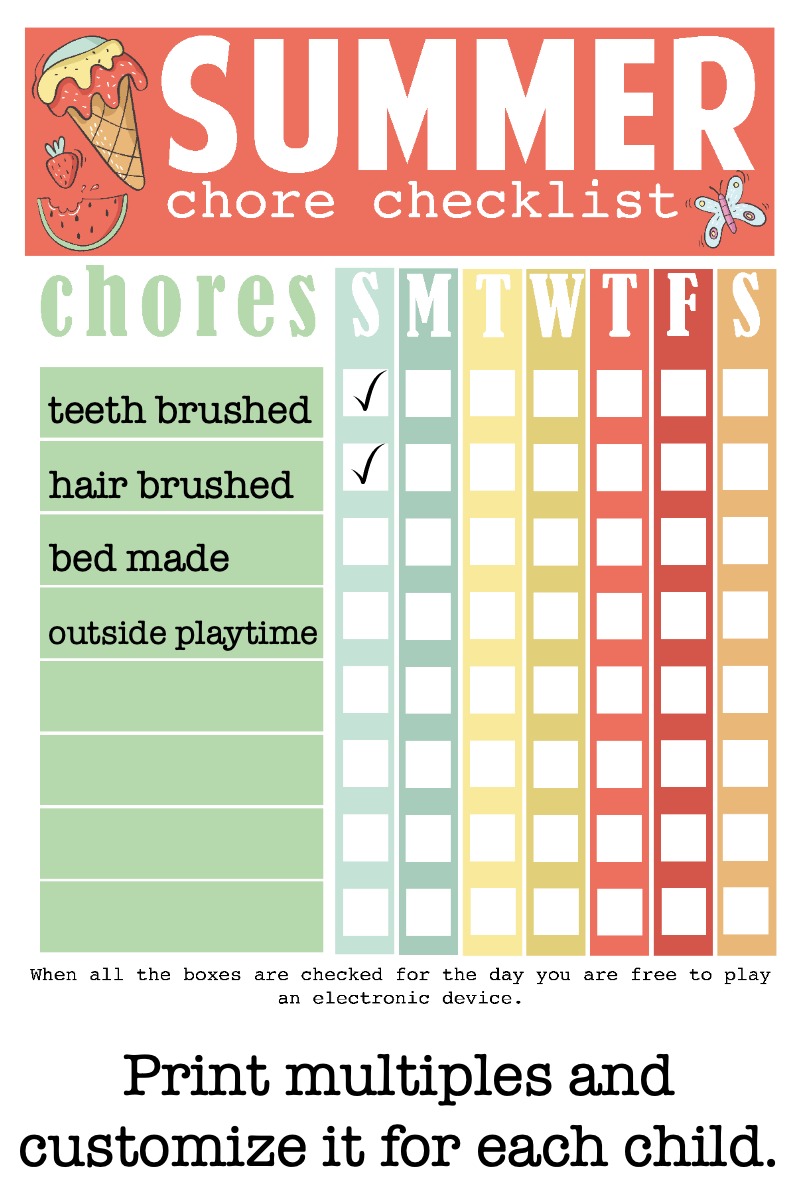 If you decide to go the route I did and laminate it, it's super easy to reuse the chore chart week after week.
How to Use the Chore Chart
I'm pretty sure this is self-explanatory but just in case it isn't I wanted to tell you how I use it around my house.
After I printed three of the chore charts, one for each of my children, I ran them each through my laminator. After laminating each one, I used a dry-erase marker to write down the chores for each child. Then, when the child has finished each chore, they can use a dry-erase marker to check it as completed under the appropriate day.
Since I'm not above bribing, when they've successfully done and checked all the items on the chore chart, then and only then, can they use their electronic devices.
Note: I've always found bribing to be a pretty good parenting tool – LOL! Don't judge!
Chores for Children
Each of my printable chore checklists are different for each child. My children range in age from 11 – 16, so my 16 year old will not have all the same chores as my 11 year old and vice versa.
Customize each one dependent on the age and skill level of your children. While I wouldn't trust my 11 year old to wash all the clothes (hello, bleach fail), I do trust my 16 year old.
Assign chores based on their attention to detail and skill level. If I'm unsure of how well a job will be done, I keep that off the list until I have a chance to show them the right way to do it.
I'm a firm believer that children should help out around the house. Whether you're Team Allowance or Team No-Allowance, children should grow up knowing how to be an integral part of the family. I know that their future spouses will appreciate them knowing how to maintain a home.
Need more printables in your life? Check out these: