I know it has been a while since the last one month update and I wish I could say there was a good reason why I've been quite. But quite honestly, there hasn't been a surrogacy update because every time I would sit down to write, the tears would start falling, just like they are now. Because I didn't want to deal with the emotions and the deep aching from my heart, I would push it further and further down my to do list, burying it as deep as I could.
This isn't easy to write. In fact, I hate writing it. I hate not being the superstar that you all think I am. I hate not being able to say things are all peachy and happy and that I'm doing absolutely amazing and that the world has never been brighter. But it simply just isn't how things are.
I told myself I would be honest about surrogacy, that I would share everything about surrogacy, and I haven't done that. I've hidden my emotions, I've tried to sugar coat how much my heart aches, and I've come to the conclusion that this, all that I'm experiencing and feeling, is part of surrogacy. It's not wrong. I shouldn't be ashamed. This only proves that I'm human and it's absolutely normal to feel this way.
Today, precious little Zachary turns four months old. I can't believe it's been four months. Four months since I said goodbye to the baby I had been carrying and caring for just as if he was my own. Four months since I walked away from the hospital, leaving the baby I had just delivered in the loving, caring arms of his parents. Four months. Wow. It's really been four months.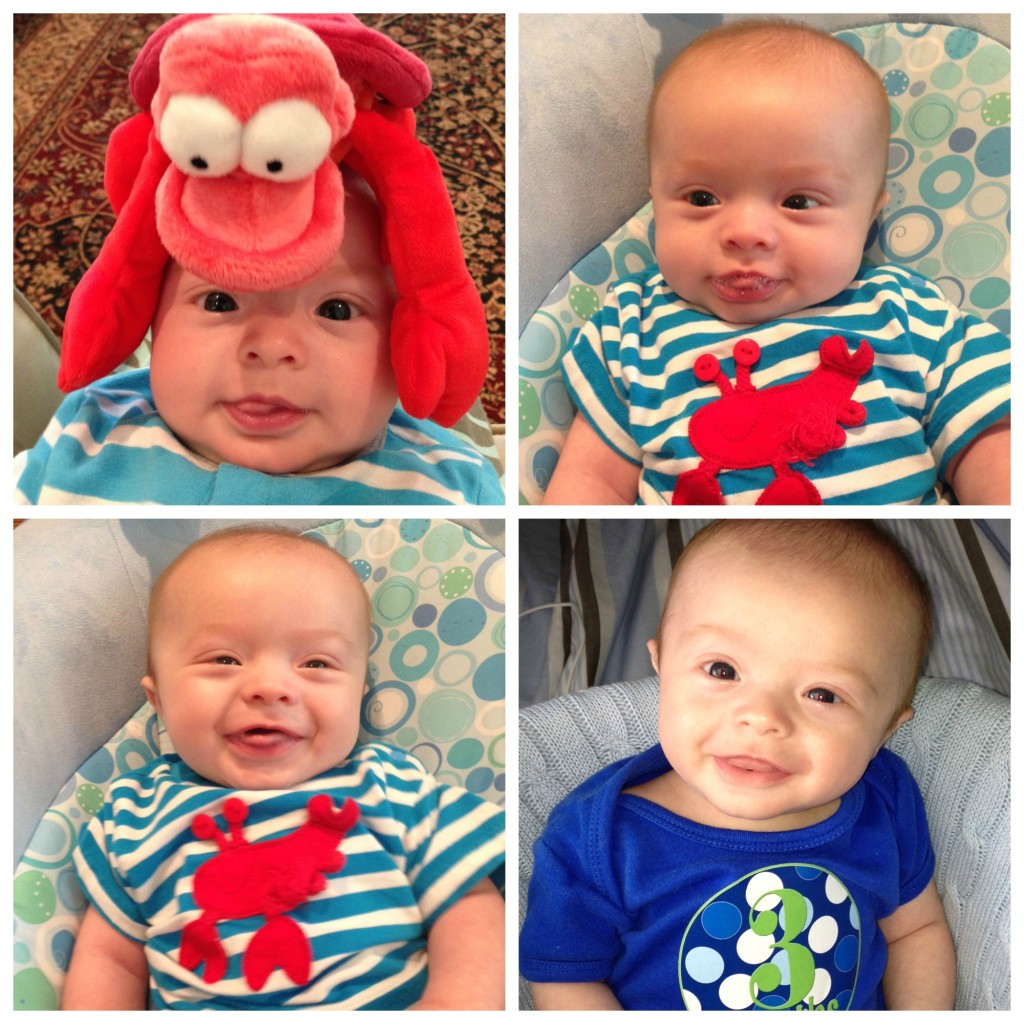 My relationship with Zachary's family is more than I could have ever asked for. They've been great about sending pictures and when I see that little boy and just how happy he is, it makes it all worth it. They sent me flowers for Mother's Day, which couldn't have come at a more perfect time. I woke up the Saturday before Mother's Day feeling down, discouraged, insignificant and then there was a knock on my front door with flowers. It's those gestures of love and gratitude that reassure me that I did the right thing.
Zachary's parents have chosen to remain anonymous and I'm going to honor their requests but I wish you could see them together. I was looking back at pictures from the hospital when they were first meeting their little boy and it was more emotional than I thought it would be. One of the few times in my life that I was proud of myself. Proud of what I accomplished. Proud of what I'd been able to give someone. Proud of the family that I helped create. There simply aren't words to describe it.
At one month it was all still so new and fresh and even now at four months it is still so new and fresh. I figured by now it would be a distant memory. One of those things you remember but really doesn't affect your day-to-day life anymore. But it's not. My brain knows what happened. It knew all along. But my heart and my body…they're not doing so well. My heart aches for the baby it thinks I'm supposed to be loving on and my body aches for the baby that it thinks I'm supposed to be caring for. Every day is a constant battle, an internal tug-of-war.
I'm just now getting to where I'm not hating myself for feeling this way. I'm just now realizing that it's normal. What wouldn't be normal was if I could just walk away, unaffected.
Surrogacy is a gift of love. It's a gift of sacrifice. And there is nothing about love or sacrifice that is easy. But I can tell you from experience that love and sacrifice can change your life. It can give hope and joy…for the giver and the receiver.
All Surrogacy Posts: