With the fall months right around the corner and Halloween knocking on the door, this Easy Pumpkin Bento Lunch is perfect for your growing kiddos.
As I've mentioned before, I'm a huge advocate for making sure my children get a lunch that meets the needs of their growing bodies. I enjoy making their lunches and I love knowing what they are putting into their bodies every day at lunch.
I know our school district is taking great strides to make sure the foods they serve are nutritious and wholesome, but for now, I'm trusting my mommy instincts and packing a lunch for my three children every day.
Bento Lunches
I've been fascinated with bento lunches for a couple of years now. The lunches I make for my children are fun, but also incredibly simple. I love gawking at all the incredible bento lunches and lunchbox ideas on Pinterest, but the truth is I'll never have the time or energy to recreate many of those. So simple and healthy it is.
More school lunches to choose from:
Because I'm making three lunches every day for my children, I have to find options that don't take up too much time. I always try to include something from each food group so that they get a well-balanced lunch.
Once I figure out what to include in their lunch, I then think about how I can make it more appealing and fun. That is where food picks, cookie cutters and a little creativity helps. I really lack in the creativity department but the kids haven't seemed to notice yet.
Easy Pumpkin Bento Lunch
This Pumpkin Bento Lunch was super simple to make and took me all of five minutes to assemble. It has a pumpkin-shaped peanut butter sandwich, cheddar cheese cubes, Annie's Halloween Bunny Grahams, baby carrot sticks with ranch dressing, yogurt with sprinkles and an applesauce pouch.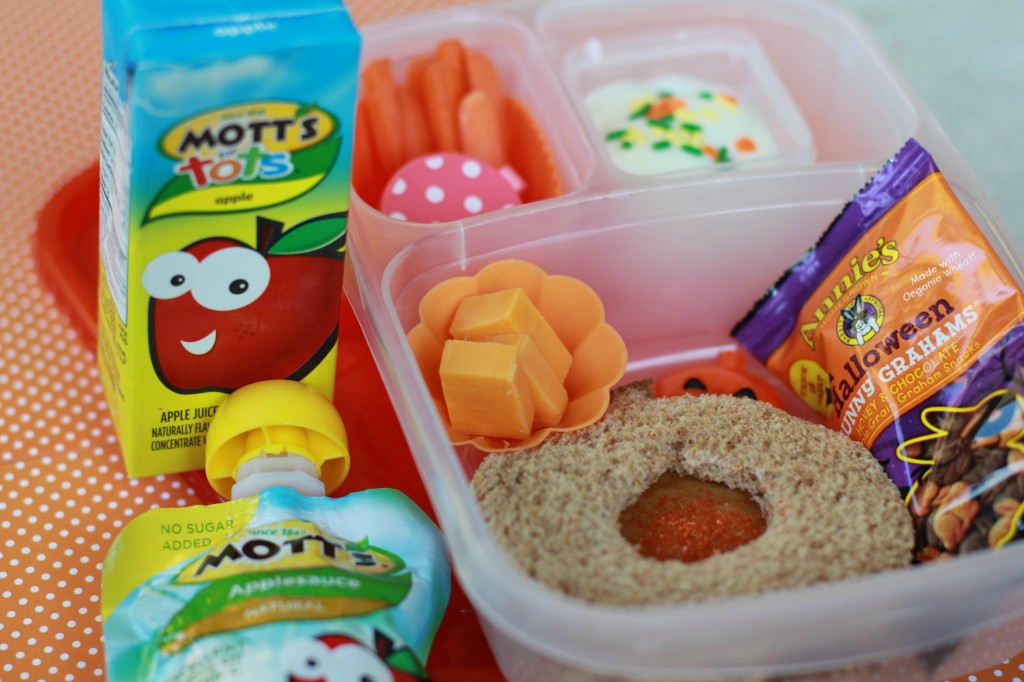 It's funny to have my children come home from school and tell me the teachers were talking about their lunch. My oldest child who is in fifth grade also told me that some of her friends are now bringing their lunches to school because they liked hers so much.
Healthy lunches don't have to take a huge time investment. With easy options I am able to provide my children with a lunch that fuels their body with the energy it needs to make it through the school day.