Y'all, November is flying by and the countdown to Thanksgiving is on. To help celebrate I wanted to share this DIY Turkey Wreath craft project that is super simple and fun! I'm always looking for crafts for children and this one is perfect for the little people.
DIY Turkey Wreath
Supplies Needed:
Styrofoam Wreath (size will depend on how big you want your turkey)
½ yard each of Orange, Red and Brown Tulle
Yellow Ribbon
Brown Ribbon
Hot Glue Gun
2 Styrofoam Balls for eyes
1 Styrofoam Disk for Beak
Googly Eyes (optional)
Orange paint
Black Paint
Directions:
Cut the Styrofoam disk into a triangle and paint orange, set aside to dry.
Paint Styrofoam balls black, set aside to dry.
Using the brown ribbon, wrap the wreath just under halfway up the wreath, securing with a drop of hot glue every few wraps.
Cover remaining wreath with the yellow ribbon, securing with hot glue every few wraps.
Cut each color of tulle into 4-5 inch long strips that are 2 inches in width.
Starting where the yellow and brown ribbon meet, using the red tulle, tie each strip of tulle with a double knot, making sure to space them equally apart.
Repeat the process with the yellow tulle and the brown tulle, placing each strip in between the red tulle.
Once the Styrofoam eyes and beak have dried, using a hot glue gun, secure them to the bottom of the wreath, add googly eyes if desired, or you can also paint on the eyes if you want.
Hang using an extra piece of tulle.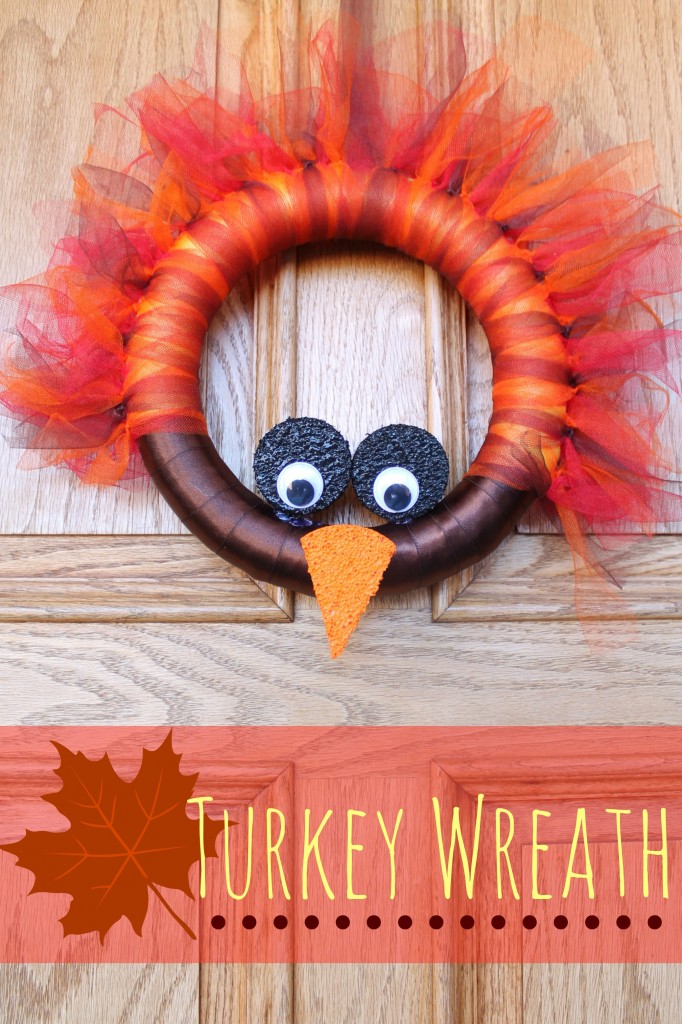 I know it's hard to not get wrapped up in the rush of the holiday season, but for the sake of your family, take a few moments to simply enjoy life. Go grab your children and sit down to do this craft together. Open up the lines of communication about what you're thankful for and give your children the opportunity to share what they are thankful for as well.
What are you thankful for this year?
Here are some more great articles for extra Thanksgiving inspiration: