It's beginning to look a lot like Christmas in my house. With all the tubs of Christmas decor down from the attic, the tree waiting to be adorned with beautiful ornaments, and the children begging to help, the Christmas spirit is beginning to fill my house.
With Christmas just around the corner, I wanted to share a fun, easy craft you can do with your children. The DIY Swirl Christmas Ornament can be personalized with the colors of your choosing; for this one we used red and white.
DIY Swirl Christmas Ornament
Supplies Needed:
At least two colors of Nail Polish
Room Temperature Water
Toothpick
Glass Ornament
Directions:
In a large bowl with room temperature water, place a drop of nail polish into the water. Then add a drop of another nail polish color on top of it. The nail polish should dissipate into the water. If the nail polish you are using does not spread, I would recommend that you try a different nail polish.
Keep adding drops of nail polish, alternating colors.
Once you have the desired amount of rings, using the toothpick, pull the nail polish into desired design.
Once you have a design, submerge your ornament into the water, while the ornament is submerged, use the toothpick to remove any remaining nail polish in the water BEFORE you remove the ornament.
Once the excess nail polish has been removed, remove the ornament and set aside to dry.
If your nail polish does not spread like the picture below, try a different brand.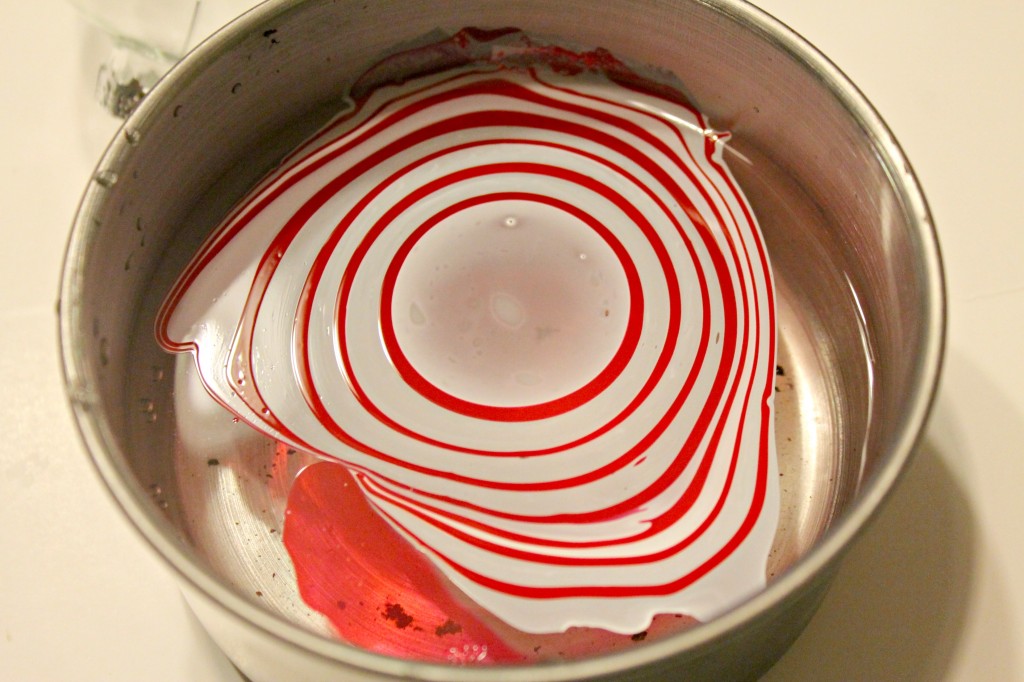 These can be used to decorate your own tree, as teacher gifts, grandparents gifts, etc. The possibilities are pretty much endless. You can also used an oil-based sharpie paint marker to write the year it was made.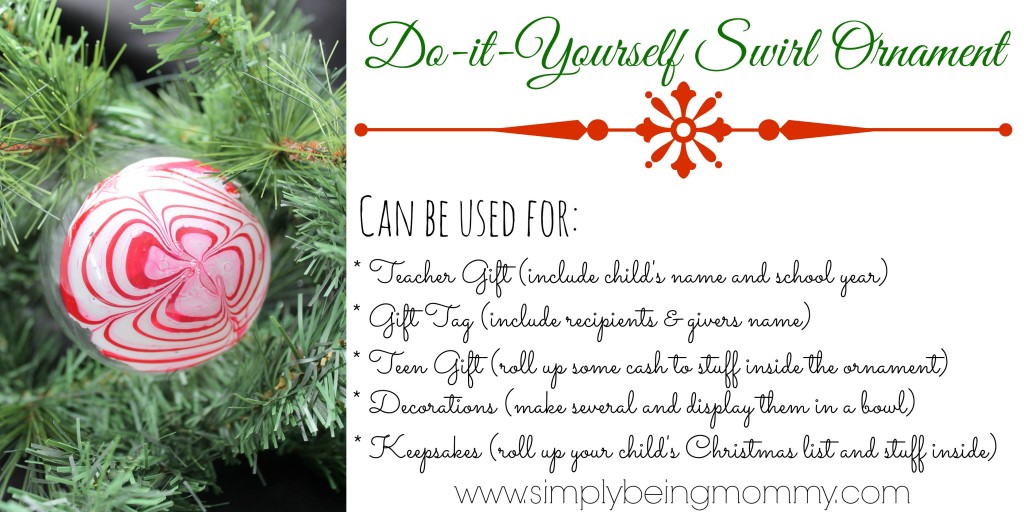 This DIY Swirl Christmas Ornament is a fun and easy Christmas craft you can do with your whole family. Get creative and see what type of designs you can make with the nail polish. I think you'll be surprised at how creative you can be!
What fun crafts are you doing this holiday season?
Need more Christmas inspiration? Here are some more great ideas for Christmas: