Still on the fence about a Disneyland vacation during the holidays? Here are 5 reasons to visit the Disneyland Resort during the holidays.
The lights are hung and the tree is decorated.  Everywhere you look, you'll see proof that Mickey Mouse loves Christmas as much as I do at the Disneyland Resort. I adore checking out how the Disneyland Resort celebrates each holiday.  We had such a blast last year, and I wanted to make sure we made visiting the resort a family tradition.
5 Reasons to Visit the Disneyland Resort During the Holidays: 
The Treats. Dessert is my weakness year round, but there's no stopping my sweet tooth when everything is offered in chocolate or peppermint.  We thought long and hard about which of the many offers from Trolley Treats would be our final choice.  If you haven't had one of the candy canes made by the resort bakers, you are missing out.  Each time I've been, there's been a line waiting for them.  But the over-sized treats are worth it.
Shopping. Did you know loving Disney is genetic?  I'm 99.9% sure it is because all of my family shares my affection.  My husband's wardrobe is a timeline of Mickey tees and for the longest time I purchased him a new set of Disney ornaments each year.  Either would bring a smile to his face on Christmas morning.  I also adore this line of princess shoe ornaments, but think they'd be a better fit for my mom or one of my sisters.
Jingle Jangle Jamboree. There are sooooo many holiday events and attractions, but our favorite remains the Western-themed Jingle Jangle Jamboree.  Listen to the strumming of Billy Hill and the Hillbillies, meet Mr. & Mrs. Claus, decorate cookies, or color a fun craft. Reindeer Pluto sat down to color for a little while, and although my daughter was unimpressed by his scribbling (she ended up coloring over it because it wasn't pretty), it made for a great photo op.
Holiday Traditions. There are traditions that we just can't skip during the holidays.  Meeting Santa Claus, listening to carols, drinking hot chocolate.  All of these can be done at the resort, and there is something truly magical about sipping hot chocolate while strolling down Main Street.  I love that the setting for my children's holiday memories are the Happiest (and the Merriest) Place on Earth.
Merriment All Around.  Each year those imagineers are hard at work creating something unique and special. You'll find something special throughout the resort.
Downtown Disney won't have you saying "Bah Humbug" either with an Olaf ice skating rink, gigantic tree, great shopping, and opportunities to make adorable reindeer at the Build-a-Bear workshop.
Disneyland is at its merriest with highlights like the holiday transformation of It's a Small World, "A Christmas Fantasy" parade, "Believe…in Holiday Magic" fireworks show, the snow-trimmed castle, and continuation of the Haunted Mansion holiday.
California Adventure features decorations with a vintage flair, a special presentation of "World of Color," and the new party ¡Viva Navidad!, which celebrates the festive and colorful Latin holiday traditions.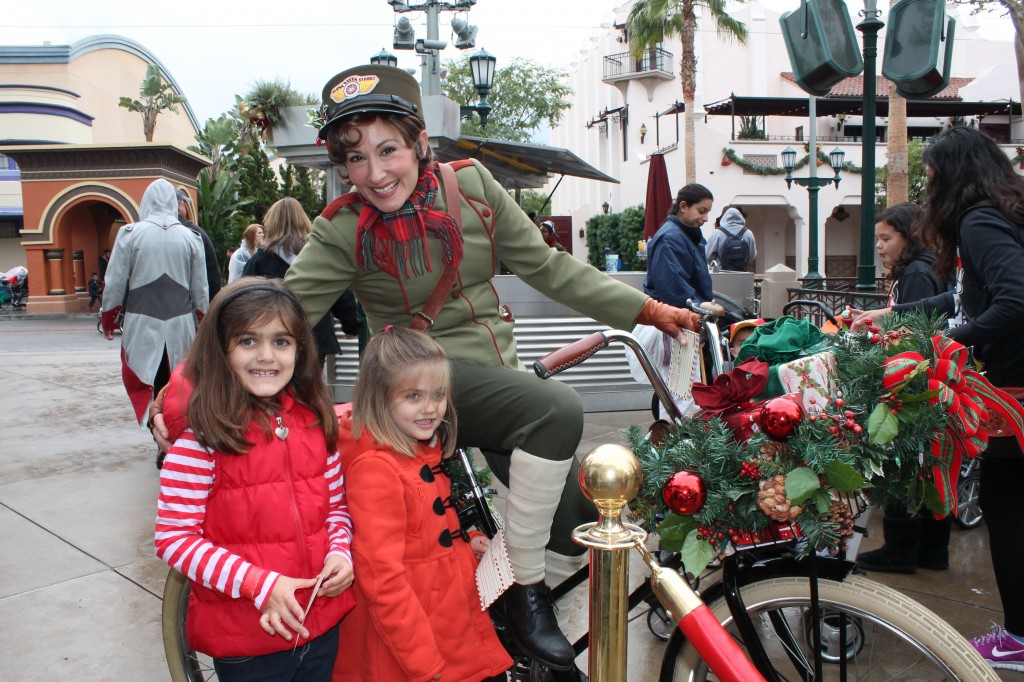 The holiday cheer at the Disneyland Resort is undeniable.  You can celebrate the holidays at the resort through January 6th.
How does the Disneyland Resort make your holidays merrier?
Need more reasons to visit the Disneyland Resort during the holidays? Read these: