If you love cheesy, garlicky goodness, you'll love these Easy Cheesy Garlic Pull Apart Biscuits!
The other day I decided I was going to make spaghetti for dinner using this delicious Chunky Italian Sausage Spaghetti Sauce. It had been months since we had eaten spaghetti and since I really didn't have much time to spend in the kitchen, it was a perfect choice. As it does most days, time somehow got away from me and by the time I realized it, the spaghetti was ready and it was time to serve dinner. But all I had to put on the table was pasta and sauce.

It certainly wasn't that big of a deal, but I wanted to serve my family more than just spaghetti. There was no salad in the refrigerator, but I did find a can of buttermilk biscuits. As I was pulling the can out of the refrigerator, I remembered a pull apart dessert recipe my mom makes using frozen biscuits. So it gave me an idea.
---
Wilton Avanti Everglide Metal-Safe Non-Stick 12 Cup Muffin Pan
Here's a tip, y'all – Before you make these Easy Cheesy Garlic Pull Apart Biscuits, you'll need a 12-cup muffin pan
to be able to make this recipe, although the recipe only makes 10. You need a quality pan with commercial weight construction so that the heat will be distributed evenly giving you a perfect cook on each and every biscuit. I like this one because of the oversized handles. I won't even comment on how many times I've dropped muffin pans or burned myself getting them out of the oven.
---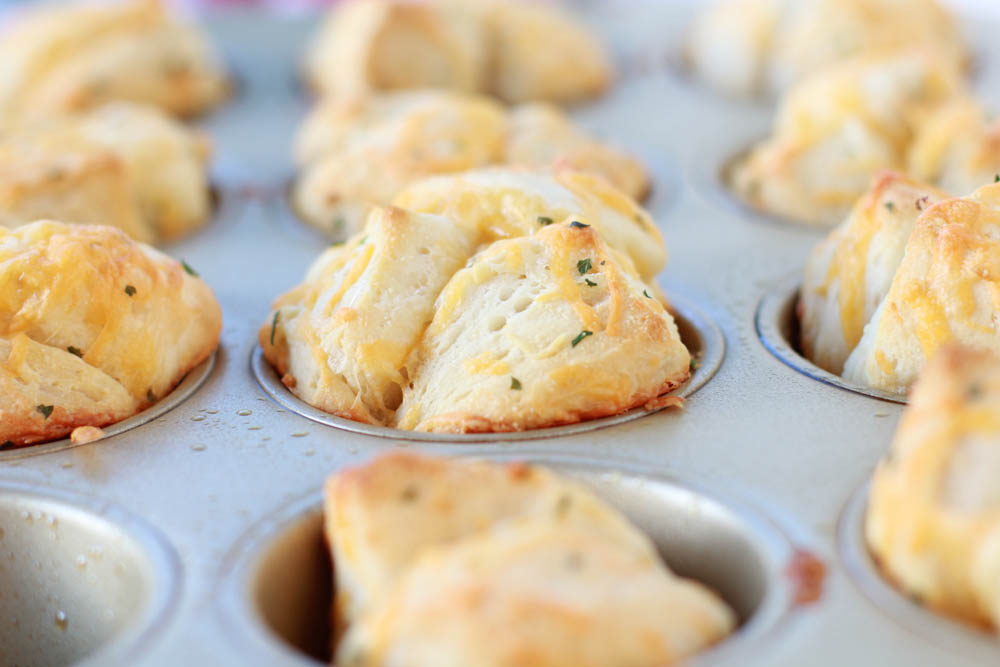 I'll take these over a plain biscuit any day, y'all! Don't those look delicious? They absolutely were and the whole family loved them.
Easy Cheesy Garlic Pull Apart Biscuits
Easy Cheesy Garlic Pull Apart Biscuits
Turn a can of buttermilk biscuits into these delicious, cheesy, garlicky pull apart bread biscuits.
Ingredients
1 can (16.3oz) Pillsbury Grands Homestyle Buttermilk Biscuits
1 cup cheddar cheese (or any cheese you have on hand)
½ tsp onion powder
½ tsp minced garlic
1-2 tablespoons olive oil
1 tablespoon dried parsely
Instructions
Preheat oven to 375 degrees. Prepare a 12-cup muffin tin by spraying with non-stick cooking spray; set aside.
Cut each biscuit into fourths and place in a large bowl. Add remaining ingredients and mix well.
Place 3 pieces into 10 of the muffin cups, and 2 pieces in the last one; this will yield 11. If you prefer, you could take the 2 extra pieces and add it to two of the already filled cups, which would then yield 10. If there is any cheese leftover in the bowl, sprinkle on top of biscuits.
Bake for 10 minutes, or until biscuits start turning golden brown. Remove from oven and serve.
It doesn't get much easier than this folks! It is such a great alternative to traditional garlic bread, too. Plus it's just more fun to eat.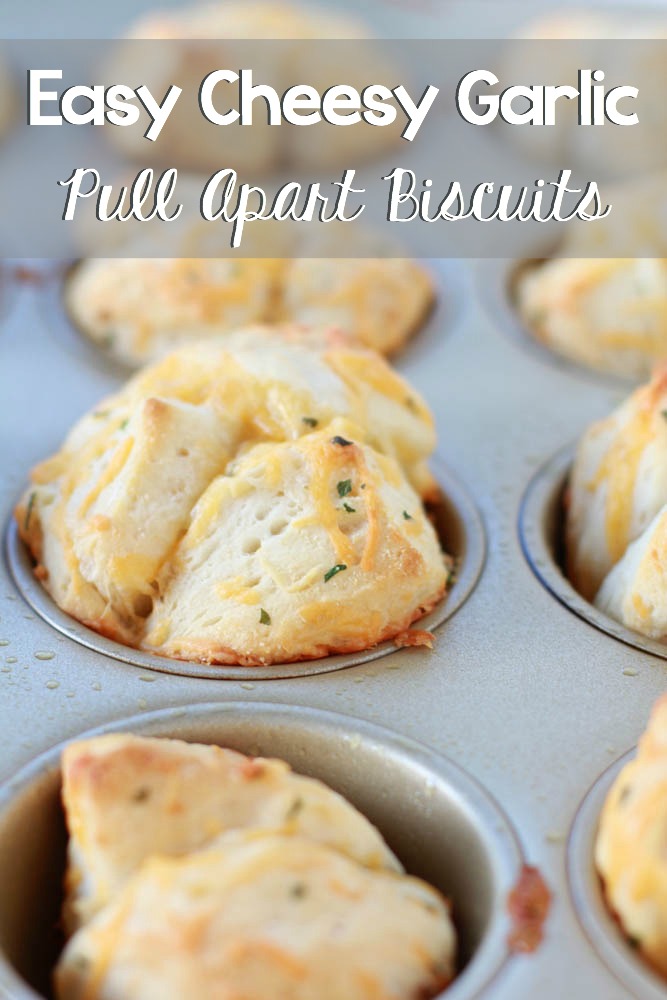 For me, it was just the right amount of garlic and just the right amount of cheese but really, I'm not sure you could mess up by adding more. That's the beauty of recipes like this one, the ingredients are interchangeable and each time you make it, it'll probably be a little different than the time before.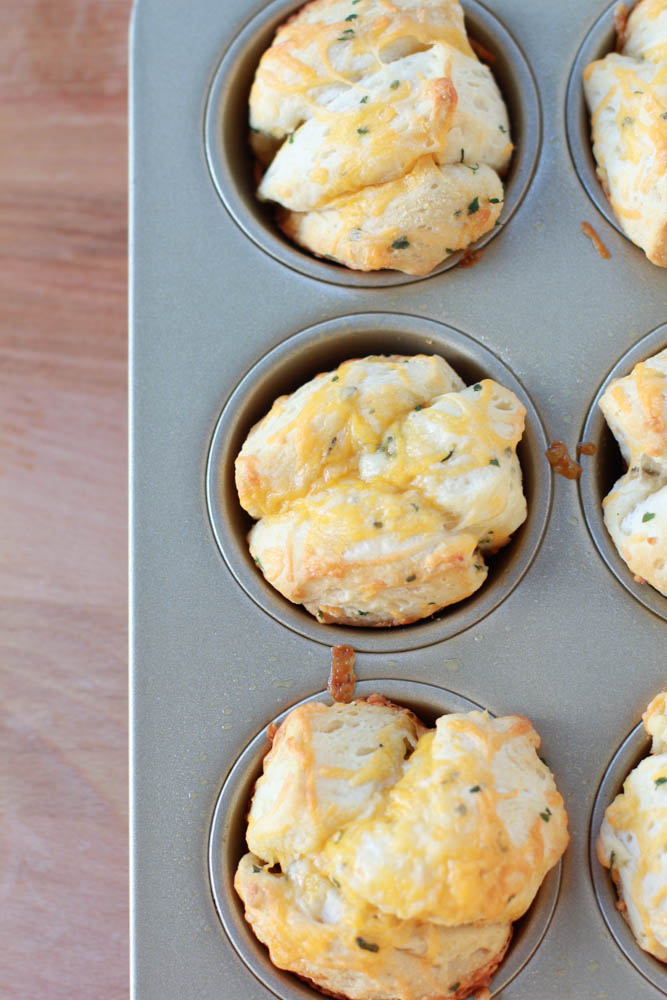 If you have a small family, using the smaller cans of biscuits and halving all the other ingredients will work just fine. Although, you may just want to go with the larger can. They're really good and you'll probably want another one!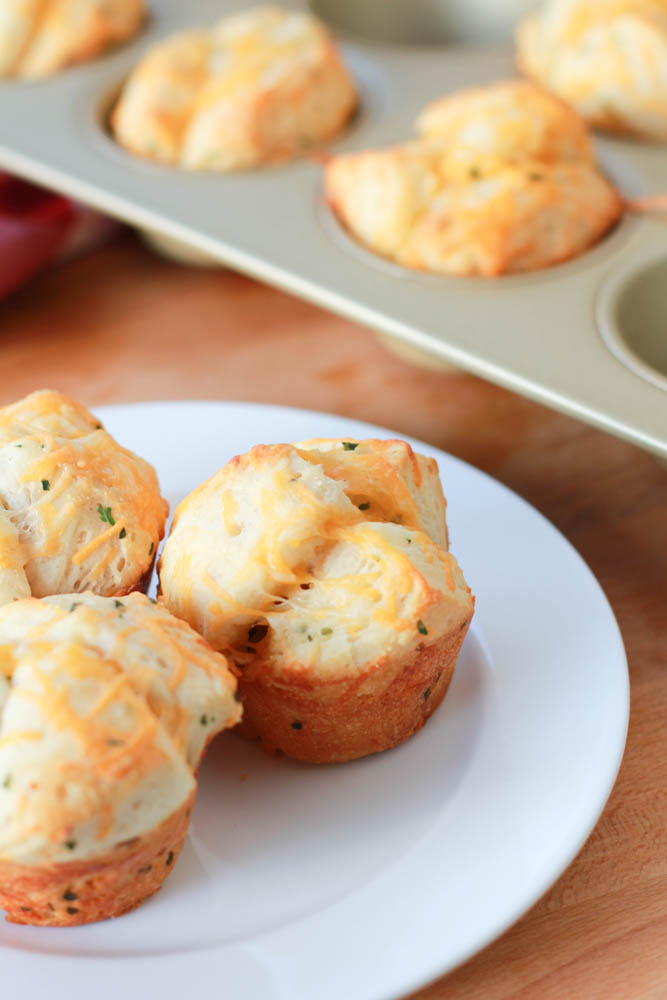 Try these Easy Cheesy Garlic Pull Apart Biscuits with this Chunky Italian Sausage Spaghetti Sauce! So good, y'all. I promise.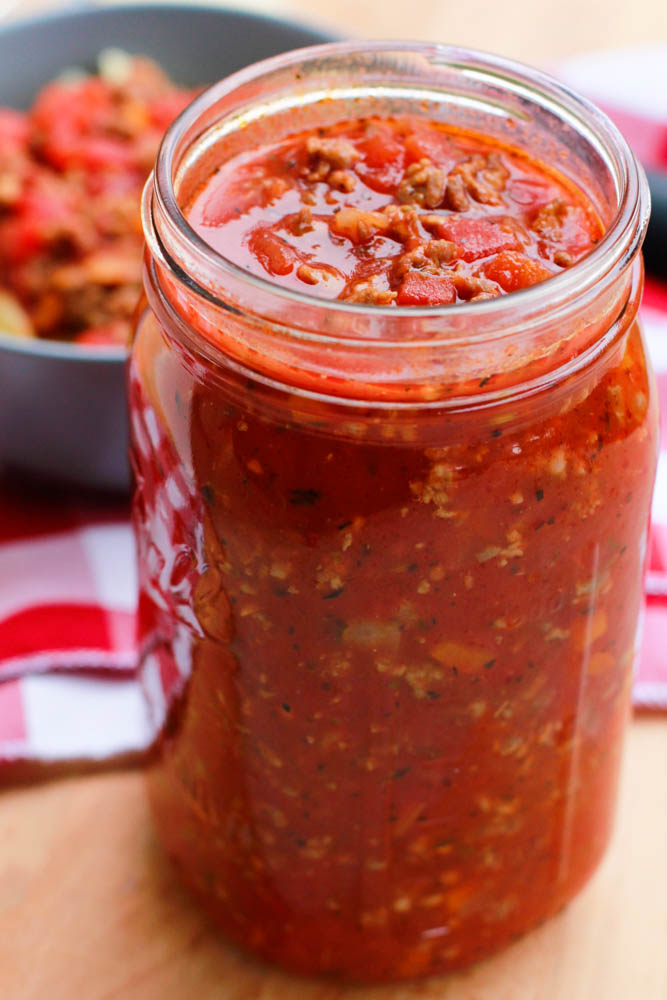 If you're not already, feel free to follow me on Twitter, Facebook, Instagram and Pinterest. I look forward to connecting with you.