Give your traditional spaghetti sauce a makeover with this Chunky Italian Sausage Spaghetti Sauce!
Before marrying an Italian over 12 years ago, I don't ever remember eating Italian Sausage. I'm not saying that I absolutely did not, I just don't remember. My dad was (and still is) very much a meat and potatoes kind of guy. And since he did the cooking most nights at home (unless it was time for mom's fried chicken), we ate meat and potatoes.
And it was good. My dad is a phenomenal cook.
But since I've been married and have had to learn my way around the kitchen to feed all the mouths that live with me, I have to cook foods that are familiar and foods they like. For my husband, Italian Sausage is very familiar. He doesn't care how it's cooked, he just loves Italian Sausage. And I can't blame him — it's good, y'all!

We don't eat spaghetti all that often, maybe once or twice a month, but when we do, I want to make it good. We always use a meat sauce (I can't remember the last time I had spaghetti without a meat sauce) because for a family of five it seems to stretch further.
By using Italian Sausage, it completely changes the depth of flavor and makes it more exciting for your taste buds. If you like things a bit more spicy, you could use Hot Italian Sausage, too.
---
Paderno World Cuisine A4982799 Tri-Blade Vegetable Spiral Slicer
And if you really wanted to be adventurous and try something different, try Zoodles (zucchini noodles) instead of pasta. A spiralizer makes it easy to turn your favorite vegetables or fruits into gorgeous spirals! I have this particular spiralizer and I absolutely love it. Not only is it great for making zoodles, but think curly fries and spiral apple strands — YUM! This one comes with three different blades that can easily be stored in the compartment underneath. The shredder blade creates long, spaghetti-like spiral strands, the chipper blade creates long, thick spiral strands, and the straight blade creates long, ribbon-like strands. If you're like me, you'll be looking for things to spiralize!
---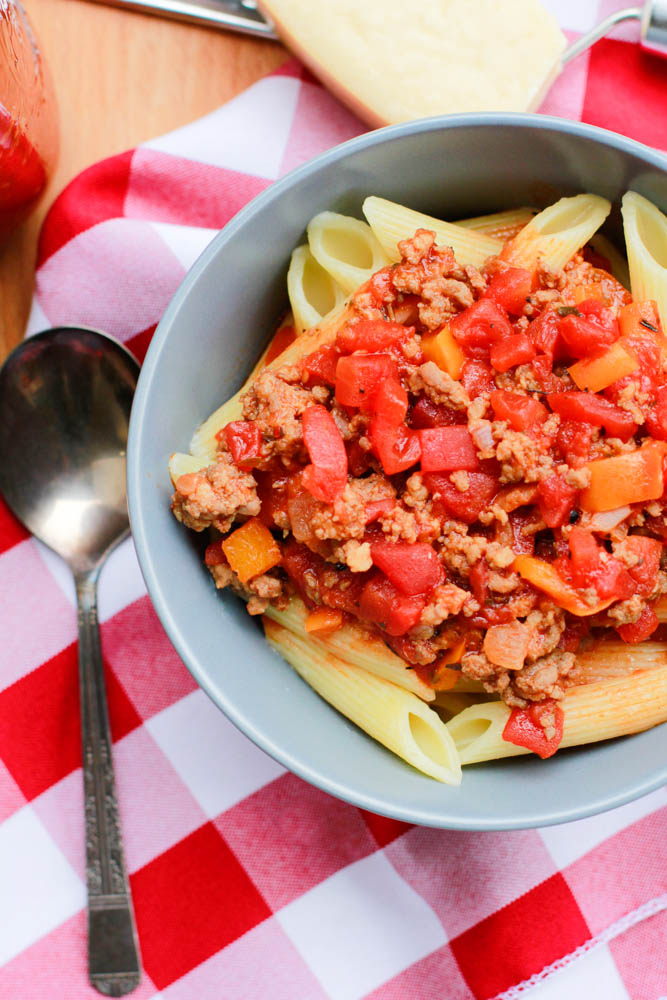 ---
Lodge Enameled Cast Iron Covered Dutch Oven, 6-Quart
Tramontina Enameled Cast Iron 6.5 Qt Covered Dutch Oven
Le Creuset Signature Enameled Cast-Iron Dutch Oven 7-1/4-Quart
Here's a tip y'all – Do not start this recipe without a Dutch Oven. I think the Dutch Oven is one of the most essential pieces of cookware in the kitchen. If you don't already have one, I recommend getting one immediately. It's perfect for cooking long braises and stews, and also perfect for this spaghetti sauce. I recommend one with thick walls and an equally thick bottom. They range in price greatly, from around $40 to upwards of $300, but I recommend the three pictured above. I've included options for all budgets.
---
Chunky Italian Sausage Spaghetti Sauce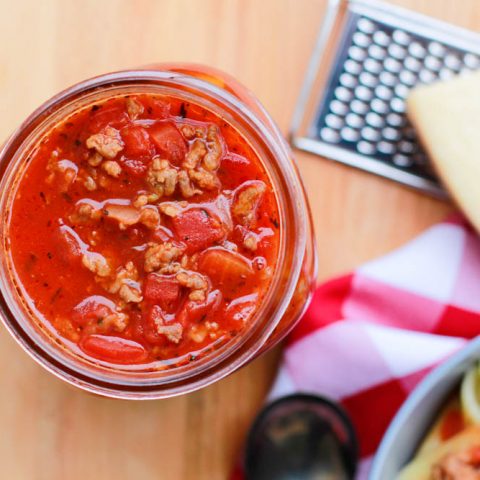 Chunky Italian Sausage Spaghetti Sauce
Total Time:
2 hours
20 minutes
The depth of flavor that the Italian Sausage brings to this Chunky Italian Sausage Spaghetti Sauce will have you running back for a second bowl. Between the spices, fennel and tomatoes, this spaghetti sauce is a must have on spaghetti night.
Ingredients
1 lb Johnsonville All Natural Fresh Italian Mild Ground Sausage
1 large orange bell pepper, diced
1 large white onion, diced
1 tsp minced garlic (or 2 cloves garlic, minced)
1 (6 oz) can tomato paste
3 (14.5 oz) petite diced tomatoes
1 tablespoon brown sugar
2 teaspoons kosher salt
1.5 teaspoons dried oregano
1/2 teaspoon dried basil
1/2 teaspoon dried thyme
1/2 teaspoon freshly ground black pepper
1 bay leaf
2 cups chicken broth (or water)
Instructions
In a large dutch oven, brown meat with bell pepper, onion, and garlic until vegetables are tender. Carefully drain fat in a colander with a bowl underneath to catch the fat. Return meat mixture to dutch oven.
Carefully stir in tomato paste, tomatoes with their juices, brown sugar, salt, all spices, and bay leaf. Stir in broth and bring to boil. Once it has come to a boil, reduce the heat and continue to simmer uncovered for about 2 hours, stirring occasionally.
When you are ready to serve, remove bay leaf and serve over hot pasta or zoodles.
Nutrition Information:
Yield:

12
Serving Size:

1
Amount Per Serving:
Calories:

135
Total Fat:

11g
Saturated Fat:

4g
Trans Fat:

0g
Unsaturated Fat:

6g
Cholesterol:

24mg
Sodium:

839mg
Carbohydrates:

4g
Fiber:

1g
Sugar:

3g
Protein:

5g
The key here is to let the spaghetti sauce simmer away on the stove as long as you can. If you like your sauce thicker, cook it longer and use less broth. Since I usually only have a few hours between the time I start cooking and the family is ready to eat, two hours simmering on the stove works well for us. Don't be tempted to put the lid on while simmering. Leave it uncovered and allow the flavors to mingle with each other to create a wonderfully delicious spaghetti sauce.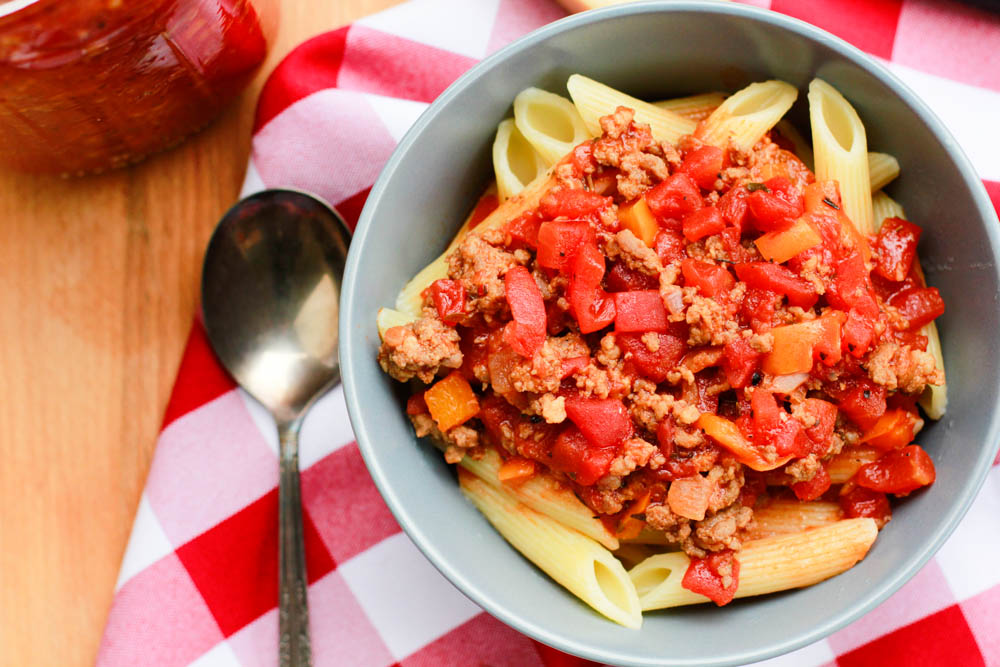 This recipe makes a lot of Chunky Italian Sausage Spaghetti Sauce, so save the leftovers and freeze for next time. I like using mason jars instead of plastic containers.
---
Ball Pint Regular Mouth Jars and Lids BPA Free, 16 oz, Set of 12
Here's another tip, y'all – Don't let your leftovers go to waste. Have some mason jars
on hand to store your leftovers in the freezer. I like making multiple batches at once and having several meals stored away in the freezer for those busy nights. Please note: When using glass mason jars, make sure you leave some room at the top of the jar for expansion. About an inch will do. I would hate for you to break one of your pretty mason jars and ruin a batch of this spaghetti sauce. When you're ready to use it, set it out in the refrigerator to thaw.
---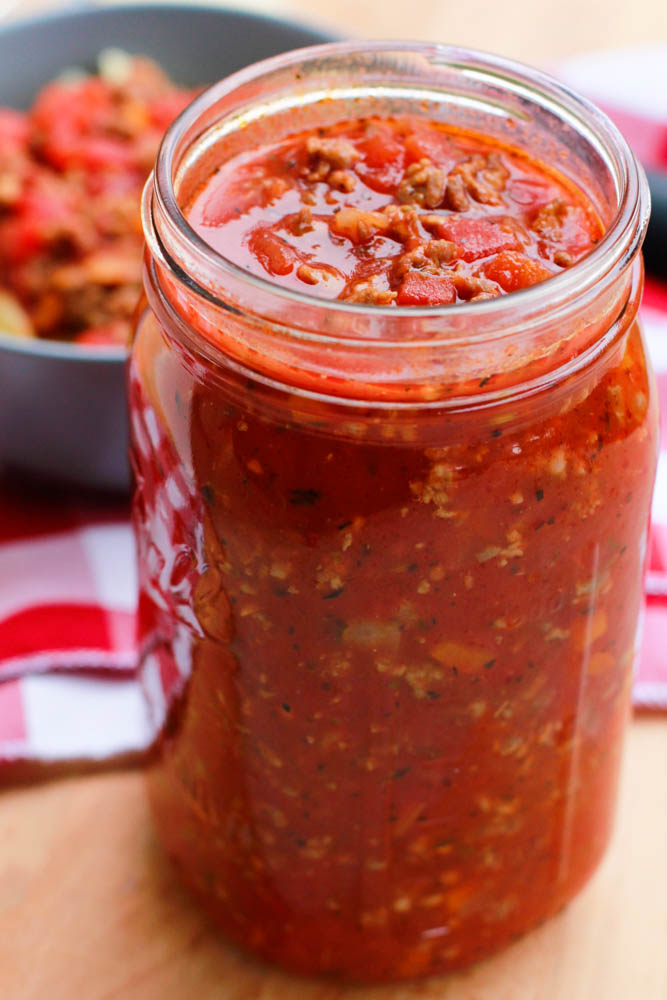 If you like this spaghetti sauce recipe using Italian Sausage, here are more recipes on my site that also use it: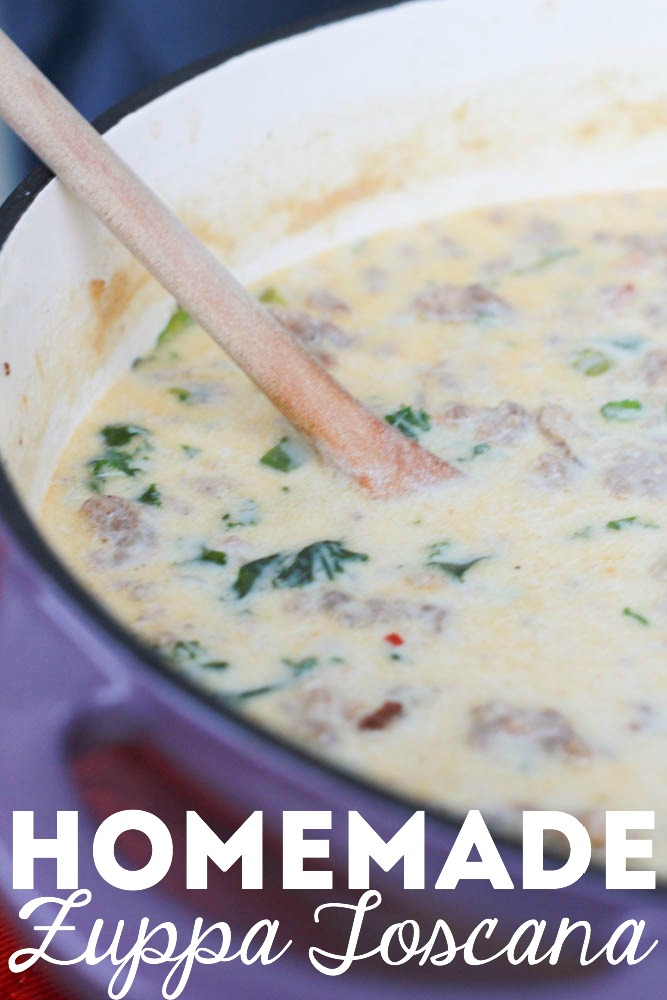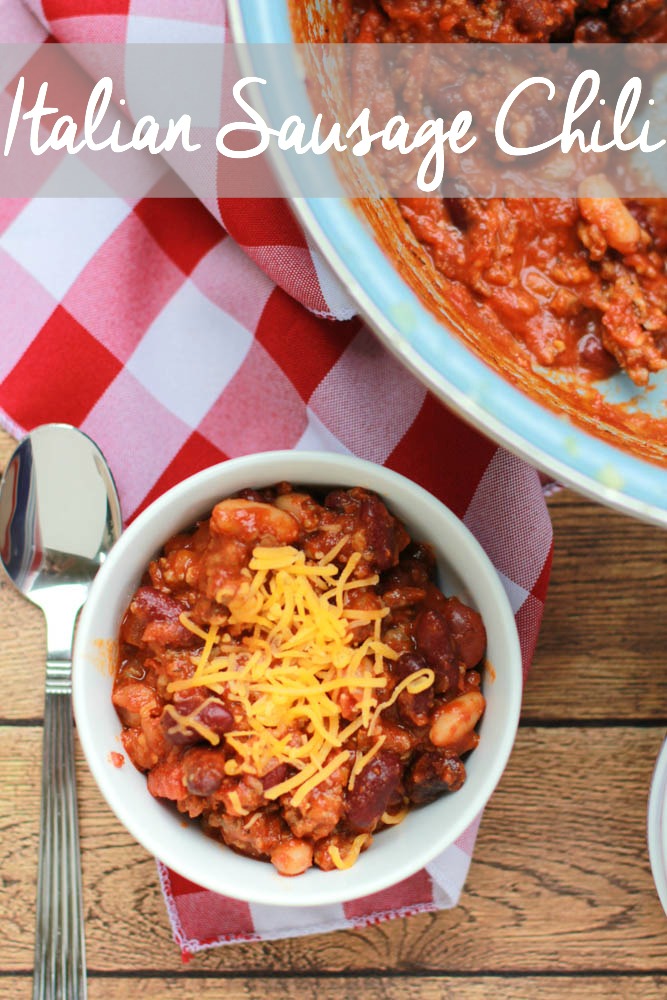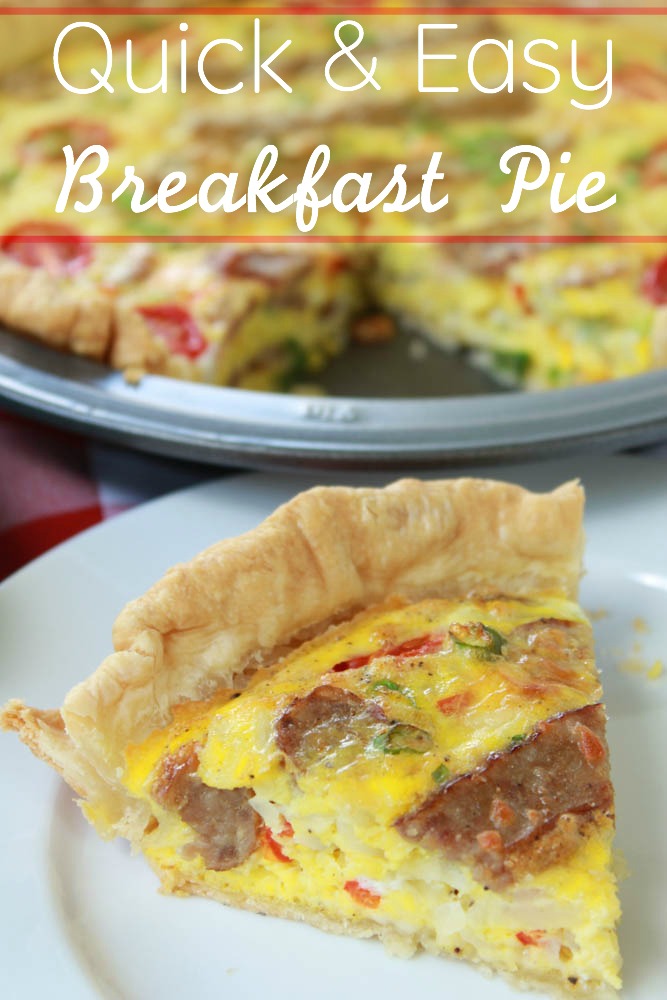 Italian Sausage, Spinach and Ricotta Cheese Stuffed Shells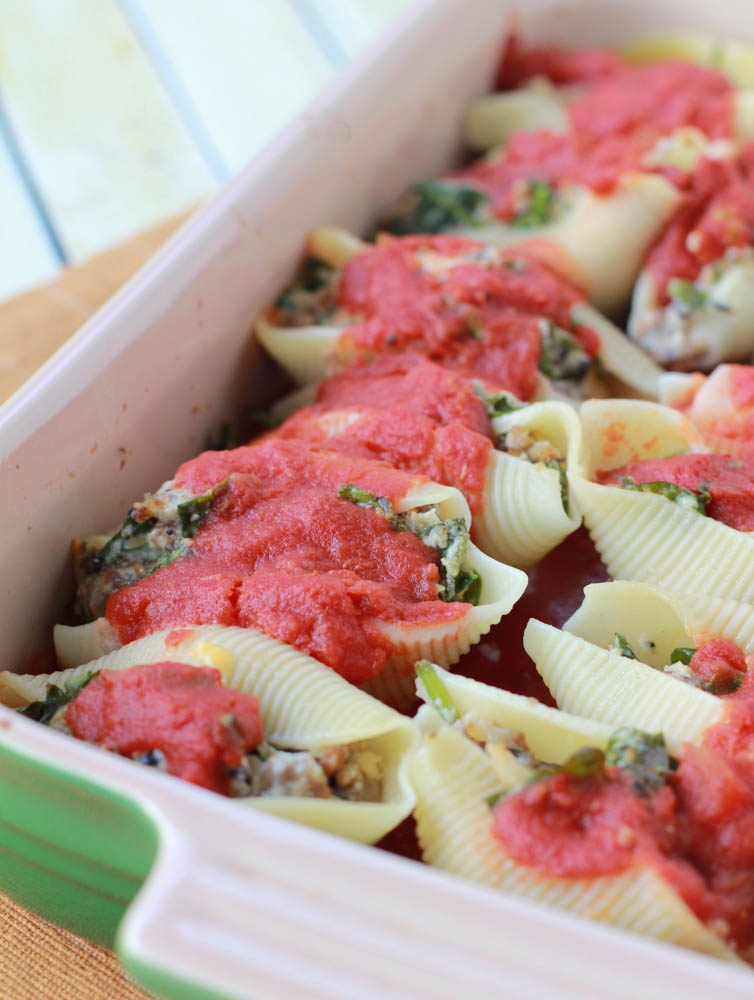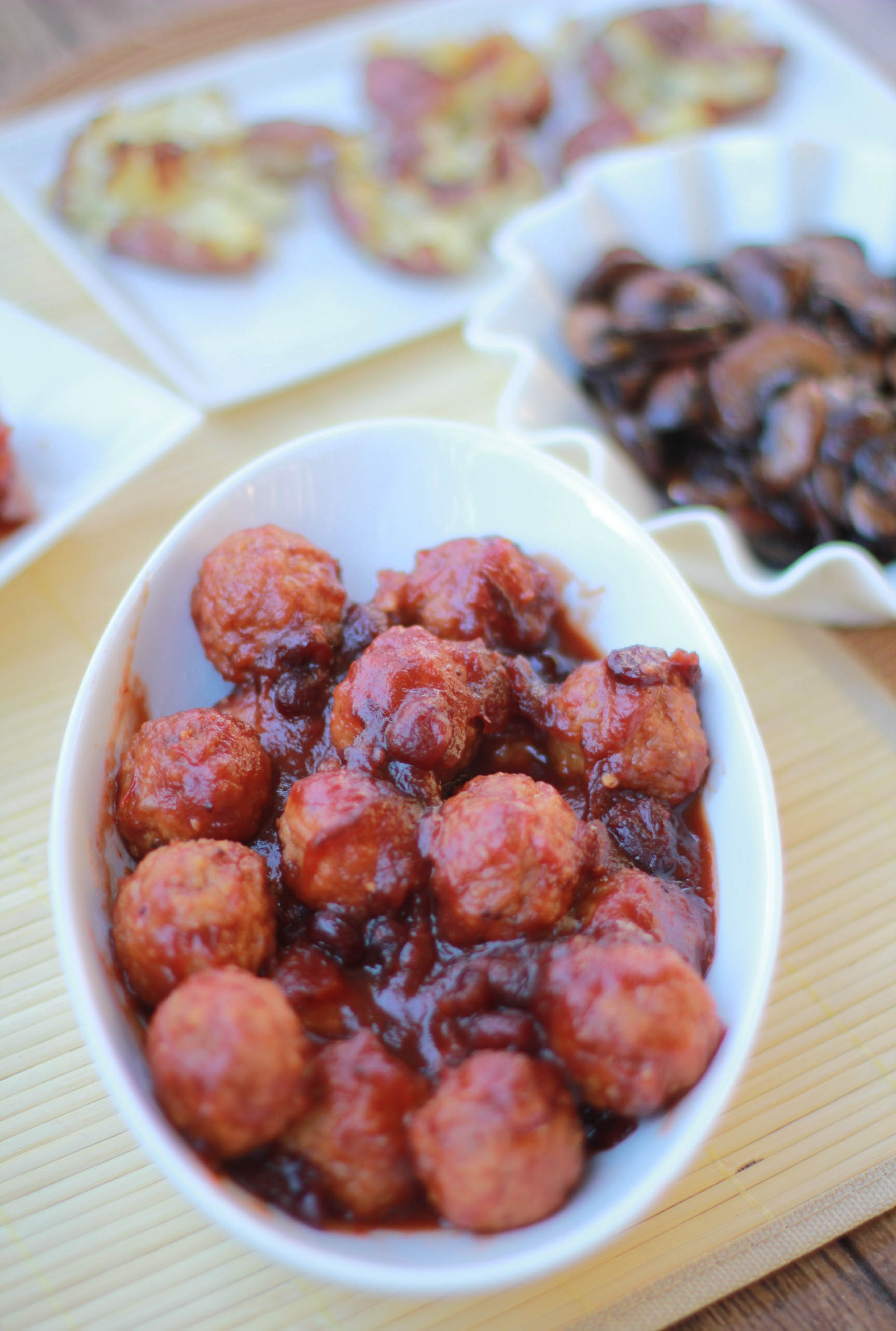 How do you like your spaghetti sauce? Smooth or chunky? Obviously, you can see I'm a chunky spaghetti sauce kind of girl.