Looking for New Years Eve Party Ideas for Kids? We've got your covered with hosting ideas, food ideas, and fun crafts & printables to make your party the best one on the block.
This year was a great year for our family. We welcomed new babies, celebrated new accomplishments, and spent time together. What more could we ask for? So as the year comes to a close, I was looking around for ways to celebrate with my family that would make it fun for everyone, kids included.  I thought it'd be fun to share with you some New Years Eve Party Ideas for Kids. To be special, it doesn't have to cost a lot of money or require hours of preparation.
New Years Eve Party Ideas for Kids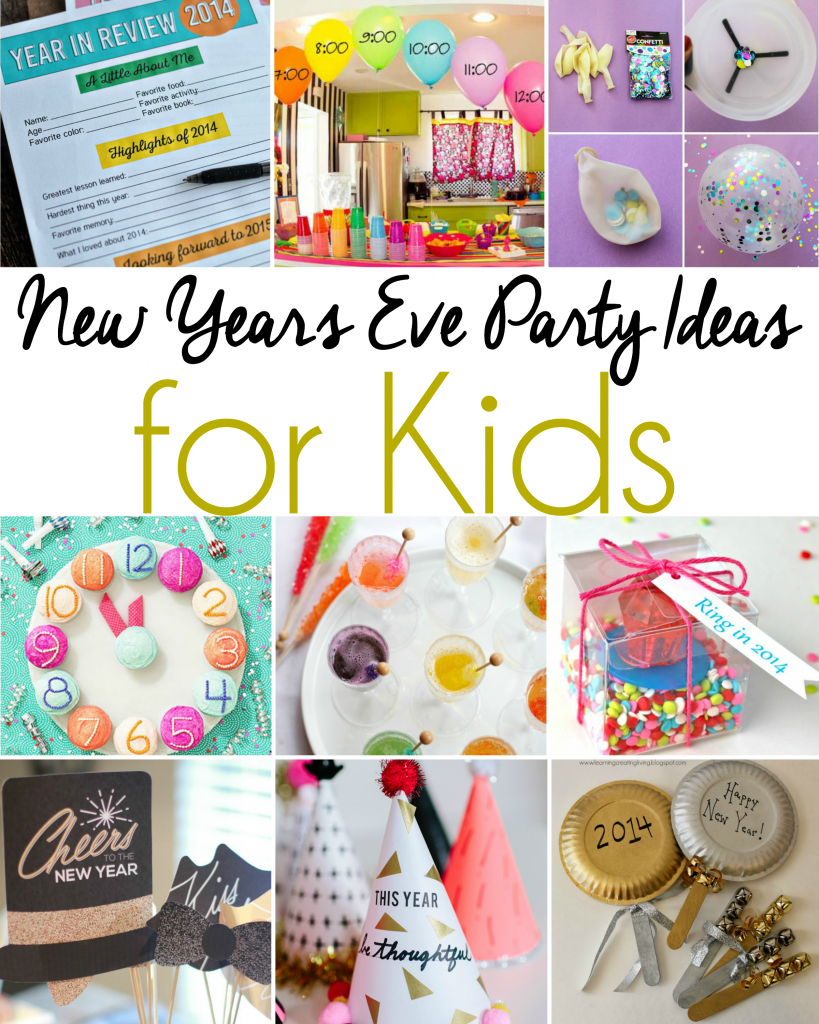 From hosting the New Years celebrations, to food & drinks, and crafts & activities, this fun little guide should help you create the best New Years Eve celebration yet!
Hosting Ideas

Move up the Clock // Let's be honest here, staying up until midnight is less desirable than it used to be. In the past we've counted down with New Yorkers (9 PM our time). We still got to see the ball drop, but everyone got to bed at a reasonable hour. This year we're moving it up even further at our Noon Years Eve Party.  I was so thrilled when I came across the idea. Let's do all the exact same stuff, 12 hours earlier!
Review the Year // It's so much fun to capture the moment with your children, & the new year makes it so easy.  You can download a free printable to journal about the year.  Older kids could do most of it themselves, while younger children may need a little assistance coming up with goals for the new year.
Balloon Countdown // Each hour, pop a balloon to reveal the activity. The anticipation will build as we near 12 (and bedtime!!). Plus, the balloons double as decor.
DIY Confetti Balloons // Fill balloons with confetti for fun decor that will double as fun when popped.
Food & Drinks

Fruity Colored Mocktails // These mocktails are an adorable way to make kids feel fancy and festive. I love the sparkling juice and rock candy garnish in plastic champagne flutes.
Make a Cupcake Clock // The countdown is even more fun when it's served looking like a clock. This cheerful arrangement would make a great centerpiece to a kids' dessert table
2015 Themed Foods // It'll take six months to remember to write 2015 so get started now by serving 2015 foods. These crescent dippers would be a big hit with little hands.
Ring in the New Year Rings // Ring in the new year with Ring Pops like these.
Crafts & Activities

Make Party Poppers // Make the night a blast…literally. These DIY party poppers are just as much fun, but safer than the ones that explode.
Make Resolutions Party Hats // These hats are charming. I love the pom poms and geometric designs.  I'm not sure how thrilled I'd be walking around with my resolutions that visible, but it could be the motivation I need to make it visible.
Make Paper Plate Noisemakers // Use a paper plate and rice to make a fun craft that lets the kids get loud.
Printable Photobooth Props // These adorable photo booth props will make your pics even more festive.
However you celebrate, I hope your start to the new year is filled with joy and fun! I can't wait to share 2018 with you!
Got New Year Resolutions on the mind? Me too!