This is a partnered post with the National Pork Board. As always, all thoughts and opinions are my own.
One thing I learned while trying to photograph these delicious Slow Cooker Buffalo Pulled Pork Sandwiches is that it's difficult to photograph a messy sandwich. No matter which angle I shot at, no matter how I added things into the frame, getting that perfect shot that I'm happy with just wasn't happening.
So I called defeat before kicking everything across the floor because it's really not about the pictures. It's about the absolute deliciousness that you'll experience when you sink your teeth into one of these Buffalo Pulled Pork Sandwiches.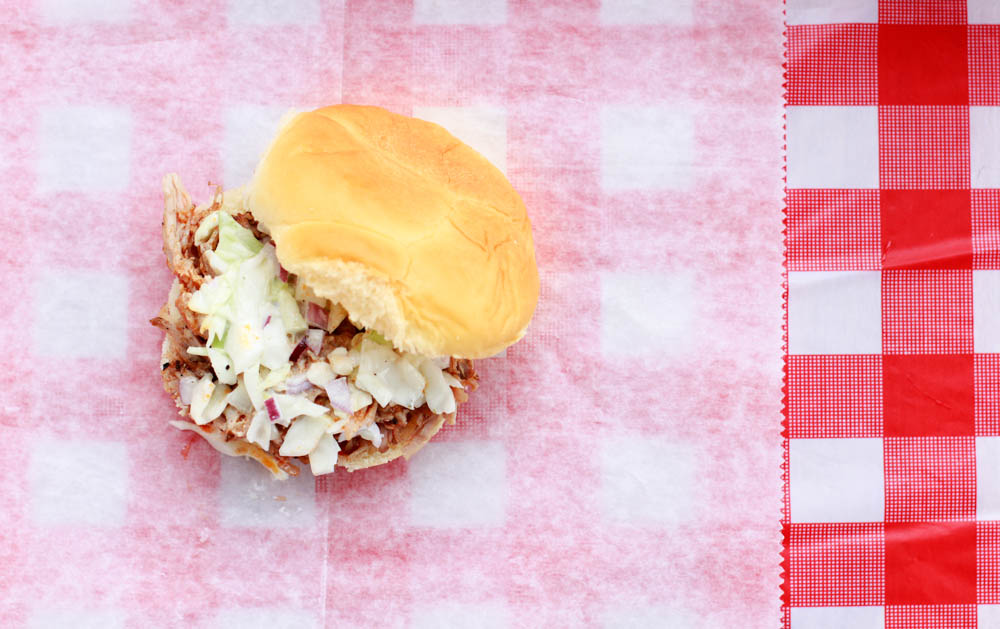 I absolutely love using my slow cooker, especially on busy days when I know I won't have a lot of time to play in the kitchen. By cooking the pork in the slow cooker all day long, it literally fell apart as I was trying to get it out of the slow cooker. There wasn't really a lot of pulling the meat with two forks because it was so tender that if fell into pieces. [Whether or not any mysteriously disappeared into my mouth will never be disclosed.]
I guess that's what 8 hours on low in the slow cooker with a cup of chicken broth will do to a 3 pound pork shoulder. Fall apart goodness that was so juicy and delectably delicious that, if wanted, you could serve it as is.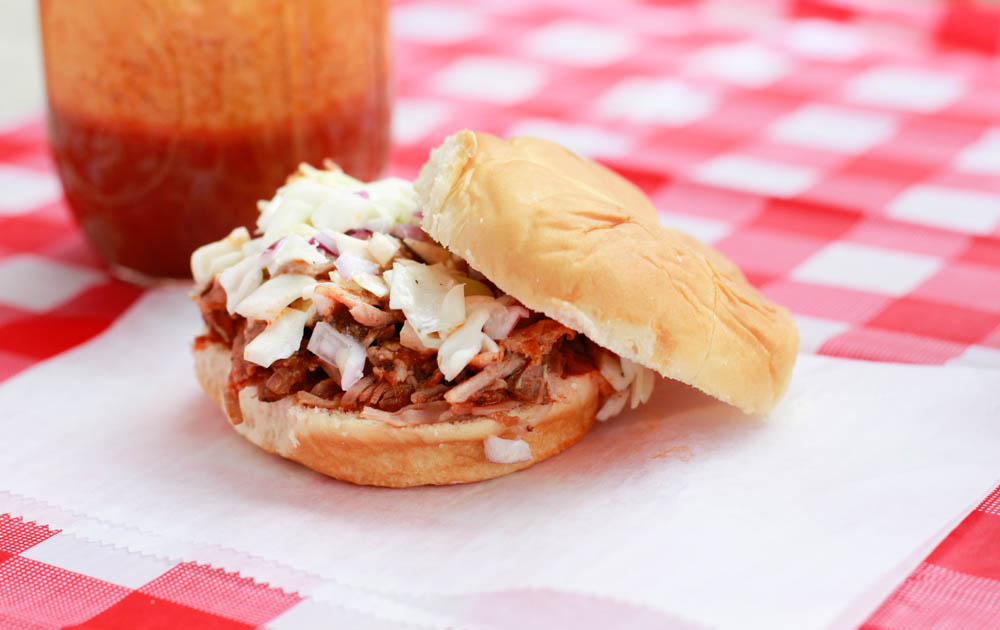 The pork alone, without anything else, is superb. By using my homemade steak rub and completely coating it before browning it off in a skillet, there was no need for the slaw or the homemade buffalo sauce. It's perfect straight from the slow cooker. But, if you want to an explosion of flavor in your mouth, go for the full shebang.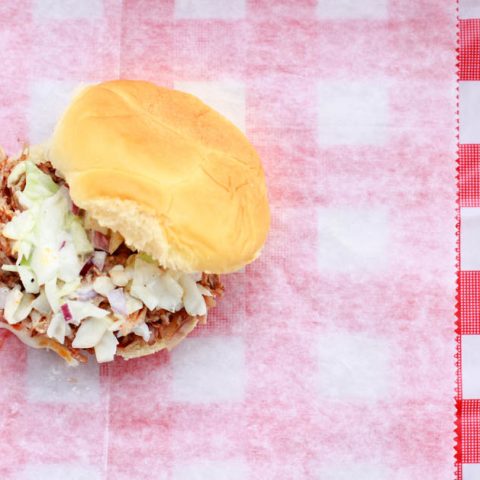 Slow Cooker Buffalo Pulled Pork Sandwiches
Total Time:
8 hours
35 minutes
Enjoy the flavors of buffalo wings with these Slow Cooker Buffalo Pulled Pork Sandwiches. From the homemade buffalo sauce, to the slaw with a twist, these Buffalo Pulled Pork Sandwiches will create an explosion of flavor for your taste buds.
Ingredients
For the Pork
3 lb boneless pork shoulder
2 tablespoons extra virgin olive oil
1 cup chicken stock
King's Hawaiian Hamburger Buns, for serving
For the Homemade Buffalo Sauce
1/2 cup unsalted butter (1 stick)
1/2 cup Louisiana Hot Sauce
1 1/2 tablespoons white vinegar
1/2 teaspoon celery salt
1/2 teaspoon Worcestershire sauce
1/4 teaspoon cayenne pepper
1/4 teaspoon ground white pepper
1/4 teaspoon garlic powder
For the Slaw
1/2 head of cabbage (outer leaves removed), cut and shredded or chopped
1/2 small red onion, diced
3/4 cup ranch dressing
2 tablespoons extra virgin olive oil
1 tablespoon cider vinegar
1 teaspoon celery salt
freshly ground black pepper to taste
Instructions
Prepare the slow cooker by using a slow cooker liner (it makes clean up so easy). On a large cutting mat, massage pork generously with homemade steak rub.
In a large skillet, heat olive oil on medium-high heat and brown all sides of the pork. Once the pork is evenly browned on all sides, carefully transfer to the slow cooker. Add 1/2 cup of chicken stock to the skillet to get all the tasty bits left behind and carefully pour over pork in the slow cooker. If there is any spice rub left on the cutting mat, also pour into the slow cooker. Cook for 8 hours on low.
About 30 minutes before serving prepare the homemade buffalo sauce by melting butter in a small saucepan over medium heat. In a small bowl, combine the remaining ingredients. Once the butter has melted add in the remaining ingredients and whisk well to combine. Bring to a light simmer while continuing to whisk and turn off before it gets to a boil. Set to the side to cool before serving.
To make the slaw combine cabbage and onion in a large bowl. In a small bowl, add ranch dressing, olive oil, vinegar, celery salt and pepper; whisk to combine. Pour dressing mixture over cabbage and toss. Make sure all the cabbage is evenly coated with the dressing mixture.
By the time you are ready to take the pork out of the slow cooker, it should fall apart; transfer to a cutting mat. With two forks tear the pork into bite sized pieces, if needed. If anyone you are serving doesn't like the spiciness of buffalo sauce, reserve the liquid left behind in the slow cooker. Carefully strain the liquid into a large saucepan (or skillet) and heat to reduce and thicken. If needed, you can use a tablespoon of cornstarch mixed with a small amount of cold water.
To serve, open the hamburger buns and place a generous serving of pork on the bottom bun. Drizzle 2 - 3 tablespoons of homemade buffalo sauce over pork and top with a generous serving of slaw. Top with the remaining bun and devour!
Nothing about my cooking is culinary correct. I do things the way I want to do them in the kitchen. Sometimes it works, sometimes it doesn't. And you know, I'm okay with that. I don't want to have to follow all the do's and don'ts, y'all, I just want to cook and eat good food. It works for us, and I hope it works for you.
My family absolutely adored these Buffalo Pulled Pork Sandwiches. Even my little 6-year old ate his with the homemade buffalo sauce. You could add the homemade buffalo sauce directly to the pulled pork, but I wanted the ability to be able to control the heat level for the children. And if you have children that can't do spicy at all, reserve the liquid from the slow cooker, strain, and reduce in a skillet. It's delicious, too!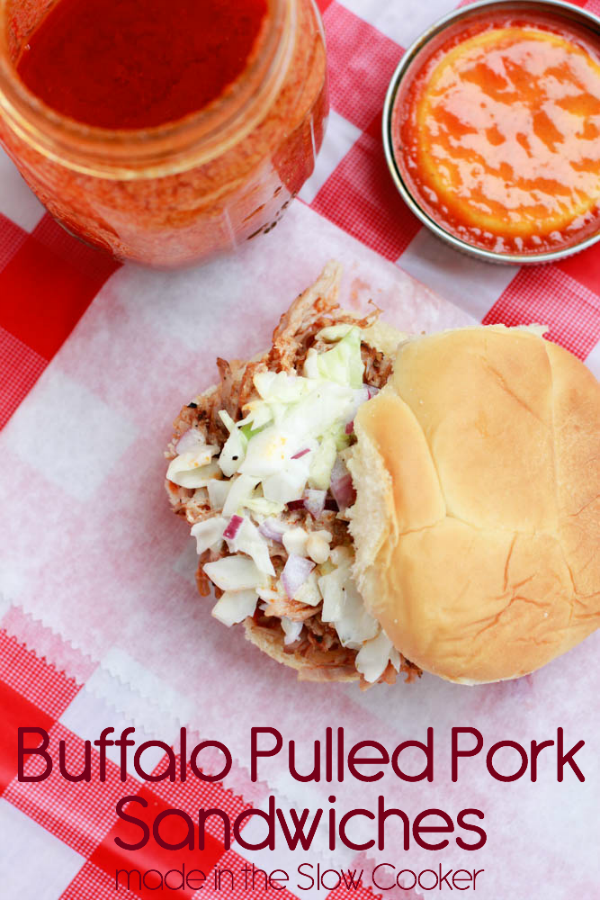 We had a ton leftover, even after inviting my mom and dad over to help us consume it all, so I was thinking about using the leftovers for a Buffalo Pulled Pork Bowl of some sort. I still have ideas floating around in my head. But this will happen.
So there you go! I think these Buffalo Pulled Pork Sandwiches will look absolutely perfect on your table tomorrow night! Just sayin'.
If you love slow cooker recipes, here are two other recipes that can be found on my site:
Slow Cooker Pork Sirloin Tip Roast with Red Potatoes
Slow Cooker Tender Pork in Red Sauce
How do you like your pork? Spicy or not?