Show your appreciation with these Teacher Appreciation Gifts!
Slower mornings, beach days, and fun with friends. I never want summer to end. But the reality is that the Back to School season is just around the corner. With my kids heading off to a new school next year, I'm full of anxious excitement. Who will their friends be? What will their teachers be like?
As a teacher myself, I know that a great way to foster a positive relationship with your child's teacher is through involvement and communication. But showing your appreciation in other ways every now and then doesn't hurt either!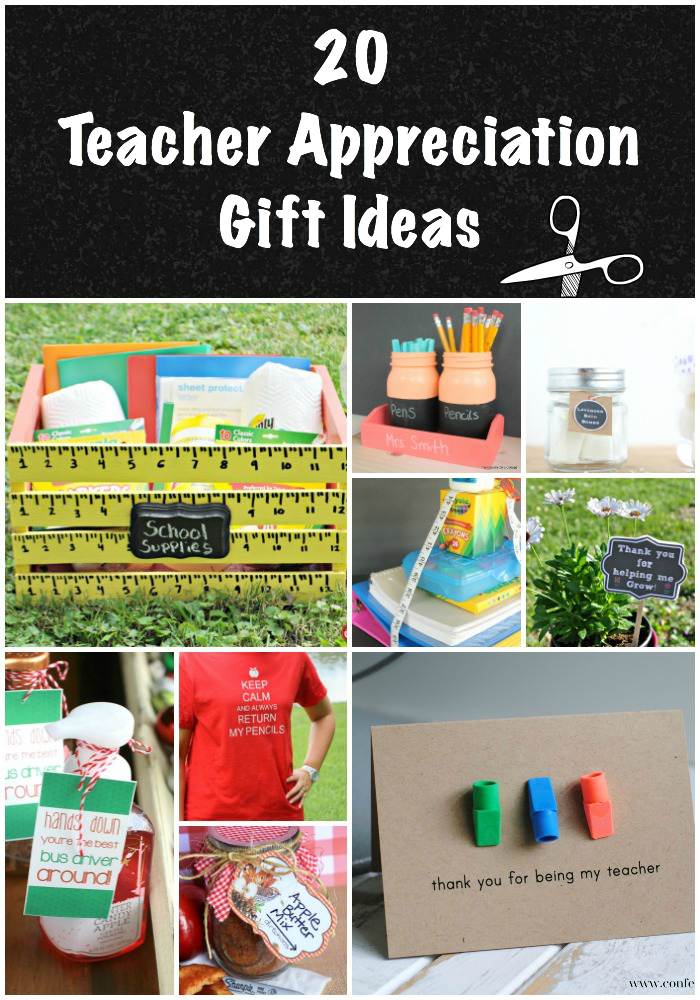 With the help of fellow crafty bloggers, I've compiled a collection of Teacher Appreciation Gifts to welcome in the new school year and say "Thanks!" all year long.
20 Teacher Appreciation Gifts

Crafts
Lavender Bath Bombs // Wash away the day and stresses of the classroom with lavender bath bombs you can easily make and gift.
Dictionary Magnets // A cute craft with minimal supplies spells out something adorable.
Thank You For Helping Me Grow Printable // Paired with a flower or plant, this is a sweet way to acknowledge a teacher who inspired growth.
Easy DIY Teacher Thank You Cards // Attach a crayon, erasers, or a letter magnet to these little notes of appreciation.
Keep Calm & Always Return My Pencils Tee // For those of you crafters using a Silhouette, grab this free file to make a "Keep Calm" shirt for the teacher who needs her stuff back.
DIY Coffee Bath Scrub // Keep teachers energized and at the same time pampered with a DIY bath scrub.

Snacks & Treats
Smart Cookie Printable  // Print and attach to a bag of cookies (homemade or store-bought).
DIY Candy Bouquet // Know your teacher's favorite candy bar? Deliver a bouquet of them!
Apple Butter Mix // An apple for the teacher, but this time it's yummy apple butter mix.
Coca-Cola Gift Basket // Share a Coke and an assortment of red goodies with your teacher.
Chocolate Candy Apples // A is for apple and C is for chocolate. Make apples-shaped chocolate treats for the teacher who's teaching your child the ABC's.

Cute Containers
Teacher Buckets // Inexpensive paint buckets from your home improvement store can be filled with all kinds of treats.
Berry Basket Teacher Gift // Looking for a sweet way to package small tokens of appreciation? This berry basket is so sweet!
Back to School Teacher Supply Crate // Use a crate from the craft store and transform it into a super cute place to store teacher's stuff.
Easy Sharpie Dot Mug // Grande or Trenta, make your teacher a personalized coffee mug in just a few minutes with a Sharpie.

School Supplies
You've Got the Write Stuff Printable // Attach to cute stationary or a notepad for a practical yet adorable gift.
School Supply Tower // Teachers buy school supplies too. Using dollar store supplies, make a tower of the most needed supplies.
Bus Driver Printable // Don't forget the school bus driver! Attach this printable to a yummy smelling hand soap or sanitizer for an inexpensive and easy gift.
Days of the Week Magnetic Clips // DIY clips to help keep teacher organized every day of the week.
Farm Animal Book Huggers // Story time is much more adorable when farm animals hold the place in teacher's read-aloud book.
Mason Jar Desk Organizer // Keep pens and pencils handy with painted mason jars and a cute caddy.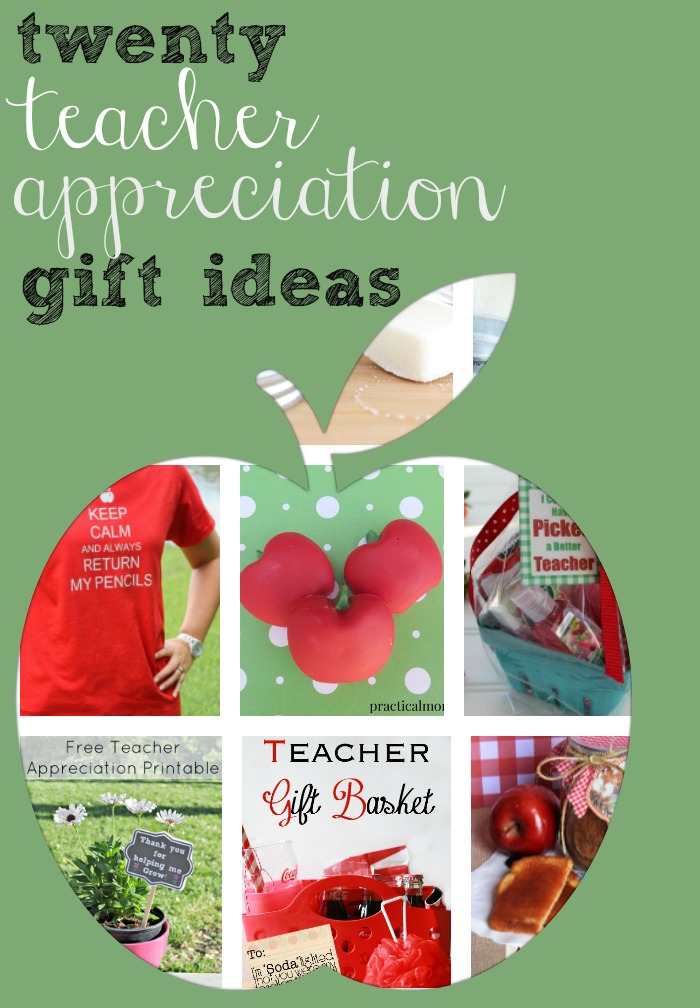 A little gesture can make a world of difference in someone's day. These 20 teacher appreciation gift ideas are an easy way to let your child's teacher know how much you appreciate his/her dedication.
Share your favorite teacher appreciation gifts below!