If you love Oreos, you'll love these deliciously spooky Mummy Oreo Cookies that are absolutely perfect for Halloween!
Halloween is such a great time to create spooky treats for your family and friends. I know it's only September, but I've already starting decorating and I'm already whipping up some slightly frightening treats.

If you've been around here for any length of time you already know I adore easy recipes. I'll make some more complicated recipes, but my heart is with the easy stuff, y'all. I've got three children, we homeschool, and I work from home. I need easy.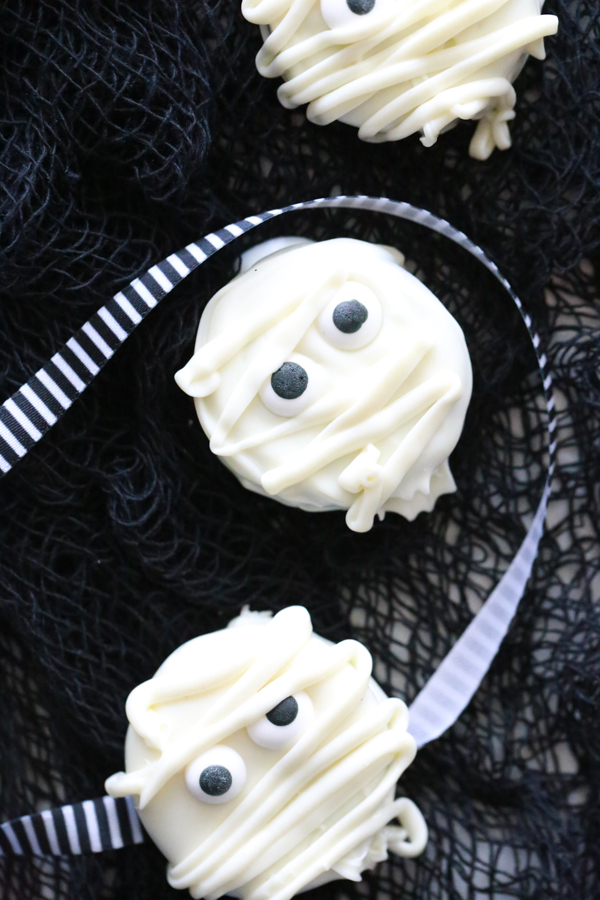 These Mummy Oreo Cookies are perfect for sharing. Think classroom parties, Halloween parties, etc. You could make an entire package of Oreos for about $14, depending on which brand of white chocolate you used. I used Ghiradelli because I get the best results from it and I think it tastes better than some of the other options.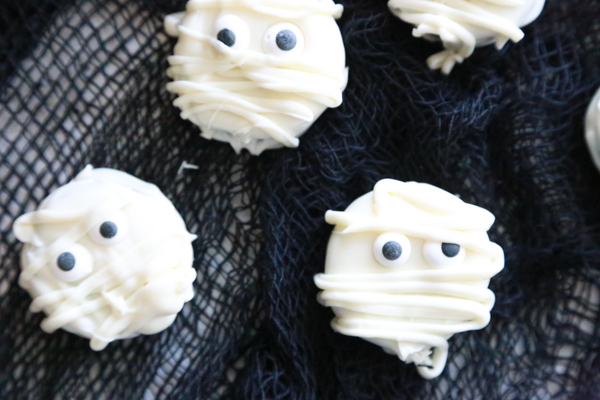 Mummy Oreo Cookies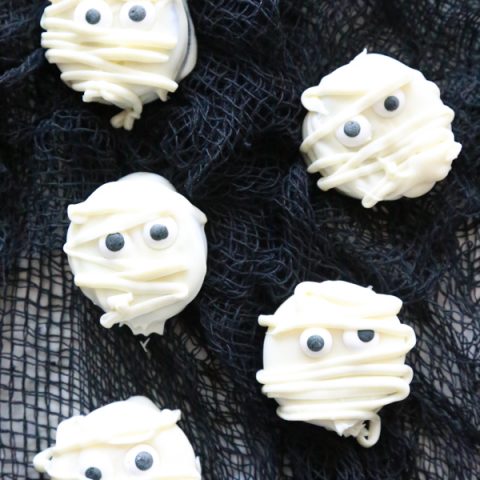 Mummy Oreo Cookies
Turn a package of Oreos into these adorably spooky Mummy Oreo Cookies.
Ingredients
Optional Items Needed:
Instructions
Melt white chocolate wafers according to package instructions. Dip and cover each Oreo with white chocolate and place on prepared surface, such as wax paper. Put 2 edible candy eyes on each Oreo.
Put remaining white chocolate into a plastic baggy. To make this part easier, get a cup and place the plastic baggy inside and fold over the top of the cup. Pour chocolate into bag and then remove the plastic baggy from the cup. Cut a corner of the plastic baggy with scissors. Drizzle white chocolate over cookies.
Set aside and allow to harden. Can be stored in an airtight container for a couple days.
---
Plain Cookie Chocolate Candy MoldBuy Now
Here's a tip, y'all – If you're a little OCD like I am at times and you need perfect-looking Mummy Oreo Cookies, use one of these candy/cookie molds. They're so easy to use and you get PERFECT little mummies each and every time. You place a little white chocolate into each cavity, place an Oreo inside, and cover with just a little more white chocolate. Let it sit to harden and then remove from molds – easy peasy! Plus, the mold can be used time and time again making it a wise investment.
---
Halloween is the perfect time to indulge in tasty treats and not feel guilty about the calories – at least that is what I tell myself anyway. If you have an upcoming Halloween party at work, or you're throwing one at home, or maybe even a classroom party for your children, these Mummy Oreo Cookies would be PERFECT!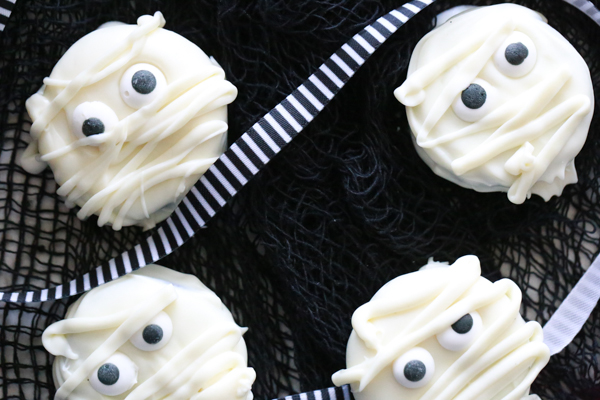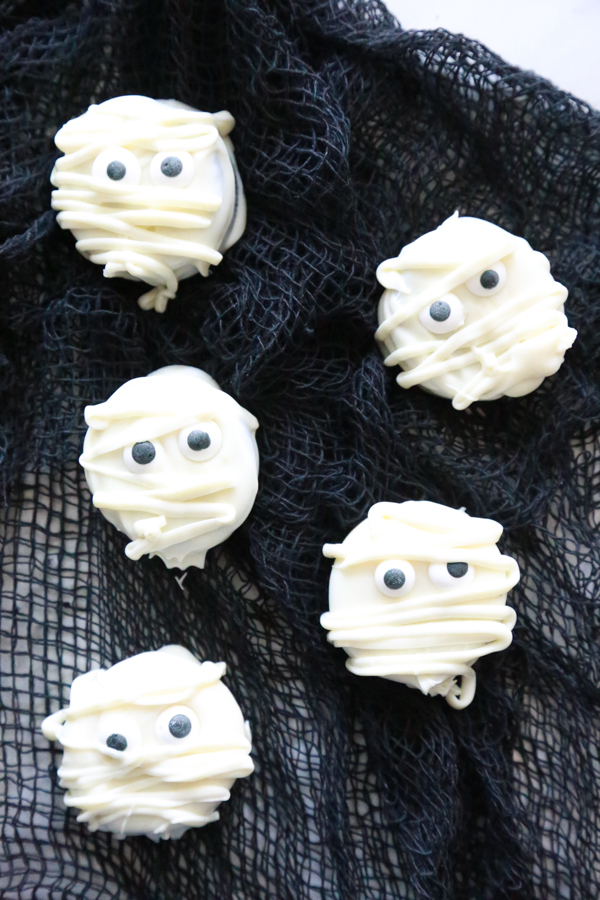 Get everything you need to make these Mummy Oreo Cookies at Amazon! Shop in your pajamas and get free 2-day shipping with Amazon Prime. If you don't have Prime, try it FREE for 30 days.
Cookie Chocolate Candy MoldBuy Now
Reynolds Cut-Rite Wax PaperBuy Now
Wilton Candy EyeballsBuy Now
Oreo Chocolate SandwichBuy Now
If you're looking for more easy Halloween ideas, check out these Halloween DIY's: