I know it's only September but I've got Halloween on the mind. If it's in my possession, it's very likely that I'll turn it into something spooky, like I did with these Mini Ghost Pretzels.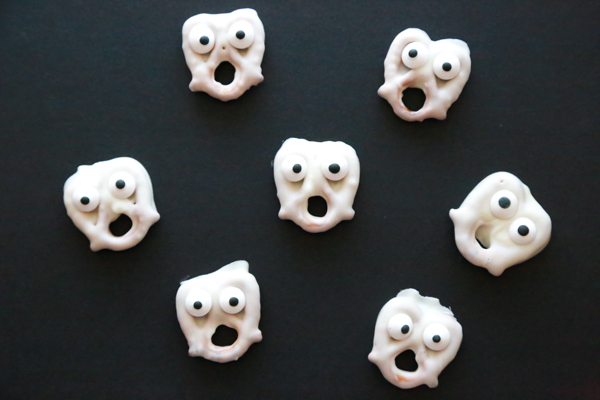 What is great about these Mini Ghost Pretzels is they are so incredibly easy to make. If you really don't like being in the kitchen because you seem to always mess something up, then this is the recipe for you. You really can't mess anything up.

Well, you could over-melt the chocolate but I'm going to trust that you won't. Because the Ghiradelli stuff is expensive and you don't want to waste any of that goodness.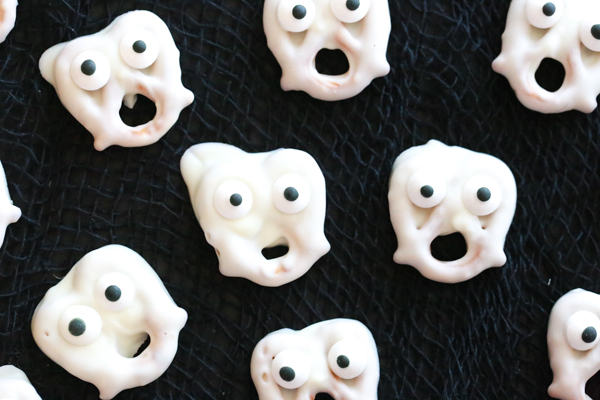 The key to PERFECT Mini Ghost Pretzels is using all the right ingredients and supplies. Below is everything you will need to make these super cute Halloween treats. I'm telling you, the kids will LOVE them and so will you.
Ghirardelli Chocolate White Melting WafersBuy Now
Wilton Candy Eyeballs, Pack of 50Buy Now
Disposable Bamboo ChopsticksBuy Now
Snyder's of Hanover Mini PretzelsBuy Now
I know it's weird that I included chopsticks, but using a chopstick is the only way I make Mini Ghost Pretzels. A simple chopstick makes coating and handling these a breeze, plus gives you a nice open-mouth effect for the ghost. They're so darn cute it's scary!
Mini Ghost Pretzels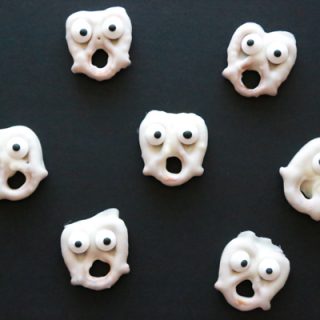 Mini Ghost Pretzels
Turn ordinary pretzels into Mini Ghost Pretzels with three easy ingredients.
Ingredients
20 mini pretzel twists
1 cup Ghiradelli White Melting Wafers
40 Wilton Candy Eyeballs
Tools You Need:
Instructions
Melt wafers according to package directions. Thread the chopstick through the bottom hole on the pretzel. Dip the pretzel into the melted coating and coat completely. Tap the chopstick on the side of the bowl to remove excess coating. Lay coated pretzel on wax paper and place two candy eyeballs on each of the tops holes on the pretzel.
Allow to harden, then remove from wax paper and place in an airtight container. Will store for up to 3 days I know. We haven't had any last longer than that.
Nutrition Information:
Yield:

4
Serving Size:

5
Amount Per Serving:
Calories:

873
Total Fat:

8g
Saturated Fat:

2g
Trans Fat:

0g
Unsaturated Fat:

5g
Cholesterol:

0mg
Sodium:

1861mg
Carbohydrates:

187g
Fiber:

5g
Sugar:

47g
Protein:

15g
It doesn't take long at all to make these Mini Ghost Pretzels. You could easily make a larger batch too! The Ghiradelli White Melting Wafers harden quickly and I've had the best luck with this brand. I've used the cheaper brands, but I always end up going back to Ghiradelli. Spend the extra money because it's easier to work with and it just tastes better!
Don't forget to pin these spooky ghost pretzels to your favorite halloween board on Pinterest.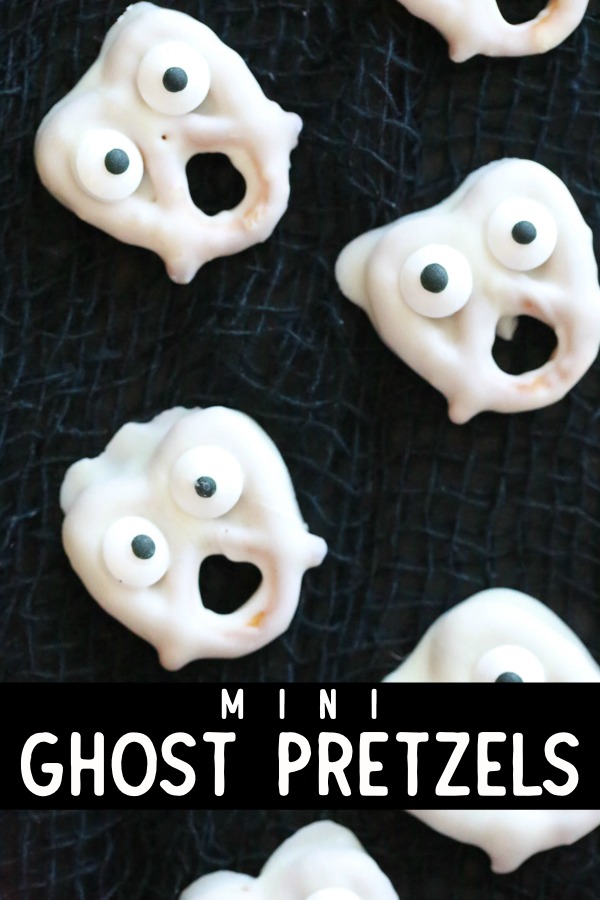 Got Halloween on the brain like me? Check out these other spooky Halloween posts: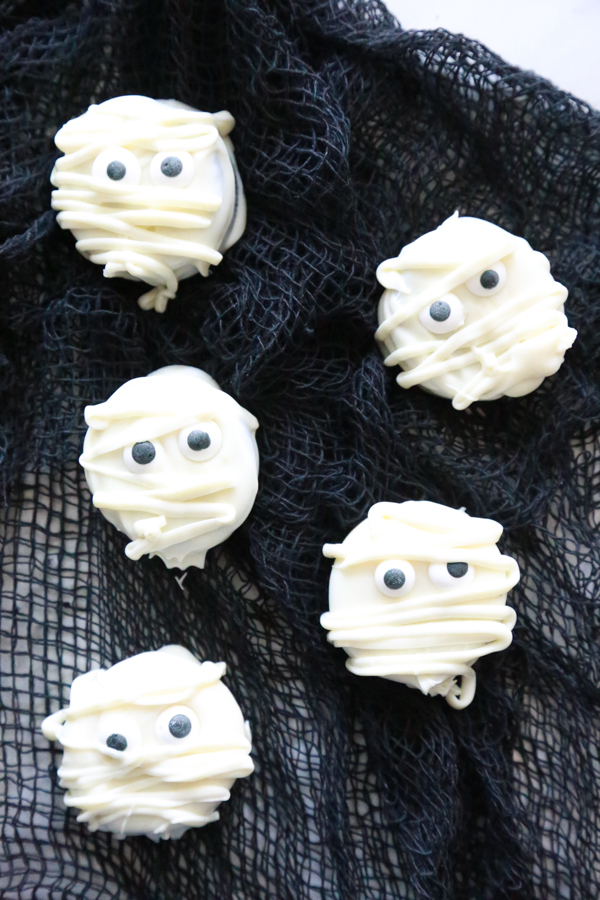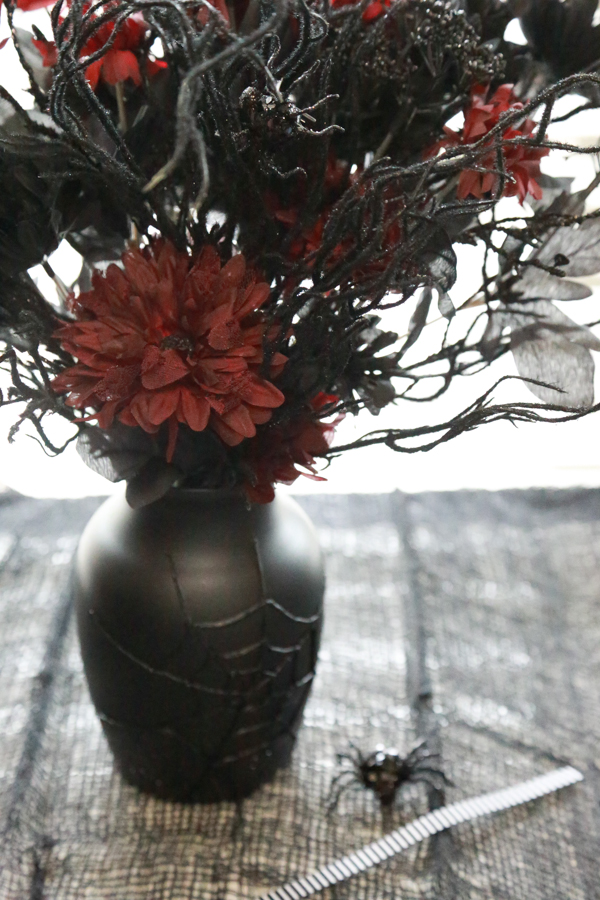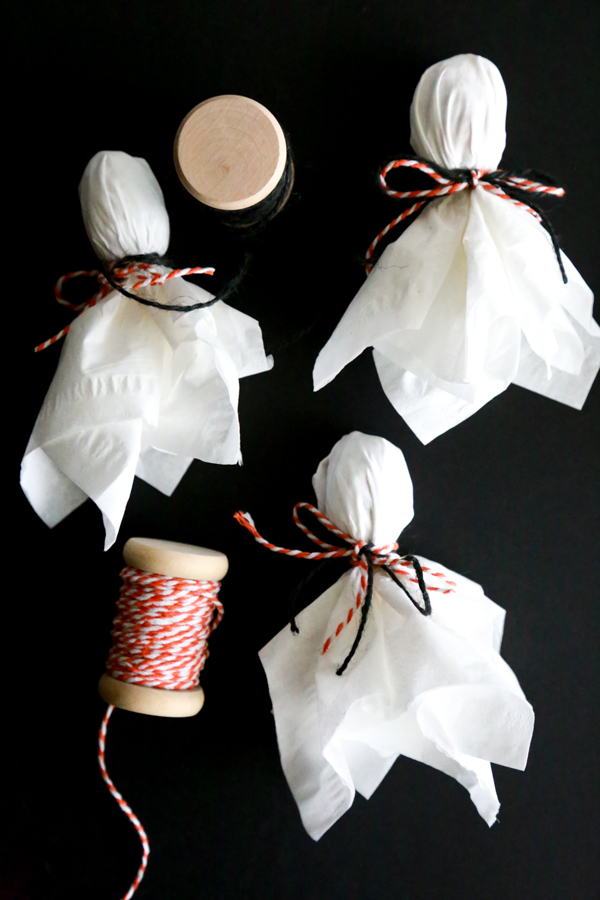 Don't forget to pick up everything you need to make these Mini Ghost Pretzels.
Ghirardelli Chocolate White Melting WafersBuy Now
Wilton Candy Eyeballs, Pack of 50Buy Now
Disposable Bamboo ChopsticksBuy Now
Snyder's of Hanover Mini PretzelsBuy Now