I love decorating for Halloween, but I don't like to spend a lot of money on my decorations. I thoroughly enjoy saving a few bucks and just making it myself, like I did with this DIY Spider Web Halloween Vase. Look how I transformed this $1 vase from the dollar store into a spooky vase perfect for Halloween.

This is a partnered post. As always all thoughts and opinions are my own.
I'm not trying to pat myself on the back or anything, but I love the way the DIY Spider Web Halloween Vase turned out. And can you believe the vase only cost me ONE DOLLAR? Well, $1.08 with tax. With a little bit of hot glue and spray paint I was able to transform this cheap vase into spooky decor for Halloween.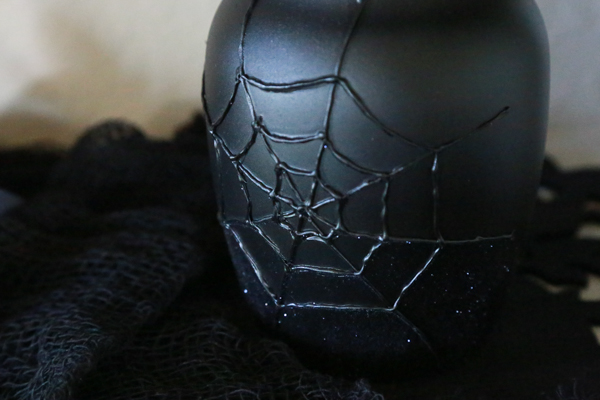 I'm going to walk you through the steps of making your own DIY Spider Web Halloween Vase. It's super easy but does require a steady hand and a little bit of time. But you'll love the end result. It's so eerily cute!
DIY Spider Web Halloween Vase
Materials:
glass vase (you can find these for $1 at the dollar store)
marker – The color doesn't matter. You won't be able to see it once you've completed the project.
hot glue gun & sticks (I love this one from Westcott! It's the one I used for this because it's easier to hold and use for a project like this one.)
flat black spray paint – This is the one I used. It worked perfectly for this project.
ribbon
Instructions:
With a marker, draw a spider web on the glass vase. You can put it wherever you want. I chose the center on my vase. To draw a web, make a dot for the center of where you want the web to be. Then draw straight lines outward away from the center dot. Once you have all the lines drawn, draw curved lines in the center of the straight lines connecting them. Do that until you like the look of your web. There is no right or wrong way to do this step. Create it how you want it to look. If you mess up when drawing, you can wipe most markers off with an alcohol swab.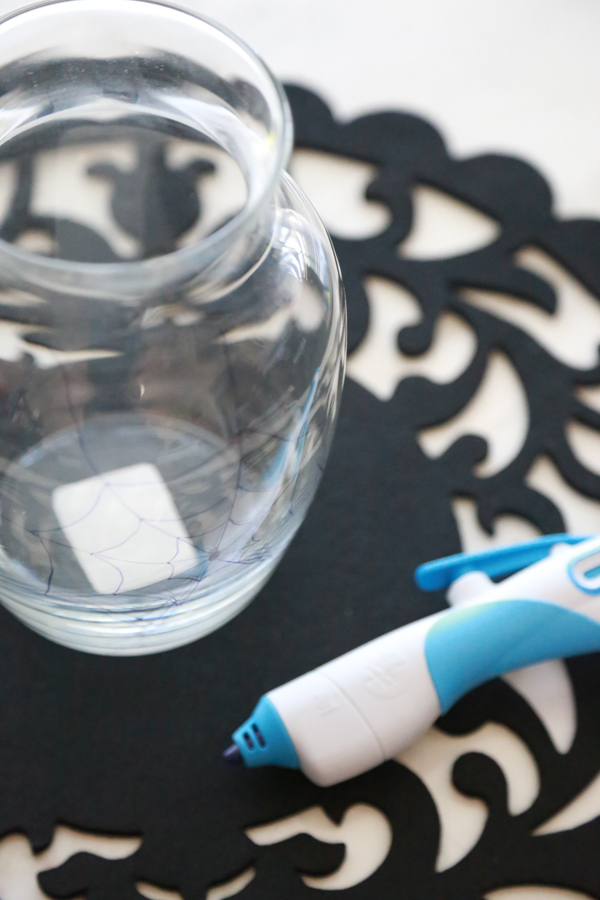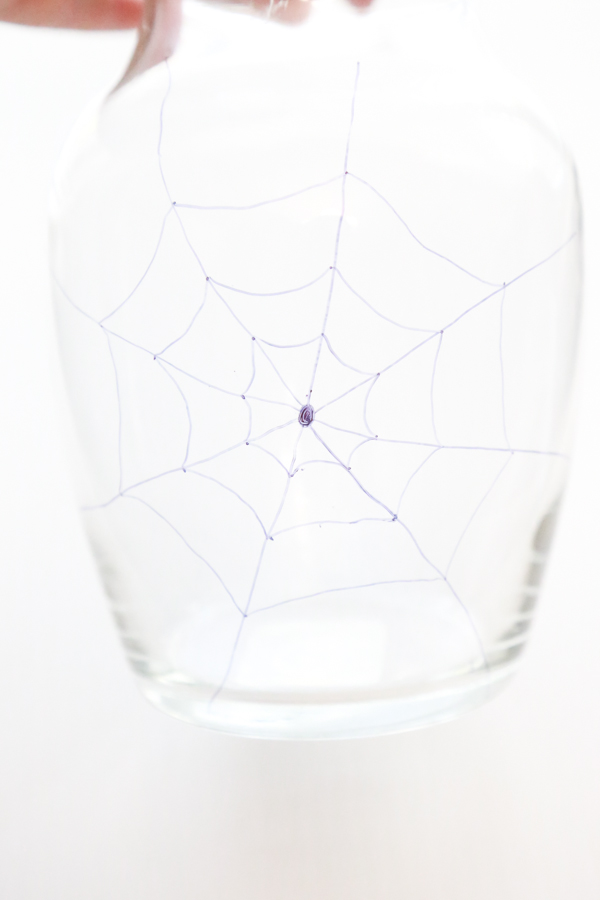 Once you've drawn the spider web on the vase and you like how it looks, use the Westcott Hot Glue Pen to trace over the web you've drawn with the marker. Trace the straight lines first and then trace the other lines in a uniform manner. You get the best result when you move your hand in a slow, fluid motion.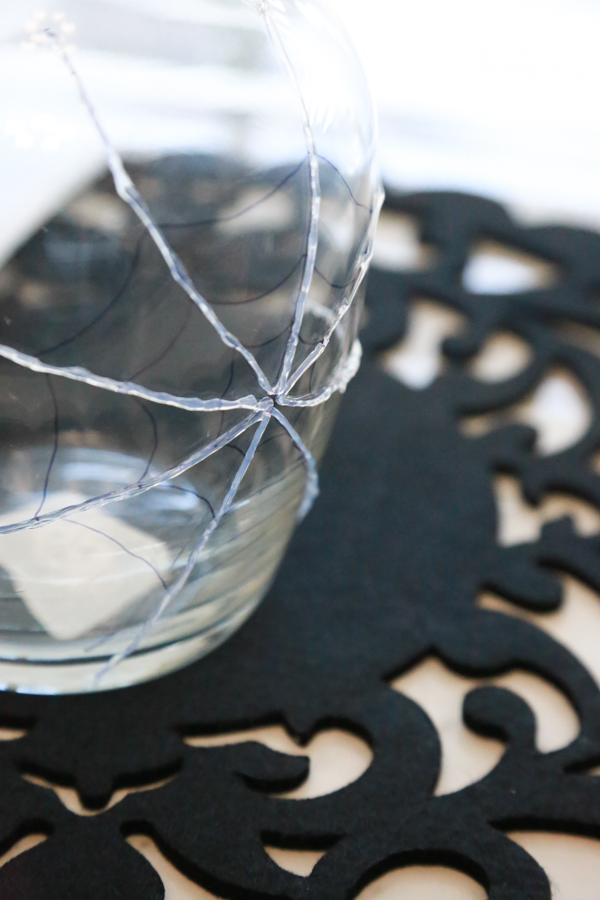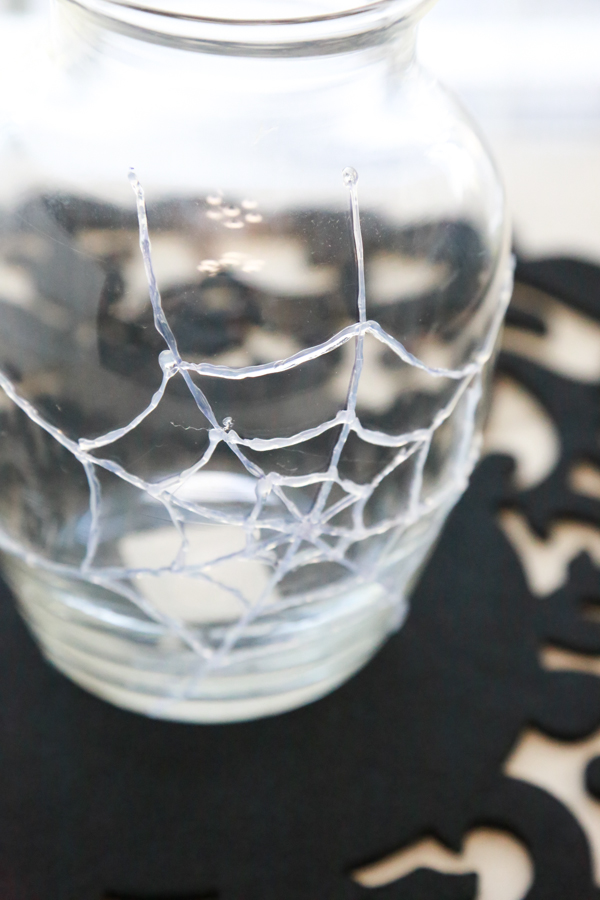 Once you've traced the spider web with the hot glue pen, go outside to a well ventilated area, preferably with a cardboard box, and begin spraying the vase. I did this step in several sets because I didn't want the paint to drip. Make sure you cover the vase evenly with the spray paint. Do several light coats to get the look I got.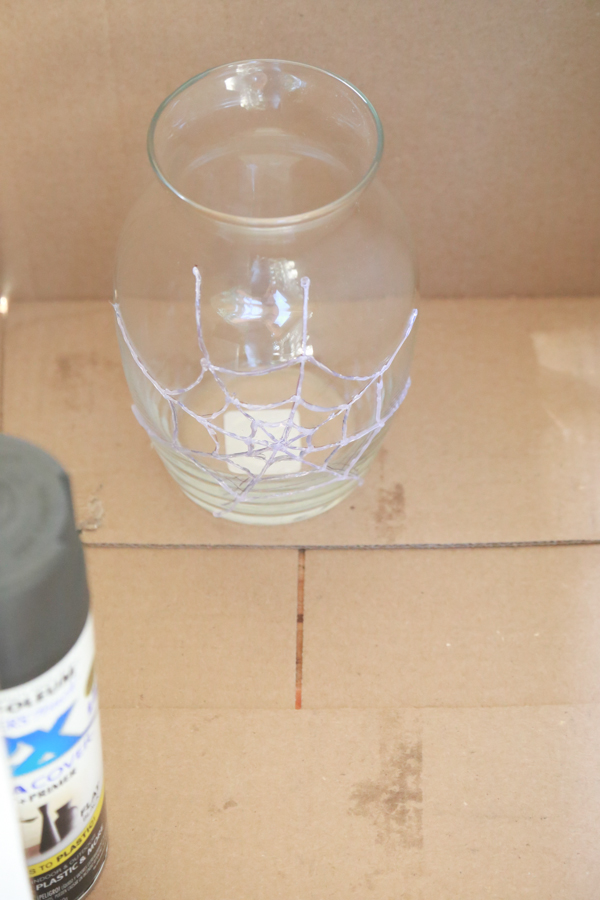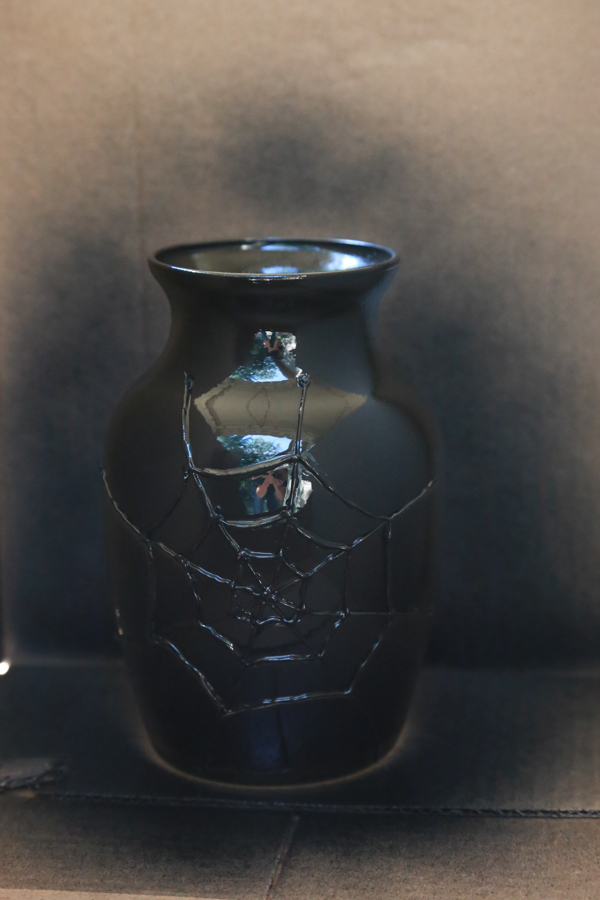 During the last coat, turn the vase upside down inside the cardboard box. Spray a light coat of paint over the bottom portion of the vase and quickly sprinkle with black glitter. Keep outside to dry.
Once the vase is dry, use the hot glue pen again and adhere a piece of ribbon around the neck of the vase. Fill the vase with flowers and other Halloween-inspired goodies, like those sparkly, little spiders and then display!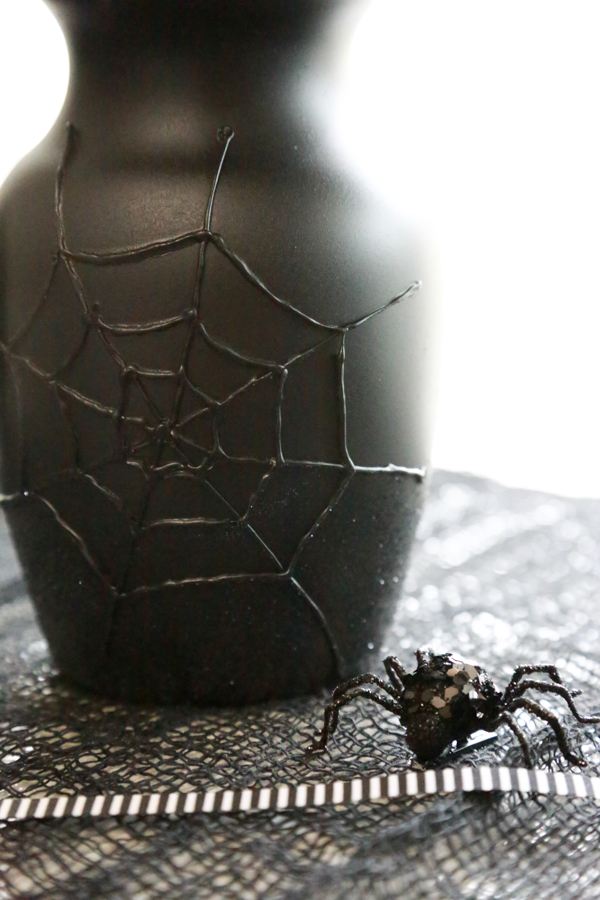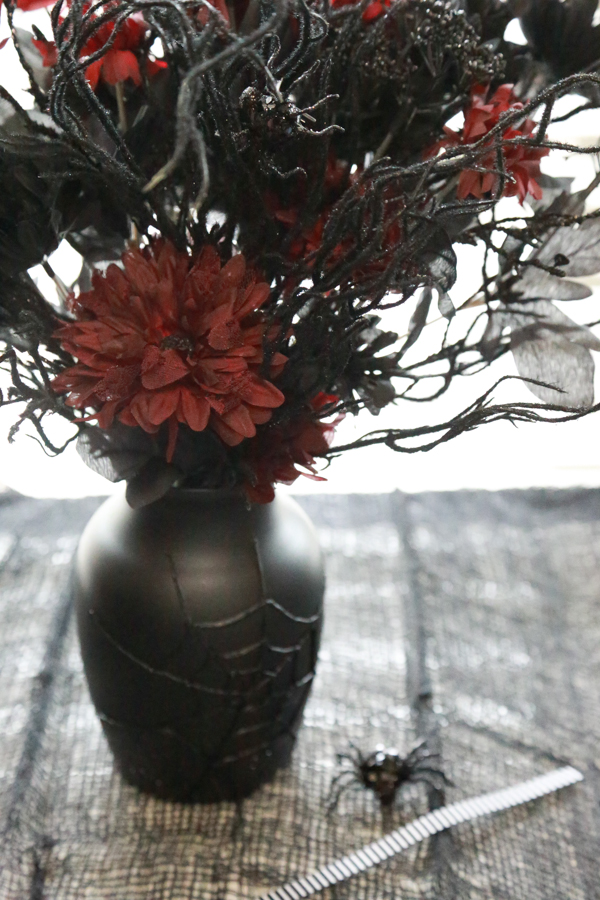 You could easily spend upwards of $60+ at a craft store for something similar. For me, there is so much satisfaction when I make my own decorations. The saving money part is just a BIG perk.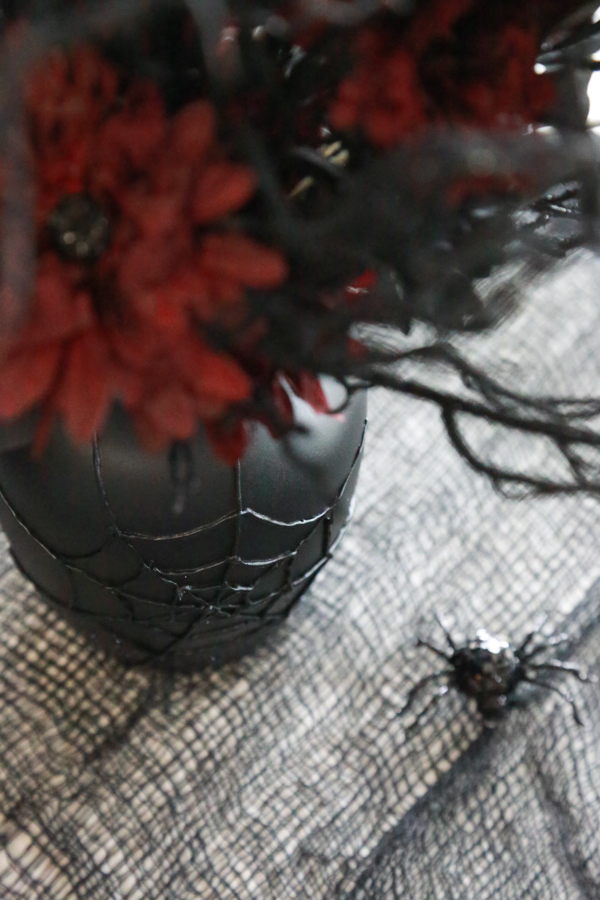 Using the Westcott Hot Glue Pen will totally transform the way you do your DIY projects. The easy to dispense trigger and ergonomic design gives you precision accuracy for every type of project. The non-stick tip makes clean-up easy, the color changing nozzle changes color when it's ready for use, and the top-mounted finger trigger makes dispensing glue easier than ever.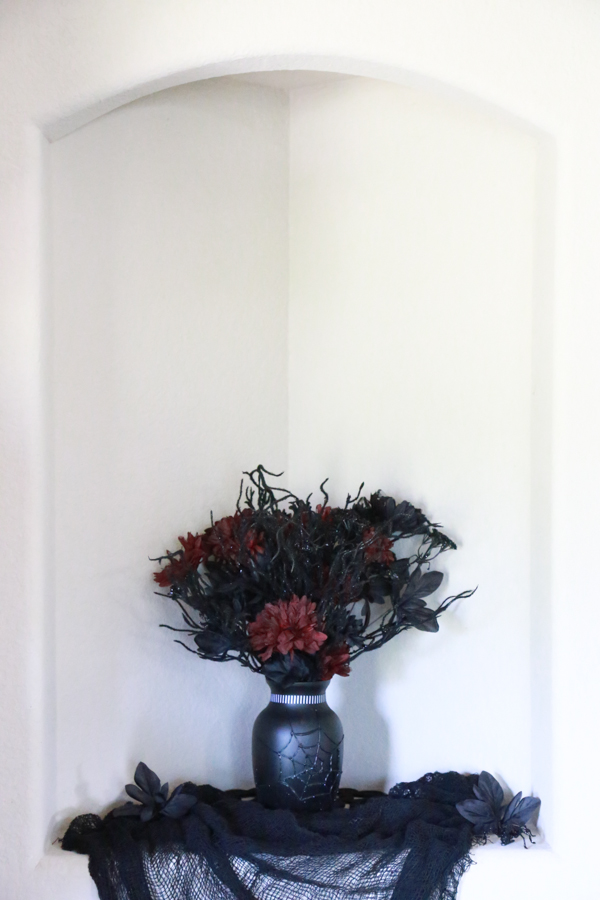 If you love DIY's and crafts, check out www.WestcottCreativators.com for some inspiration for your next project.
Buy exactly what you NEED to make this DIY Spider Web Halloween Vase from Amazon and have it delivered right to your door. Save that trip to the store and shop in your pajamas! You already know how much I love Amazon and my Prime membership! Free shipping and shopping in my pj's is the only way to shop! You can get a FREE AMAZON PRIME TRIAL here!
Got Halloween on the brain? So do I. Here are some other Halloween projects.