My children love make your own pizza nights. Since Halloween is right around the corner, we turned our pizza night a little spooky with these English Muffin Mummy Pizzas.

All you need is four ingredients and children who want to help in the kitchen. If you watch the English Muffin Mummy Pizzas video how-to towards the bottom of the post, you'll see some little hands helping at the end. If you make it fun for them, they'll be happy to help. That has been my experience at least.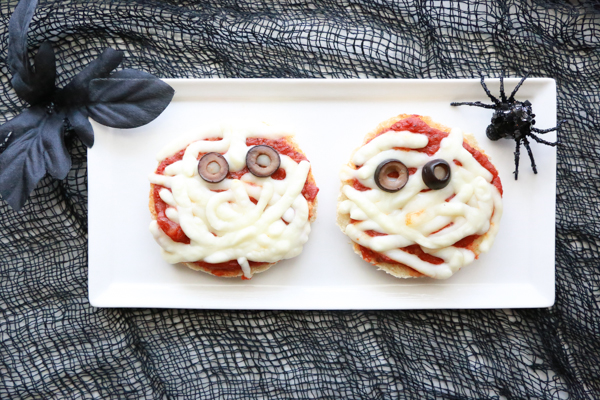 I know it's still a little early for Halloween, but my kids are eatin' it up. As long as they're enjoying it, we'll be turning everything a little spooky.
English Muffin Mummy Pizzas
English Muffin Mummy Pizzas
Turn boring English muffins into these spooky English Muffin Mummy Pizzas.
Ingredients
8 english muffins, halved
1/2 cup pizza sauce
sliced black olives (you can slice your own if you don't have sliced at home - that's what I did)
mozzarella string cheese or mozzarella cheese whips if you can find them
Instructions
Preheat oven to 350° F.
Place english muffin halves onto a baking sheet. Put a spoonful of pizza sauce onto each half. If you like more sauce, feel free to use more.
If you were able to find the cheese whips, use them as the "bandages" for the mummy. If you were not able to find cheese whips, tear string cheese into strips and use those. Top with black olive slices for eyes.
Put in the oven to bake for 8-10 minutes or until cheese is melted. Serve immediately.
I found some really neat mozzarella cheese whips at Kroger and we used those for the mummy "bandages". If you can't find any at your store (this is the first time I've seen them), you can use regular string cheese and pull it into strips. We've done that before and it works perfectly.
Kids seem to love eating what they've helped to make. Not like I need to force my kids to eat pizza, but you get my point, right? I used to be that mom that wouldn't allow the kids in the kitchen because of the mess they would inevitably make, but I'm so glad I stopped being so selfish. Some of the best times can be had when we're all in the kitchen. Even with all the messes.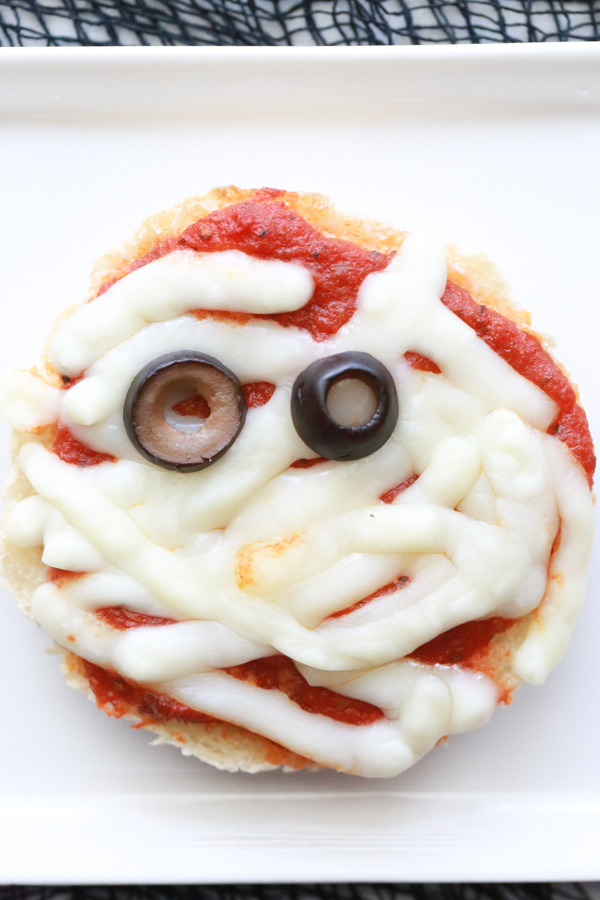 Are you knee deep in Halloween preparations? Maybe these Halloween posts can help you out: