I know that Halloween means lots of sweets and lots of spooks. I personally prefer more sweets than spooks so these Easy Rice Krispies Mummy Halloween Treats make this mom really happy.
The bonus to that is my kids think I'm pretty cool. Not only because I make all the sweet things, but I make them WAY BEFORE HALLOWEEN. For them Halloween lasts like an entire month and a half.

I know that parents are struggling to find time for the necessities so extras really aren't in the time budget. But, what if I told you that these mummy treats were super simple to make and don't require a huge time investment. Would you try them then?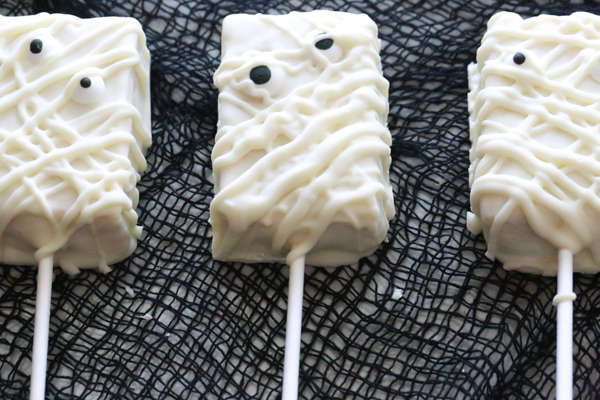 Well, good. Because these Easy Rice Krispies Mummy Halloween Treats REALLY are EASY! I'm not just saying that. I'd say you could whip up an entire batch in less than 15 minutes, start to finish.
Want to try?
Rice Krispies TreatsBuy Now!
Ghirardelli White Melting WafersBuy Now!
Lollipop sticks, 6″Buy Now!
Wilton Candy EyeballsBuy Now!
Before you start to make these Easy Rice Krispies Mummy Halloween Treats you'll need some supplies. I know running to the store with the kids isn't high on your list of favorite things to do (because it isn't mine either), so let me introduce you to my secret – Amazon Prime. I love Amazon Prime. I shop while still in my pajamas and take advantage of FREE 2-day shipping. If you aren't already a Prime member, you can sign up for a FREE 30-day TRIAL. Seriously, it's probably the most worthwhile membership I pay for each year. Just try it – you can thank me later.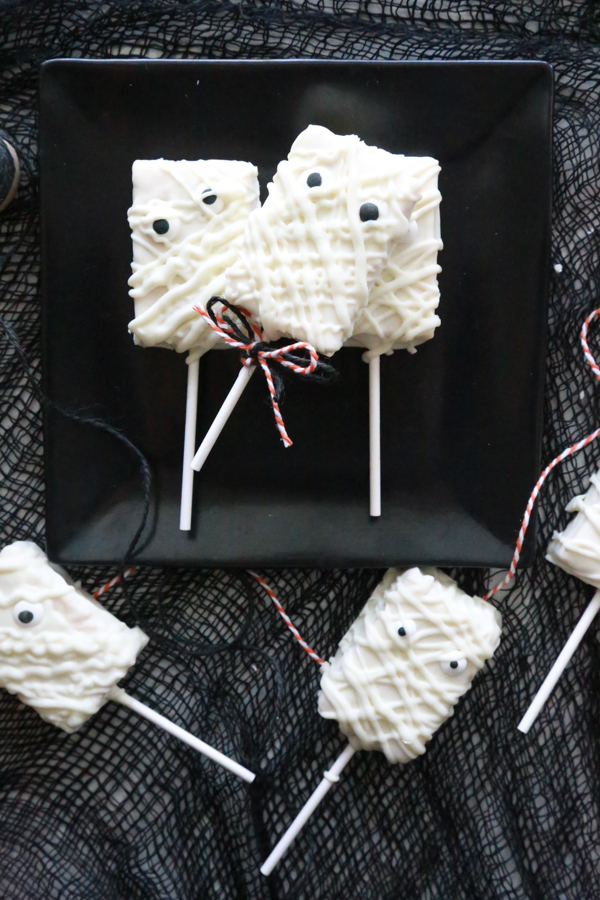 If you already have all your supplies, lets make some yummy Halloween treats.
Rice Krispies Mummy Halloween Treats Recipe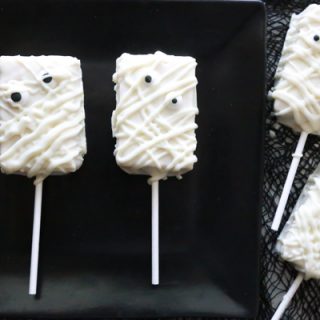 Easy Rice Krispies Mummy Treats
You could make your own Rice Krispies Treats, BUT, you could make this easier by just purchasing Rice Krispies Treats and saving yourself a step with these Easy Rice Krispies Mummy Treats.
Ingredients
6 individually wrapped Rice Krispies Treats
6 Wilton 6" lollipop sticks
1 package (10 oz) Ghiradelli White Melting Wafers
12 candy eyes
Optional
Instructions
Melt the Ghiradelli melting wafers according to the package directions in a microwavable bowl. While those are melting, unwrap Rice Krispies Treats. Use the lollipop sticks to make a hole in the bottom of each of the Rice Krispies Treats.
Dip a lollipop stick into the melted chocolate and insert into the hole you made in the bottom of the Rice Krispies Treat. Do this to each one and allow to cool for a few minutes. This will make it easier when you are covering the entire treat with the chocolate.
Put the Rice Krispies Treat into the melted chocolate and use a spoon to cover the entire treat. Once the treat is entirely covered tap it on the side of bowl to remove any of the excess. Set aside on waxed paper and put two candy eyes towards the top of the treat. Repeat with the remaining 5 treats.
Pour the remaining melted chocolate into a plastic bag and cut off one tip. Drizzle the chocolate over the top of the treats to give them the "mummy look."
Allow the chocolate to harden and serve.
Nutrition Information:
Yield:

6
Serving Size:

1
Amount Per Serving:
Calories:

185
Total Fat:

3g
Saturated Fat:

1g
Trans Fat:

0g
Unsaturated Fat:

2g
Cholesterol:

0mg
Sodium:

104mg
Carbohydrates:

39g
Fiber:

0g
Sugar:

17g
Protein:

1g
How to Make Mummy Halloween Treats
If the written directions confuse you (hey, I get it – I'm a visual person), here are some photos with some of the steps.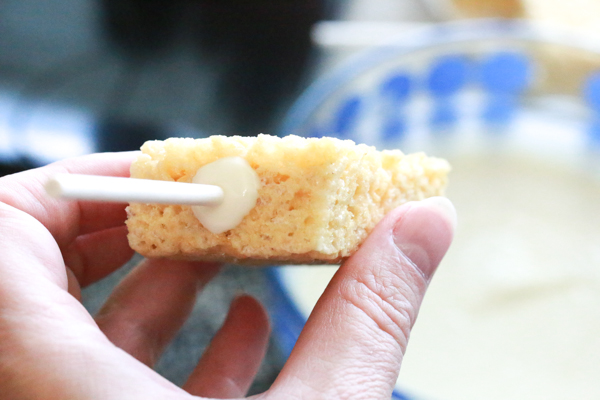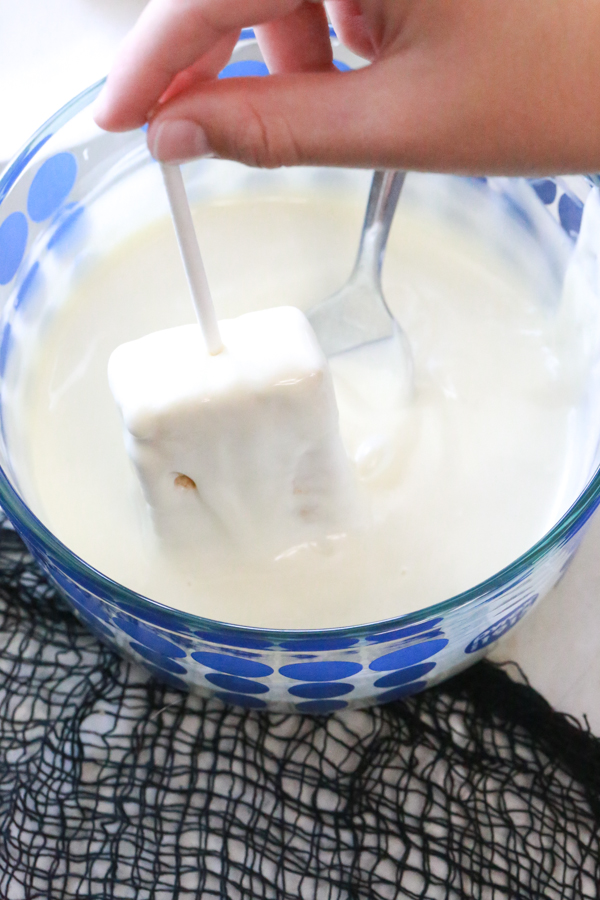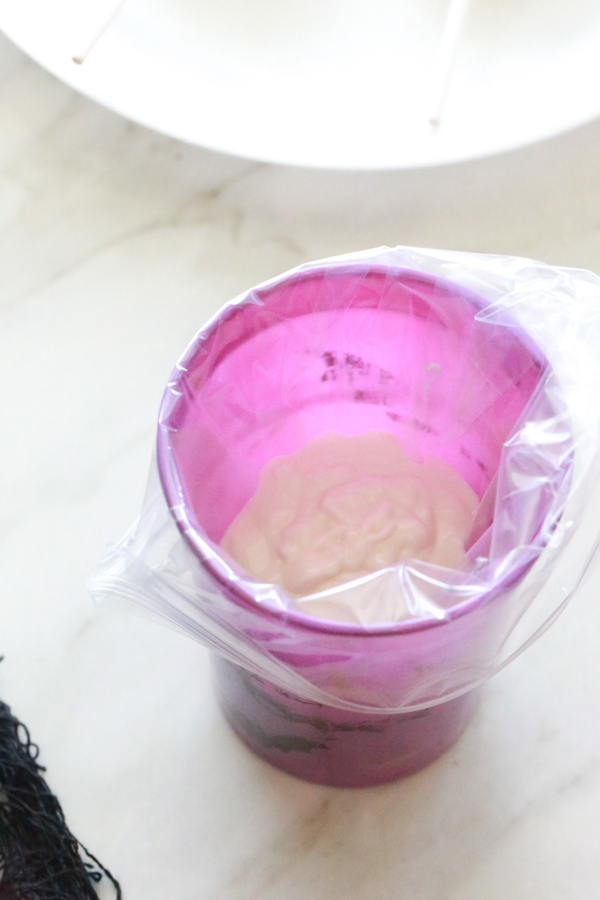 I find that putting the plastic bag into a cup with one end down helps tremendously. All the melted chocolate goes to the end where you need it so there is less waste.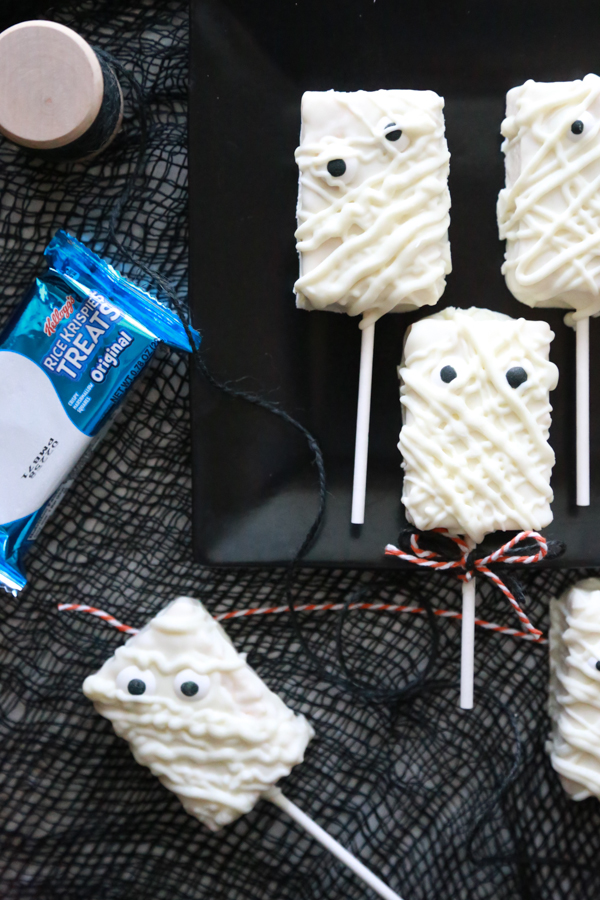 These Easy Rice Krispies Mummy Treats are pretty much AMAZING! They're perfect for Halloween parties, too. If your child's school still allows homemade treats, I know that these would be a HUGE hit with the kiddos. Throwing a party at your house? Great! These little treats will be the star of the show. I mean, there's really NOTHING not to love about these.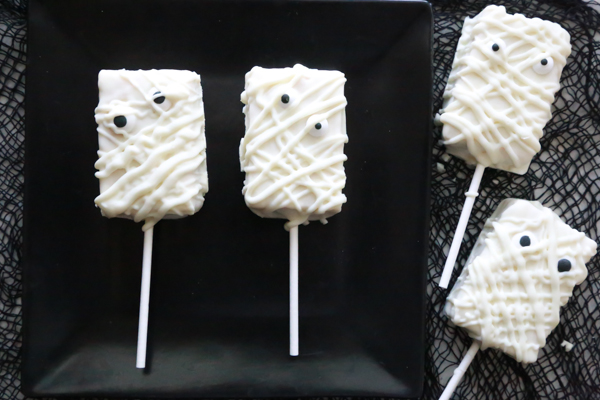 If you want to serve these at a school party, I recommend purchasing some treat bags and some themed twine. They looks so darn cute all packaged up and ready to serve.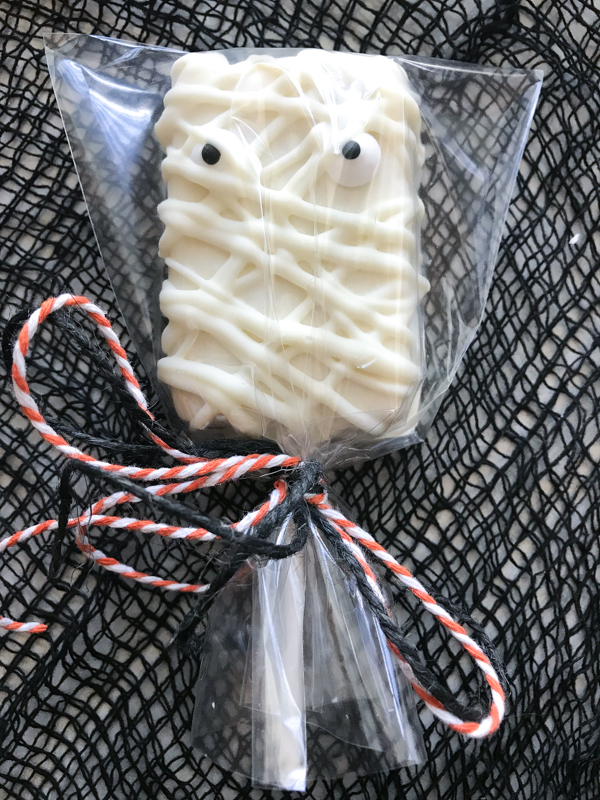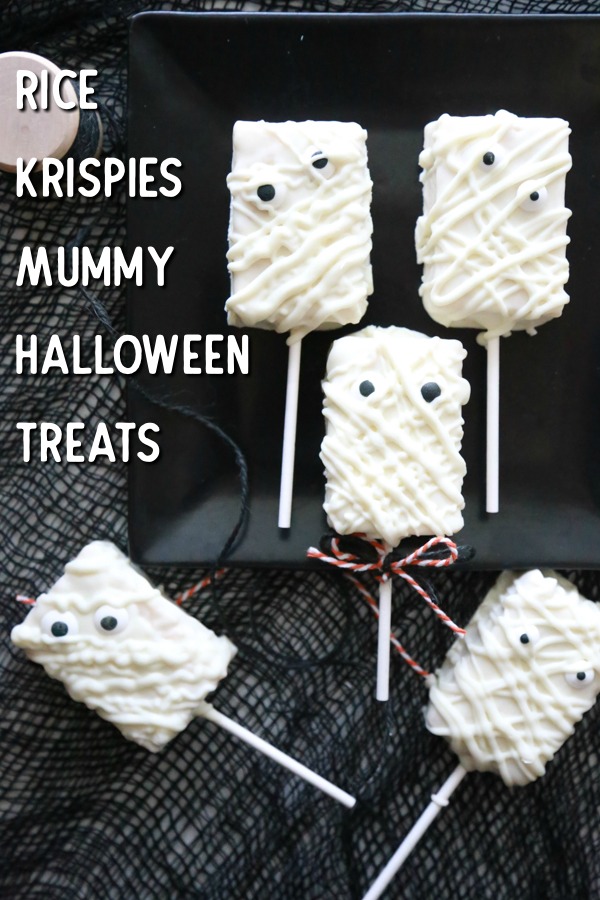 I know one Halloween treat usually isn't enough for my bunch, so here are some other fun and festive Halloween treats to enjoy during the spooky season: