My kids have been counting down to Halloween all month because they know it's the one day out of the year where I'm not policing every little morsel that goes into their mouth. Halloween is the one day that I allow them to indulge in the sweet goodness of fun Halloween treats. After we get home with their loot, I sneakingly replace it with candy I bought from the store. And then I take what I want from their trick-or-treating loot and hide it in the highest part of the pantry, where even the husband can't find it. I'm totally one of those moms, y'all!
My friends over at Kraft have a plethora of fun Halloween Treats available on their website that are perfect for Halloween festivities. For us, part of the fun of Halloween night are all the treats! There is something so satisfying about stuffing our faces with candy spiders and cookie ghosts.
Don't judge!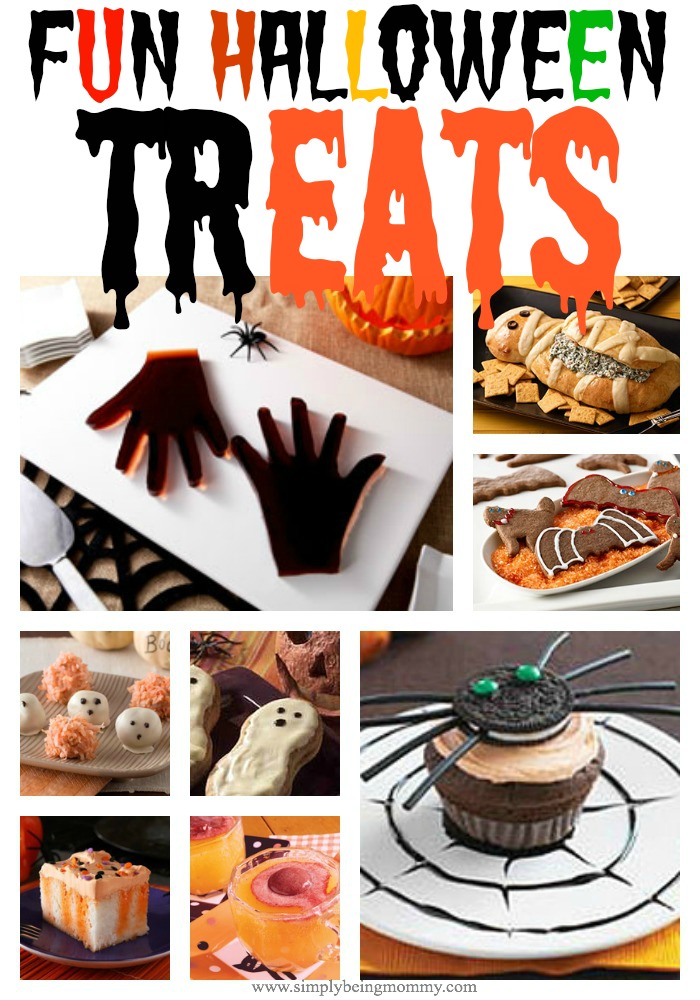 Fun Halloween Treats
Bats & Cats Chocolate Halloween Cookies // Cookies are just more fun when they're dressed as bats and cats.
Halloween Mummy Spinach Dip // The mummy-shaped bread loaf will be the talk of the party.
Halloween Spook Cookies // Need a quick Halloween treat? Decorating gels and melted white chocolate add a ghostly appeal to store-bought, packaged cookies.
Happy Halloween Dessert Cups // Jell-O, Cool Whip, and chocolate — need I say more?
Halloween Cupcakes // Use orange-flavored Kool-Aid for a trip down memory lane.
Easy Halloween Truffles // The chocolate center of these ghosts and pumpkin truffles is nothing to be scared of.
Halloween Sparkle Punch // Blackberry sherbet and cold ginger ale makes this punch the drink of the night for ages 1 – 101.
Halloween JIGGLERS Hands // I don't know. You decide — creepy or cute?
Halloween Poke Cake // You'll get the job done with the help of the humble kitchen utensil — the fork.
Spider Cupcakes // These spiders have been fashioned from cookies and licorice. No creepy crawlies here.
For more fun Halloween treats, visit these links: