For weeks now my social media feeds have been full of the antics of naughty and nice elves. My kids were getting older when the elf-mania started to blow up, so we chose to skip the holiday tradition. For nearly two decades we have managed to come up with plenty of holiday traditions that don't involve elf on the shelf and I thought I would share some of our favorites.
Holiday Traditions that Don't Involve Elf on the Shelf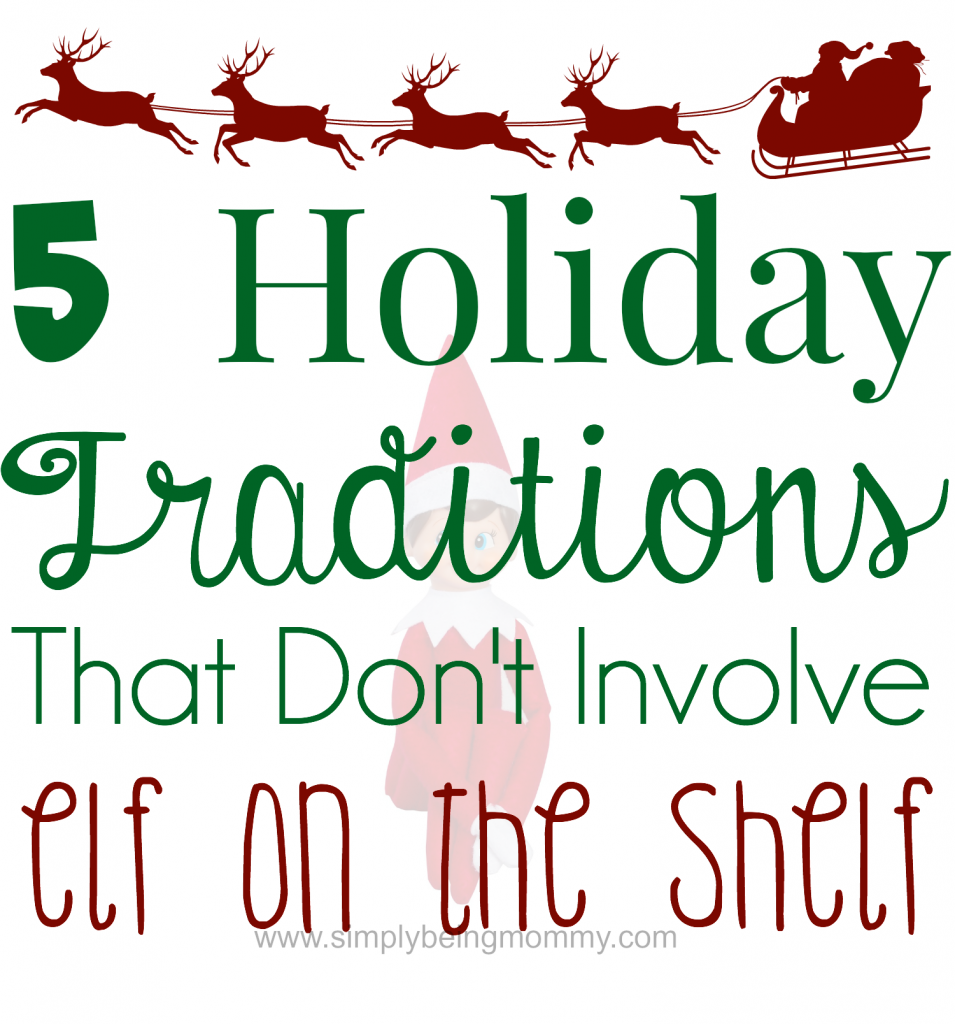 Christmas Lights: I think my kids would say, hands down, that their all-time favorite tradition is our annual Christmas lights excursion. Everyone bundles up and we head out for an evening that always puts us in a merry mood. One of our local parks has a walking trail and another has wagon rides. After we visit the parks we usually stop for hot chocolate and then drive around looking at residential displays. This is a great way to unwind after an afternoon of shopping, wrapping presents, or baking goodies!
New Christmas Books: Every year my children get a new Christmas storybook. We keep them under the Christmas tree. I wish I could tell you we sit and read them every night still, like we did when they were younger, but when we do it's like saying hello to an old friend. Our books are cherished, and even have their own box and are carefully stored with the decorations.
New Pajamas: Since they were babies I have bought them each a new pair of jammies. I thought they had outgrown this, but they still look forward to it and were crushed when I suggested it was time to stop! It is the only present opened on Christmas Eve at our house, mainly so they won't look ratty in our Christmas morning pictures!
Feed Santa & the Reindeer: And of course, it wouldn't be Christmas at our house if we didn't feed Santa and the reindeer. We make our own reindeer food. Usually I mix oatmeal and colorful cookie sprinkles, but I have been known to throw in raisins or nuts, or whatever I have on hand. We toss out handfuls of the reindeer food all over the front lawn before bed on Christmas Eve. Thanks to the rabbits and birds, or maybe the magic of Christmas, it is always gone in the morning! We also leave goodies for Santa. I'm not sure how it started but we leave Pepsi and cheese, along with cookies. I think my oldest insisted many years ago and it stuck. I am sure one day her kids will leave cheese and Pepsi for Santa as well.
Travel: It's never too late to start a new tradition. Typically we vacation in the summer or early fall, but the holidays are a wonderful time to take a quick trip. Last year we took the boys to Gaylord Opryland for the Dreamworks Christmassy Experience and it was such a great family bonding time. I honestly wish we had thought of doing a holiday getaway years ago! This year we are taking a long weekend trip to Branson, Missouri the day after Christmas, so watch for some of our adventures in a few weeks.
What are some of your favorite holiday traditions that don't involve elf on the shelf?