Challenge your friends to a fun game of Halloween Tic Tac Toe. The winner gets the candy!
There's no denying that Halloween just wouldn't be the same without candy. I mean, isn't that why we celebrate Halloween anyway? To eat ALL THE CANDY!!

I mean, forget all the costumes and scary decorations. I'm just here for the candy. Who's with me?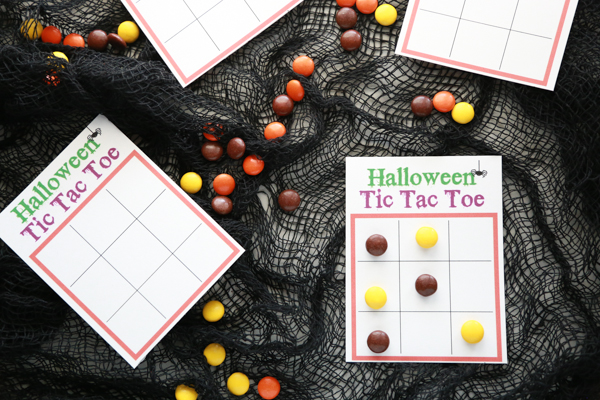 If you love Tic Tac Toe, then you'll love playing Halloween Tic Tac Toe. All you need is a Halloween Tic Tac Toe printable and some small candy pieces, like Reese's Pieces or M & M's. I like using Reese's pieces because they're all perfect colors for Halloween but feel free to use whatever you want.
There aren't really any stipulations to the game, except the loser has to hand over his candy for the round. I'd say that's fair.
Halloween Tic Tac Toe
Materials:
small candy pieces (like Reese's Pieces or M & M's)
printer
scissors
Instructions:
Print the free printable and cut into four playing cards. Use the candy pieces in place of the traditional X's and O's on your playing card.
Each player gets 5 candy pieces in the same color. Play Tic Tac Toe like you would normally play. At the end of the game, the winner gets the candy pieces.
I like playing Halloween Tic Tac Toe because the winner actually get something besides bragging rights. And since candy is a big incentive for me, I want to do all the winning.
---
Westcott Carbo Titanium Narrow Trimmer, 12
Y'all! I love this trimmer. I got it a couple months ago to replace my other one that I wore out, and I'm absolutely loving how sturdy it is and how well it cuts through paper, even thicker paper, like cardstock. And did I mention that I love the "score" option. There are two separate blades; one cuts and one scores. This trimmer is like my new BFF in the craft room.
---
Want more Halloween inspiration? Here are some other fun things to make for Halloween!