If you haven't tried Turtle Apple Pops AKA Deliciousness on a Stick – you're missing out. These little treats are perfect year round and they'll disappear before you know it.

I really love Turtle candy and the healthier version of those are these Turtle Apple Pops. I'll still go for these Homemade Dark Chocolate Turtles any day, but don't make me choose between the two. That would be pretty darn impossible.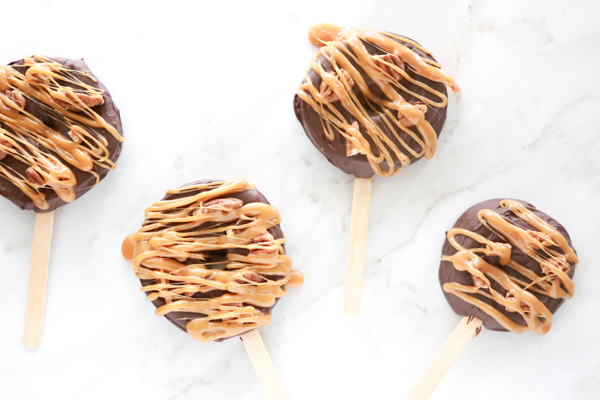 The chocolate. The caramel. The pecans. The apples. It's all so delicious.
Turtle Apple Pops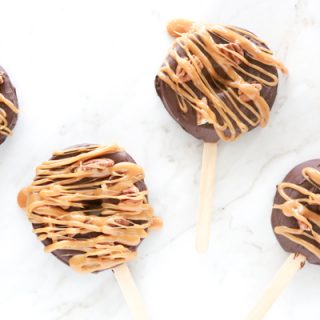 Turtle Apple Pops AKA Deliciousness on a Stick
Delicious apple slices topped with chocolate and caramel.
Ingredients
3 large Fuji apples
3.5 cups semi-sweet chocolate chips
1 tablespoon coconut oil, divided
chopped pecans
1 cup caramels, melted
Other Items Needed:
Instructions
Using an apple corer, remove the core from the center of the apples. Then, slice each apple into slices about 1/2" thick. You should get about 5 slices per apple. With a sharp knife, cut a small slit into the bottom of each apple slice so that the popsicle stick will go in easier.
Melt chocolate chips in the microwave according to the directions on the package. Make sure not to overheat. Once chocolate is melted, stir in half of the coconut oil until smooth. If you need more, add in the other half. Dip apple slices into the chocolate and place on a lined cookie sheet. Sprinkle pecans over the top of the chocolate.
Melt caramels in the microwave according to the directions on the package. Again, make sure not to overheat. Stir until smooth and drizzle melted caramel over the pecans and chocolate.
Refrigerate for about 1 hour and then enjoy immediately. If there are leftovers, store in the refrigerator.
Nutrition Information:
Yield:

15
Serving Size:

1
Amount Per Serving:
Calories:

350
Total Fat:

20g
Saturated Fat:

9g
Trans Fat:

0g
Unsaturated Fat:

10g
Cholesterol:

1mg
Sodium:

42mg
Carbohydrates:

48g
Fiber:

4g
Sugar:

40g
Protein:

3g
Making these Turtle Apple Pops is super simple and the end result is absolutely amazing. What's not to love about these, y'all?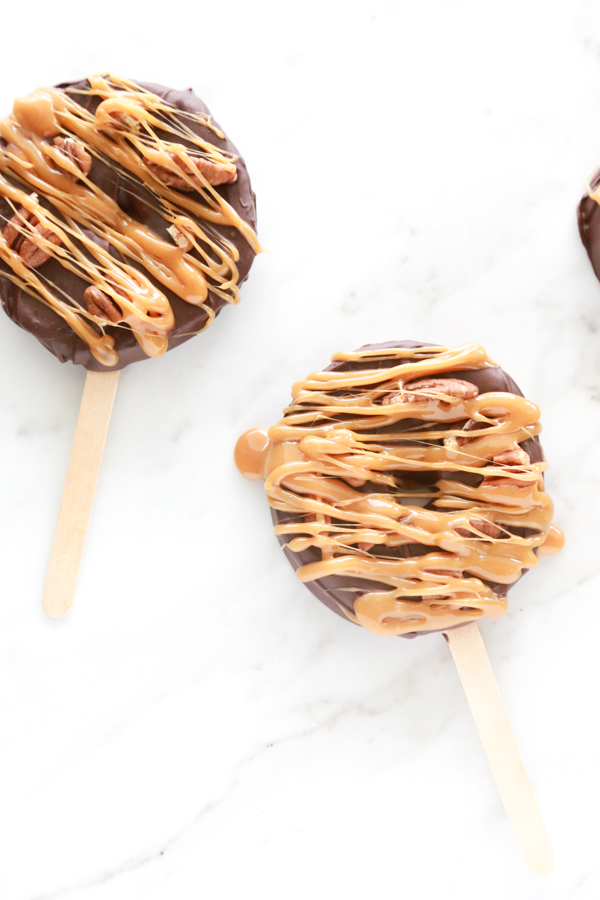 How to Make Turtle Apple Pops
You'll need an apple core remover. There's no question about it. You could cut the seeds out after slicing, but seriously y'all, that is a lot of work. This apple core remover is less than $10 and it is the easiest one I've found to use. Not only does it make removing the core easy, the twist and slide body makes it easy to get the core out of the tool. And it's dishwasher safe. GET ONE OF THESE – you won't regret it – I promise.
ZYLISS Apple CorerGet it now!
Cover apple slices with chocolate. Oh my gosh, y'all – look at that chocolate. Doesn't that look so good?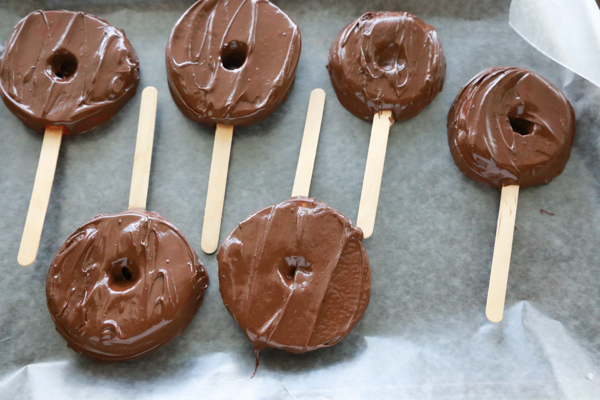 Sprinkle some pecans over the top and finish with some melted caramel. It just doesn't get better than this!
Put into the refrigerator so that it all firms up and then enjoy!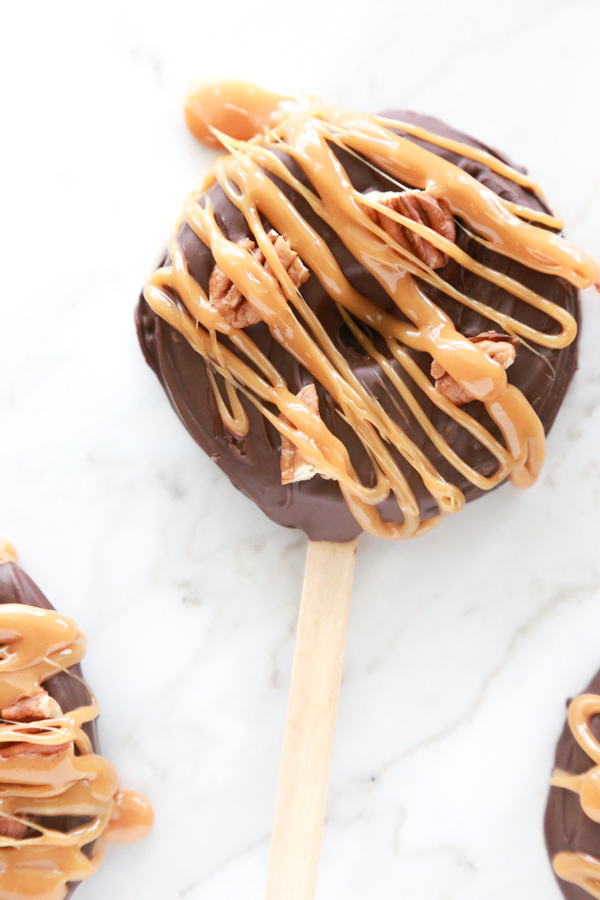 Do you need more better for you alternatives for your snacking? Check out these popular posts:
Homemade Yogurt Covered Blueberries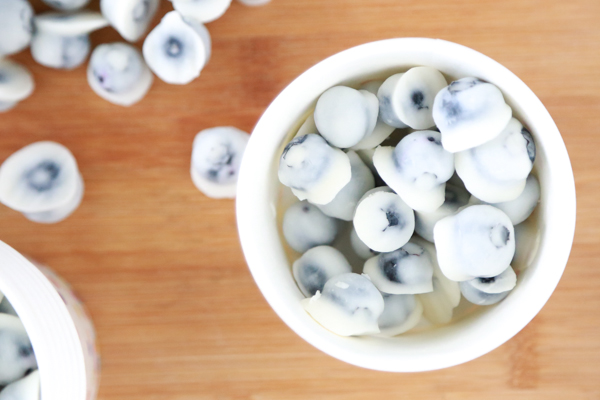 3-Ingredient Whipped Frozen Pineapple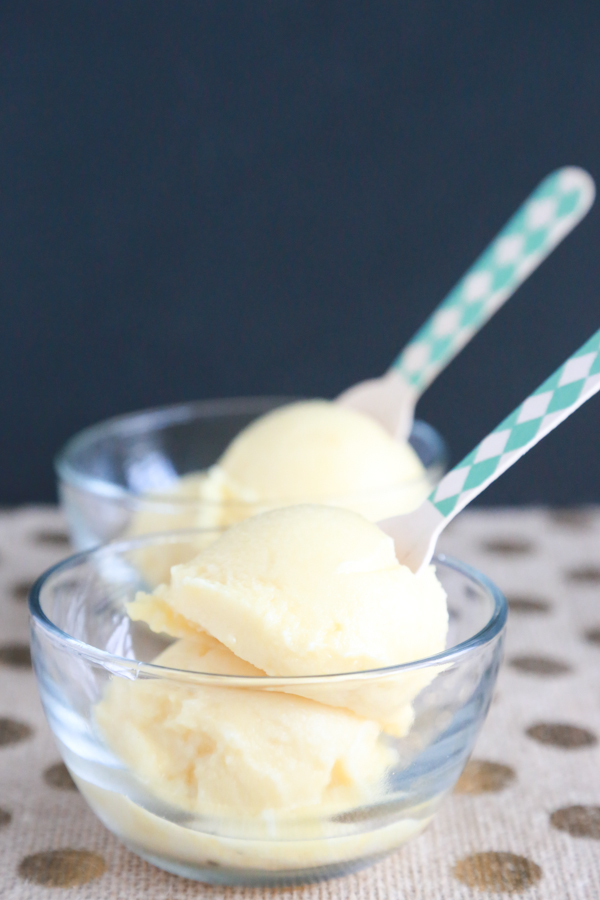 Chocolate Cranberry Cereal Bars