Like your mom always told you, breakfast is the most important meal of the day. But if you're like me, sometimes eating breakfast is the last thing you actually want to do when waking up in the morning. As soon as my feet hit the floor I'm in super speed mode and stopping to eat just isn't in the itinerary.
But I know how important breakfast is, so no matter how I actually feel, I always try to eat something. Whether it's a sausage, egg and potato breakfast wrap, a Mini Berry Breakfast Parfait, Pineapple Banana Orange Breakfast Smoothie, or a boring bowl of egg whites, I try to make sure it has some protein to give me a good jump start on the day.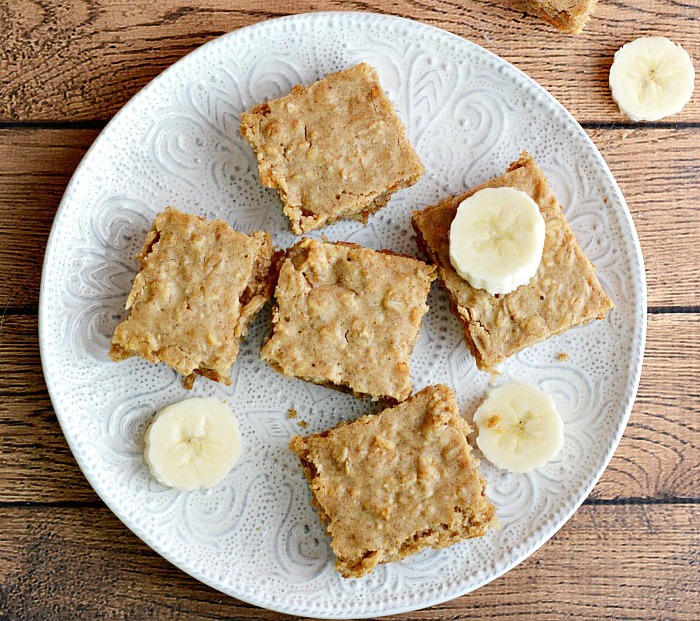 What is there not to love about these Peanut Butter Banana Oatmeal Bars? They're not only perfect for an easy-to-grab-quick breakfast, they're also a perfect after school snack! All that learning at school makes my children come home ravenously hungry.
And if your kids like to help in the kitchen, these Peanut Butter Banana Oatmeal Bars are easy to make and perfect for little hands.
Peanut Butter Banana Oatmeal Bars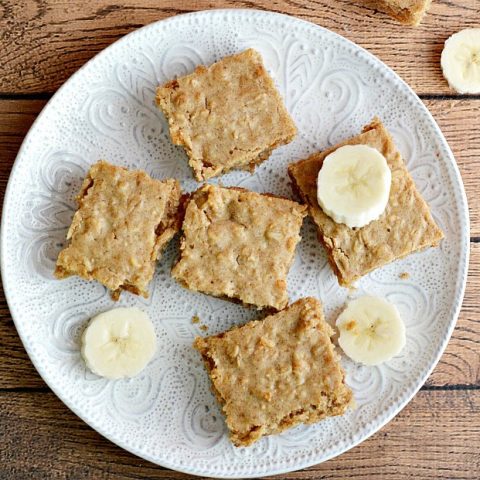 Peanut Butter Banana Oatmeal Bars
Ingredients
2 cups old fashioned oats
1 cup all purpose flour
3 tablespoons brown sugar
2 teaspoons cinnamon
1 teaspoon baking powder
1/4 teaspoon salt
1/3 cup Chunky Peanut Butter
1-1/2 cups milk
1/3 cup vegetable oil
1 large egg
1 teaspoon pure vanilla extract
1 large banana, mashed
Instructions
Preheat oven to 375 degrees F and spray a 9 × 13-inch baking dish with non-stick cooking spray.
In a large bowl, mix together the oats, flour, brown sugar, cinnamon, baking powder and salt.
Add peanut butter, milk, oil, egg, vanilla and banana. Stir until fully blended.
Pour into the prepared baking dish and bake for 30-35 minutes, until a toothpick poked in the center comes out clean.
Cool for 15 minutes before cutting into bars and serving. Store leftovers in an airtight container in the refrigerator.
Creating an easy recipe that kids love can sometimes be challenging. Especially when you have multiple children with different likes and dislikes. Thankfully these Peanut Butter Banana Oatmeal Bars has some of my kids favorite things, so they absolutely love these.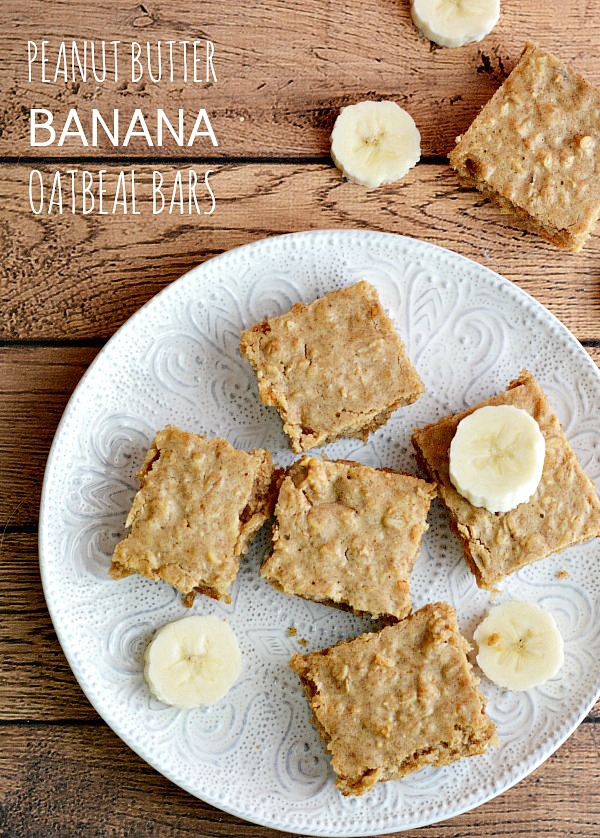 If your children are anything like mine, they'll think they are getting an extra special treat when you let them have these Peanut Butter Banana Bars for breakfast.
Need more breakfast ideas, I've got you covered:
What's your favorite, easy go-to breakfast?