With the busy back to school season in full force, I thought I'd share an easy way for you to plan out dinner on busy nights. Print this free Weekly Meal Planner Printable and master the dinner time routine.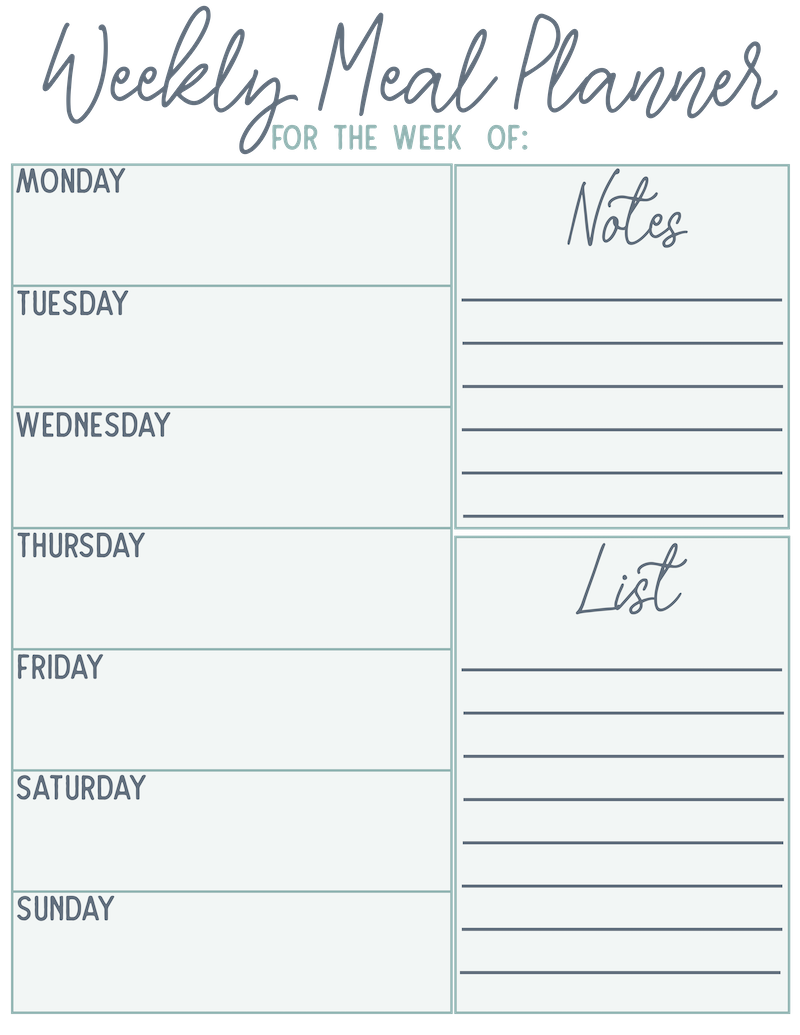 I'm a huge fan of technology but sometimes I just like to go back to the basics and get out my pen and paper. There's just something so magical about writing down a list and then being able to cross out items I've completed.
Who else loves to cross out the to-dos?
The same is true for me when it comes to meal planning. I love being able to have a plan as I embark on a new week. Between working from home and homeschooling my three children, if I don't plan accordingly, dinner time can end up being a disaster.
I don't know about you, but I like to avoid disasters at all costs.
Printables are a great way for busy parents to stay organized. If it wasn't for my lists and printables, I'm not even sure I would know how to function. They help keep me organized, on task, and on time.
If your life is a bit of a chaotic mess right now, try implementing some printables or lists in your day to day routine to see if it helps get you back on track. Adding these to my life helped me out in such an incredible way.
Weekly Meal Planner Printable
I can't even count how many times my kids have come up to me at 5 o'clock in the evening asking "what's for dinner" and the thought of dinner hadn't even crossed my mind. With a weekly meal planner printable, that won't happen. Not only will you be less stressed about dinner, your kids will know exactly what to expect for dinner each night.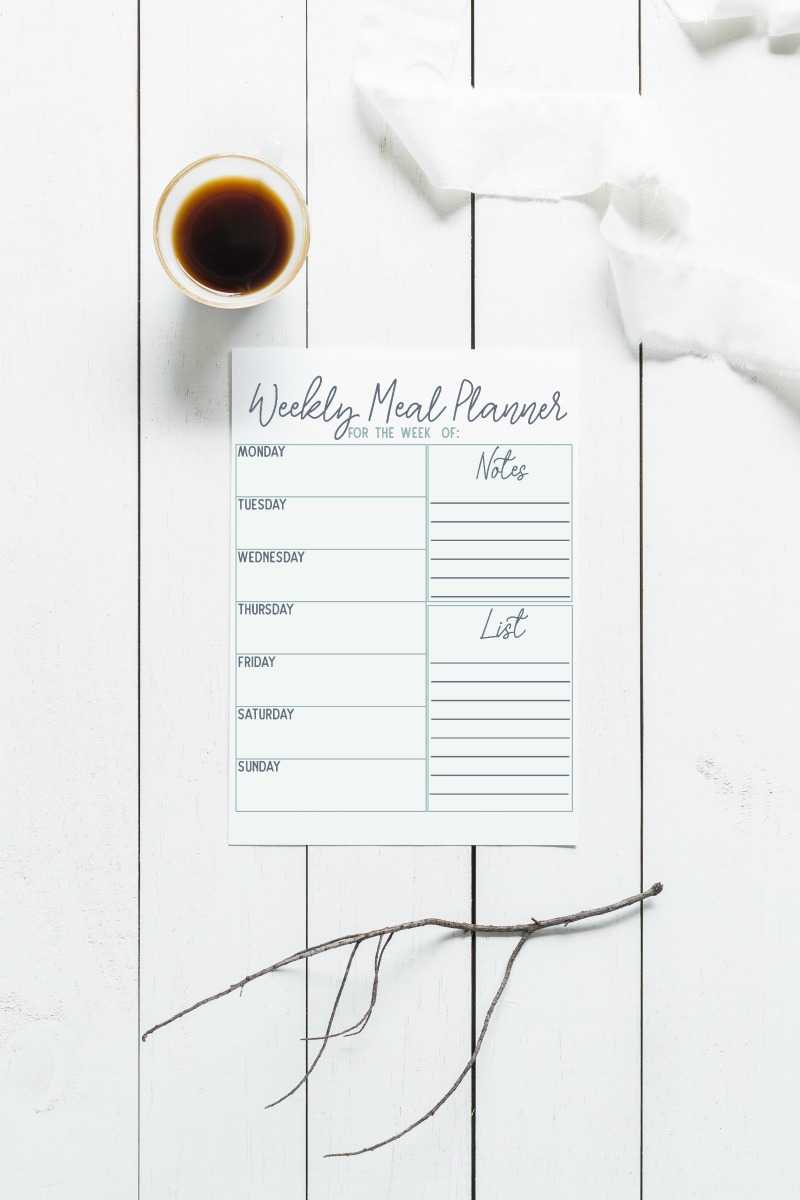 If your children are a bit older like mine are, a weekly meal planner printable will help them know how to help you get dinner on the table. My children are 11 and older so they are pretty proficient in the kitchen. By knowing what's for dinner, they can easily start prepping and getting dinner ready themselves, if needed.
I'm a big proponent of teaching kids to cook. My children know that I'm not their maid or their personal chef. We live together as a family and we all help out as a family. It works out really well for us. Hopefully their future spouses will appreciate it.
How to Use a Weekly Meal Planner
Using a printable weekly meal planner is not only for my sanity, but it's a great way to keep the kitchen running smoothly during the dinner time rush.
When I created this printable meal planner, I included spots for meals, notes, and shopping list. All of these are essential in our kitchen so hopefully it translates well into how you run your kitchen.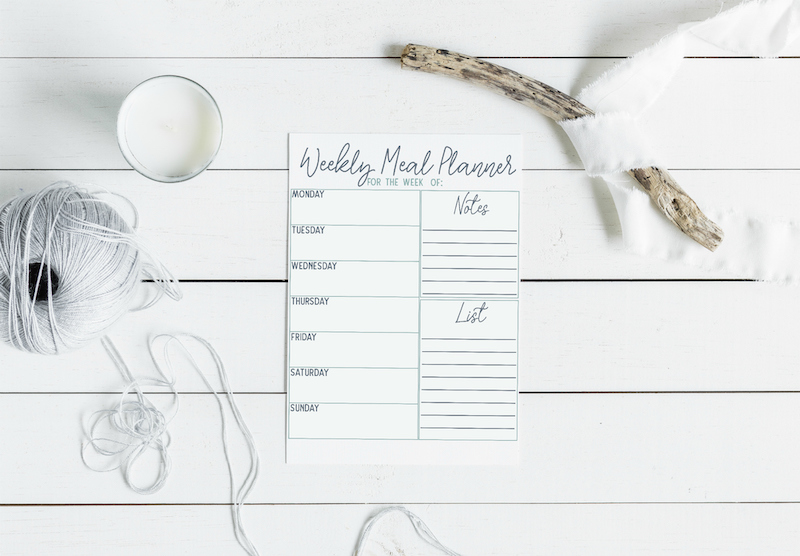 I use the days of the week boxes to write down the meals we have planned out for the week. We can all look at what's planned and respond accordingly. This helps us know what meats we need to get out of the freezer to thaw. I hate getting ready to cook dinner only to find my meat is still frozen in the freezer.
I use the notes section mainly for my children. In this section I let them know any specific tasks that need to be completed before we can begin making dinner. For example, if a recipe calls for chopped onions, I'll let them know to chop an onion. If it's a recipe they are familiar with, I may have them cook the entire dinner.
In the list section of the weekly meal planner I write down any ingredients that we need to pick up from the grocery store. This helps me know exactly what I need when my husband calls me on his way home from work to see if he needs to pick up something on his way.
Can I Laminate the Weekly Meal Planner Printable?
Yes, you absolutely can. I think that is such a great idea. Not only does it save money on ink and wear and tear on the printer, it's just more eco-friendly to laminate it.
When it comes to laminating my printables, I use this laminator. I'm such a huge fan of laminating things that I can use time after time. This is the one I have and I love it. It's not super expensive but it works like it is. It has come in handy in the homeschool room as well as other areas of the house. If you don't have a laminator, I highly recommend getting one.
Where Do You Get Recipes for Your Meal Planner?
This really varies so much for me but I do have some tried and true favorites.
When it comes to filling out the weekly meal planner printable, I always take a look in my pantry, freezer and the local grocery store ads. I'm not trying to go broke feeding my family of five so I try to use what's on sale and what I already have on hand. I also scan my Ibotta app to see if there are any rebates that I can take advantage of.
Pinterest is also a great option when it comes to finding new recipes to try. If there is a particular cut of meat on sale that I'm not sure how to cook, I'll search Pinterest to get some ideas.
Family favorites are always a good option for the weekly meal planner. If there are meals that are tried and true family favorites, sprinkle them in your weekly meal plans. My kids always love to see these appear on the weekly meal planner.
Need more printables in your life? Check out these:
Don't forget to pin this Weekly Meal Planner to your favorite Printables or Meal Planning boards on Pinterest.