I've recently joined the Johnsonville Kitchens Community Blogger Panel and was welcomed into the program with a lovely array of products to create an original recipe. My first recipe is this Italian Sausage Rigatoni in Tomato Basil Sauce with Peppers and Kale.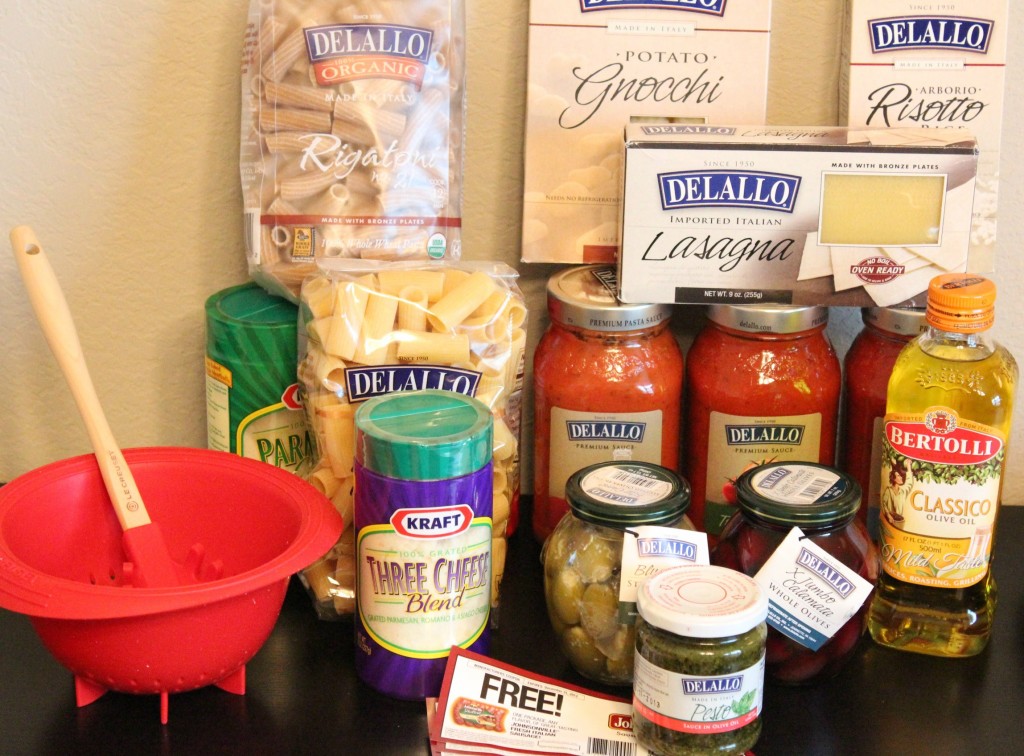 When I opened this package, my taste buds immediately perked up and my mind started racing with possible recipes. In the end, I decided to create a dish that would be hearty and tasty and appeal to each family member.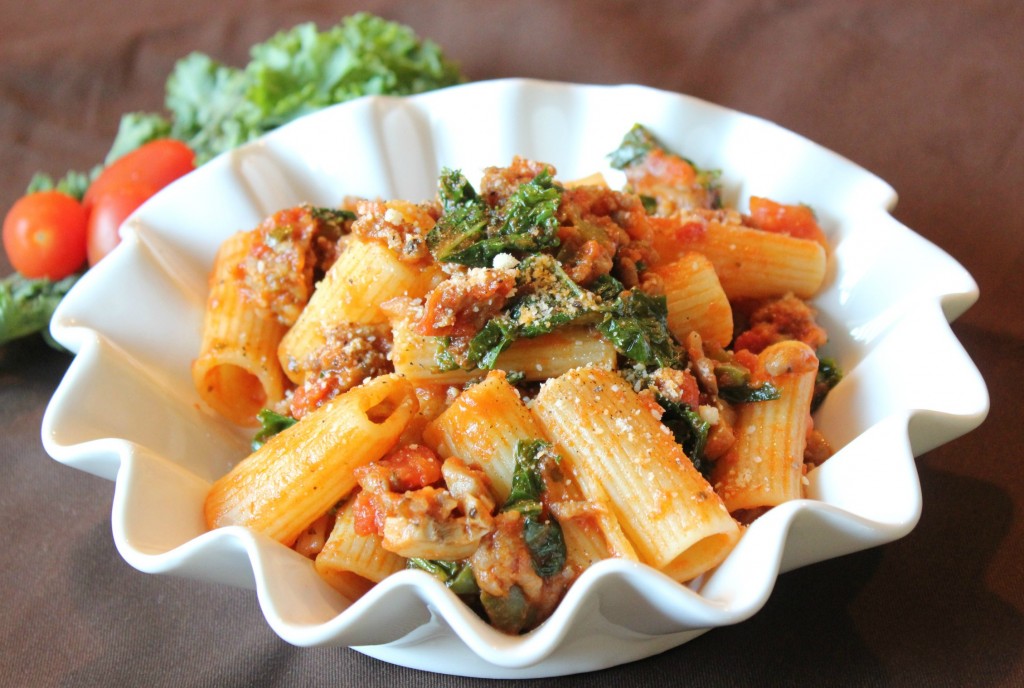 For those who would like to know what went into my Italian Sausage Rigatoni in Tomato Basil Sauce with Peppers and Kale, check out the recipe further down the post.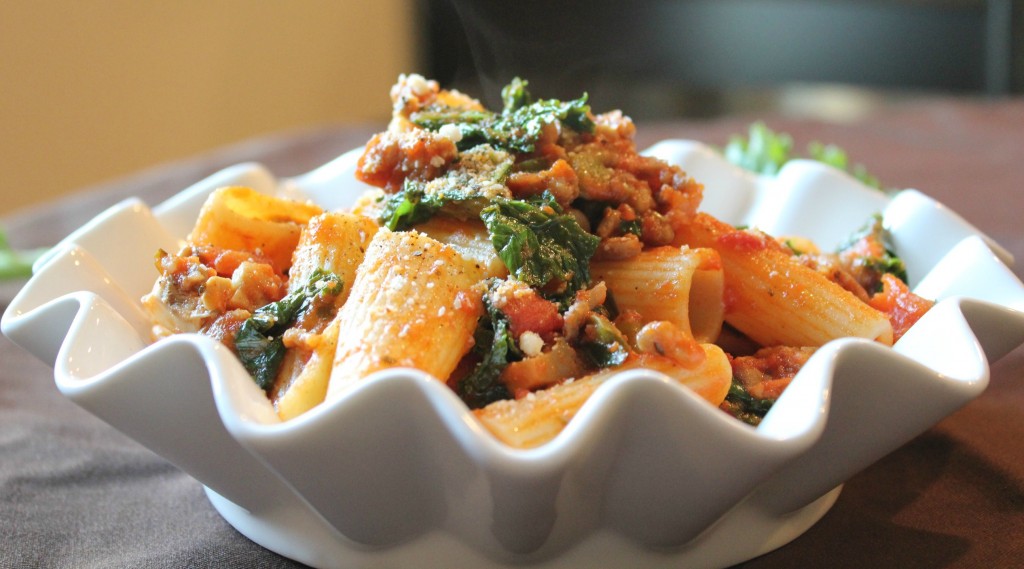 The flavors were rich and although the rigatoni looks like the star of this dish, the Johnsonville Italian Sausage is the star in this one. Make sure to pick up the ground sausage if your store carries it. It will save you the time from getting the meat out of the casings.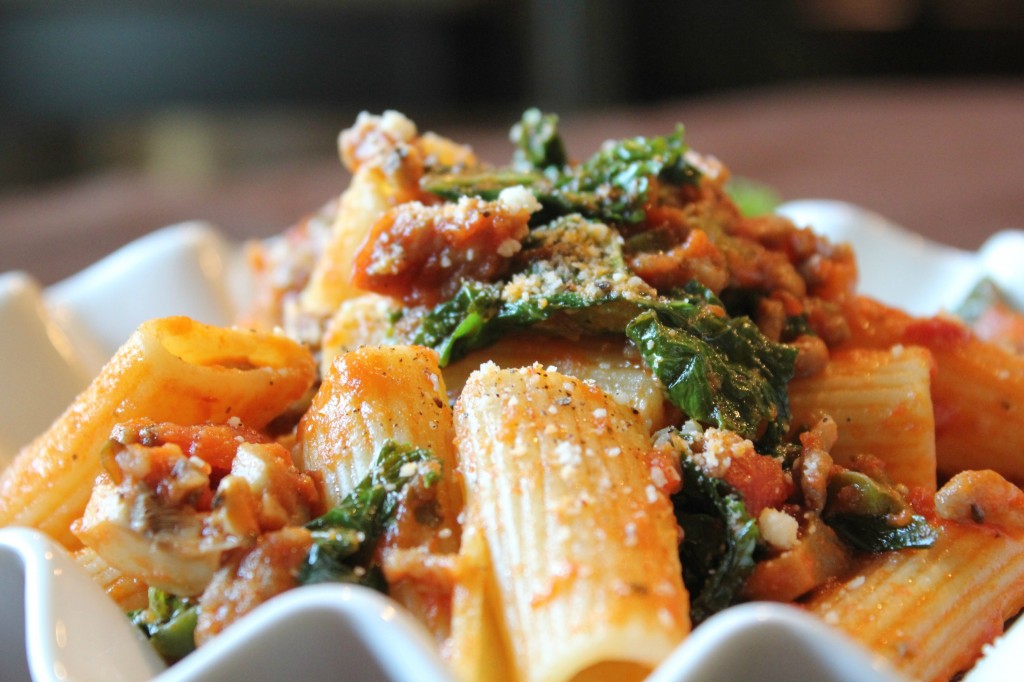 Look at all that yummy goodness, all up close and personal! Total deliciousness.
Italian Pasta Recipe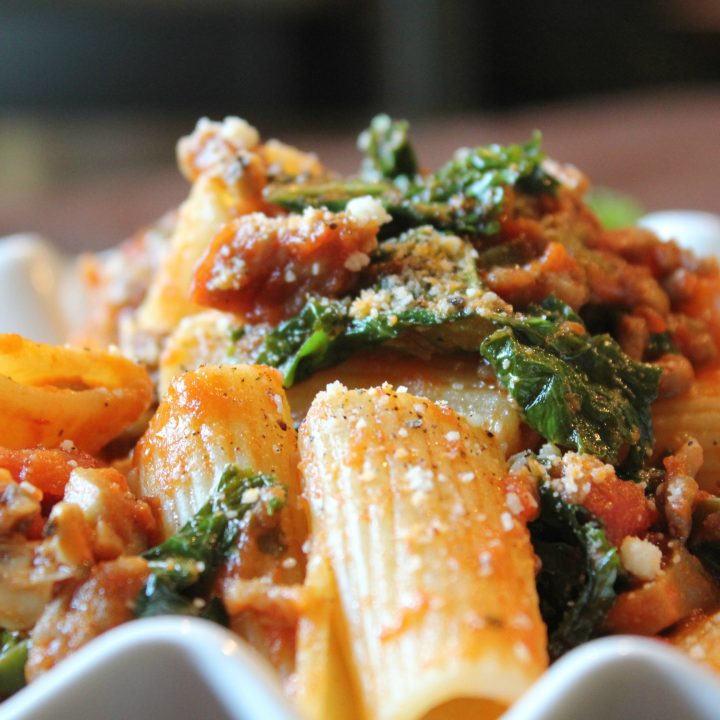 Italian Sausage Rigatoni in Tomato Basil Sauce with Peppers and Kale
Yield: 6

Prep Time: 5 minutes

Cook Time: 25 minutes

Total Time: 30 minutes

Use Italian Sausage in this recipe for incredible flavor.
Ingredients
1 pound ground Johnsonville Mild Italian Sausage
1 green bell pepper, diced
1/2 white onion, diced
1 tablespoon olive oil
1 tablespoon salt
1 can (4 oz) sliced mushrooms
leaves from 5 stalks of kale
1 pound Rigatoni, uncooked
1 jar (26 oz) Tomato Basil Sauce
1 tablespoon Parmesan Cheese (plus some for serving)
Instructions
Heat olive oil in large skillet on medium; add diced bell pepper and diced onion. Cook for about 5 minutes. Add sausage and cook until no longer pink. Drain if there is too much excess grease. You do want to leave just a little to coat the mushrooms and kale when they are added.
In a separate pot, add salt to water once it has reached a warm temperature and cook pasta as directed on the package.
Add mushrooms, kale and tomato sauce to sausage mixture and cover for about 5 minutes or until kale is soft and no longer bitter.
Combine meat mixture and Parmesan cheese to the pasta and combine being careful not to damage noodles. I recommend using a rounded utensil or serving spoon.
Nutrition Information:
Yield: 6 Serving Size: 1
Amount Per Serving: Calories: 430Total Fat: 24gSaturated Fat: 8gTrans Fat: 0gUnsaturated Fat: 18gCholesterol: 44mgSodium: 1739mgCarbohydrates: 32gFiber: 3gSugar: 4gProtein: 20g

More pasta recipes for you to enjoy:
If you can't make this wonderful Italian dish now, go ahead and save it to your favorite board on Pinterest to make at a later date.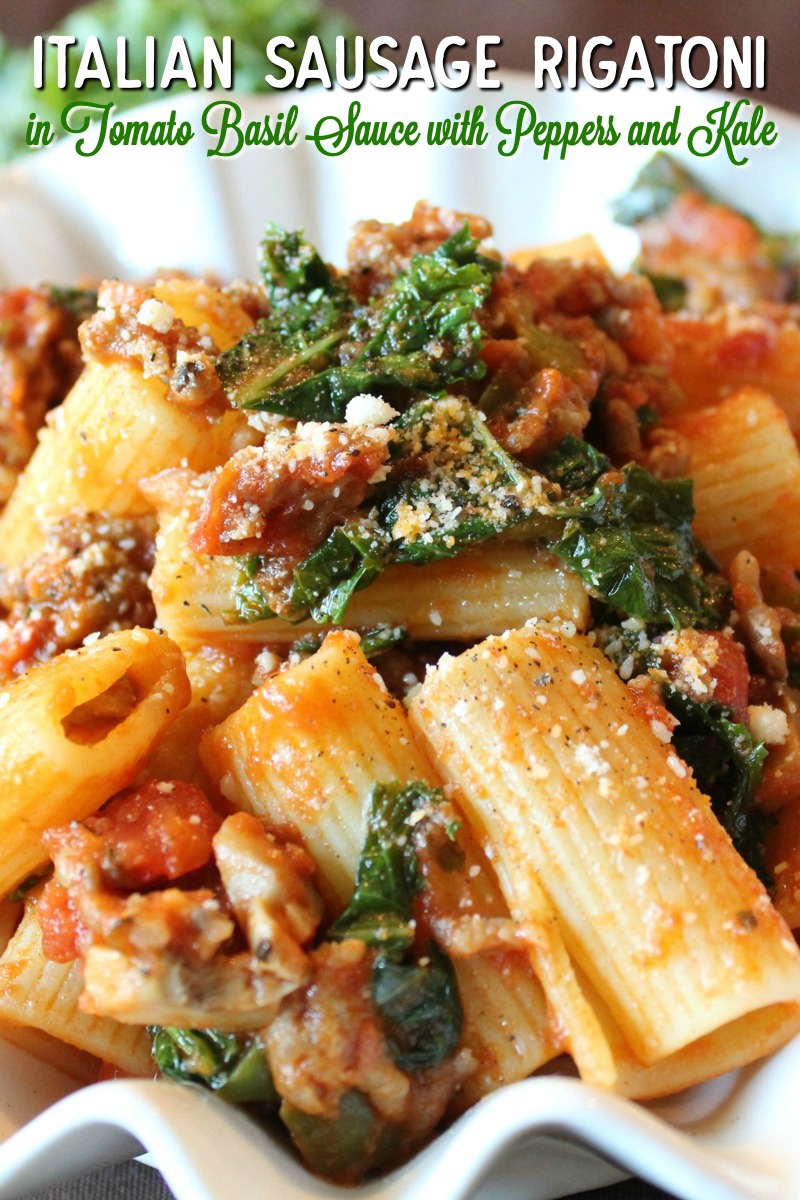 Thanks to Johnsonville for sending me the goodies to make this recipe.