The busy holiday season is quickly approaching and we're kicking off the celebrations with Halloween. I love decorating for Halloween but I hate spending a ton of money on my decorations so I usually just make my own. This Halloween I'm focusing on spiders, and I made this Painted Spider Vase to hold some seasonal decorations!
Didn't it turn out so cute?
This is a sponsored post. As always, all opinions are mine alone.

I already had almost everything at home to make this Painted Spider Vase. The only thing I needed to purchase was the glass bottle. I bought a box of the SKS Clear Glass Beverage Bottles w/ White Metal Plastisol Lined Lug Caps and used one of the bottles as my vase.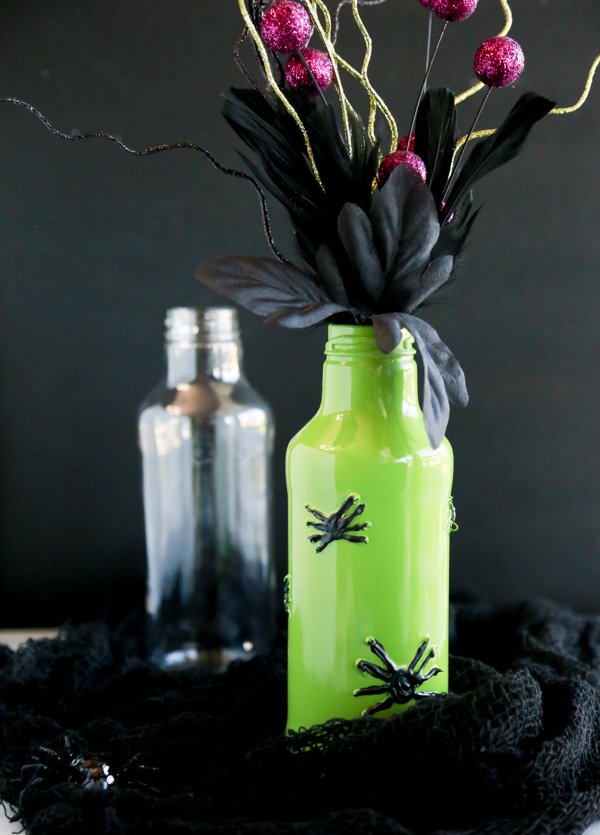 The bonus part of buying an entire box of those beverage bottles is now I can make DIY vases for every occasion! Click the photo above to buy your own.
Painted Spider Vase for Halloween
Materials:
marker
hot glue gun
hot glue sticks
spray paint (color of your choice)
black paint
small paintbrush
seasonal stems
How to Make a Painted Spider Vase

Using your marker, draw spiders on your clear glass beverage bottle. I drew and colored in a circle, and then drew 4 lines on each side of the circle to make a drawing that somewhat resembled a spider.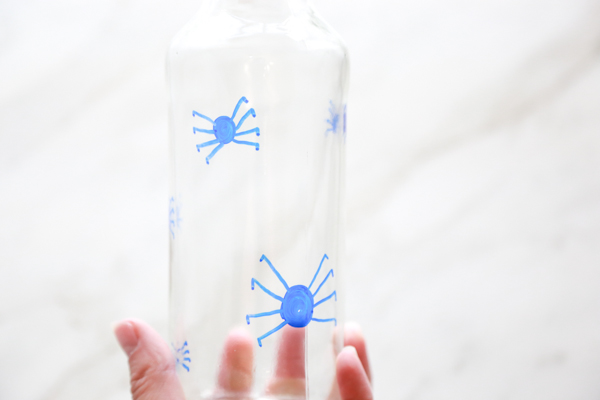 Then take your hot glue gun with a hot glue stick and trace over the spider drawings. I started by filling in the circle with the hot glue and then traced over the "legs". The hot glue dries almost immediately, so remove any extra glue strings you might have made.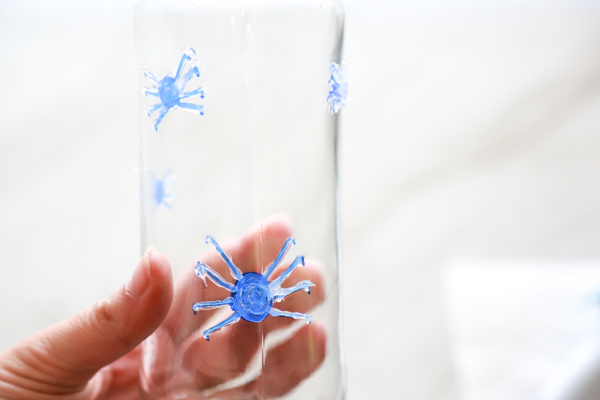 In a well ventilated area, spray the bottle with spray paint. I like using a cardboard box when I spray paint to keep the overspray contained. When spray painting, I've found that several light coats works better than heavy coats. With heavy coats you're more likely to get paint drips and well, you don't want those on your pretty little Painted Spider Vase.
After the spray paint is dry, use a very small paintbrush and carefully paint over the raised spider with the black paint. Allow the paint to dry. Once the paint has dried, fill the Painted Spider Vase with spooky stems and display!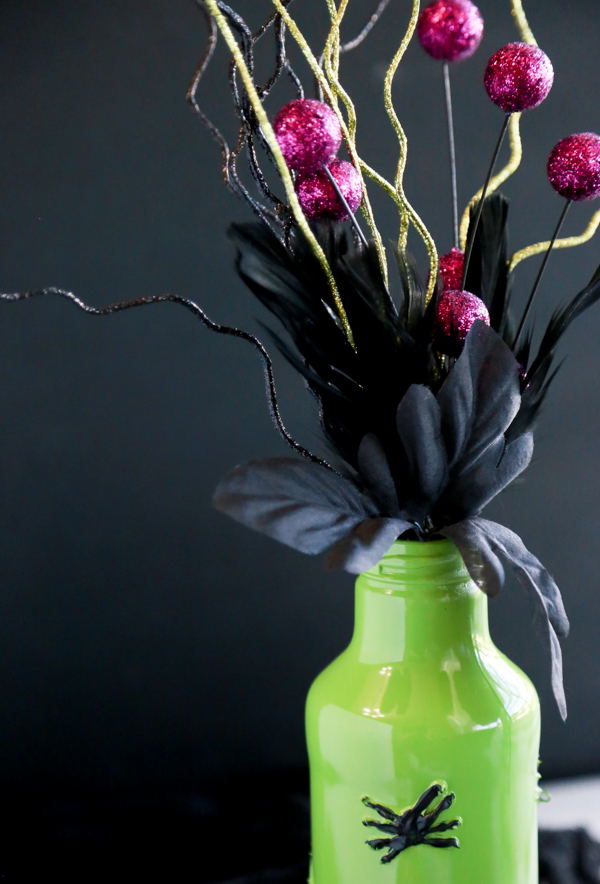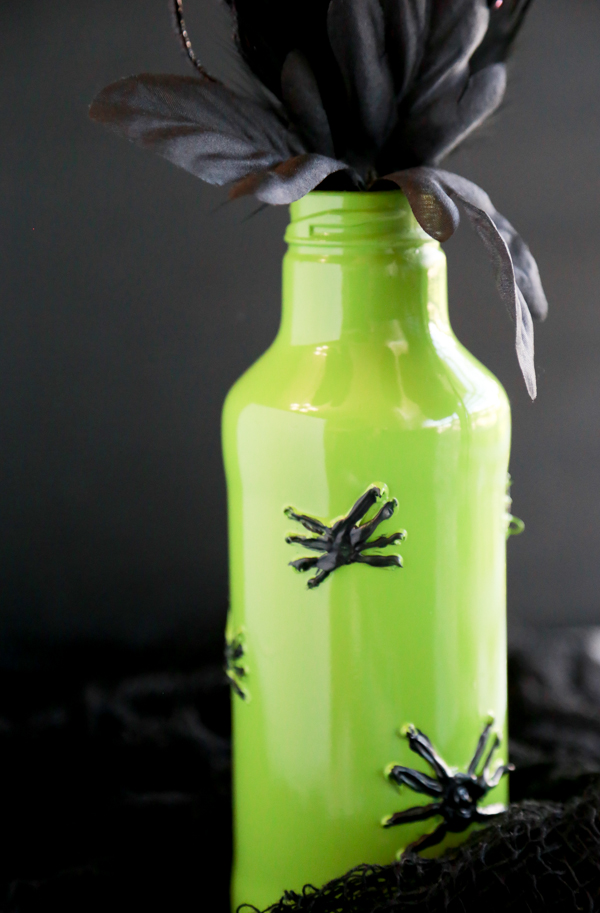 I know it may seem a little strange that I used a bottle to make the Painted Spider Vase, but I like the way looks. I think since it isn't a traditional vase, it gives it a bit of character.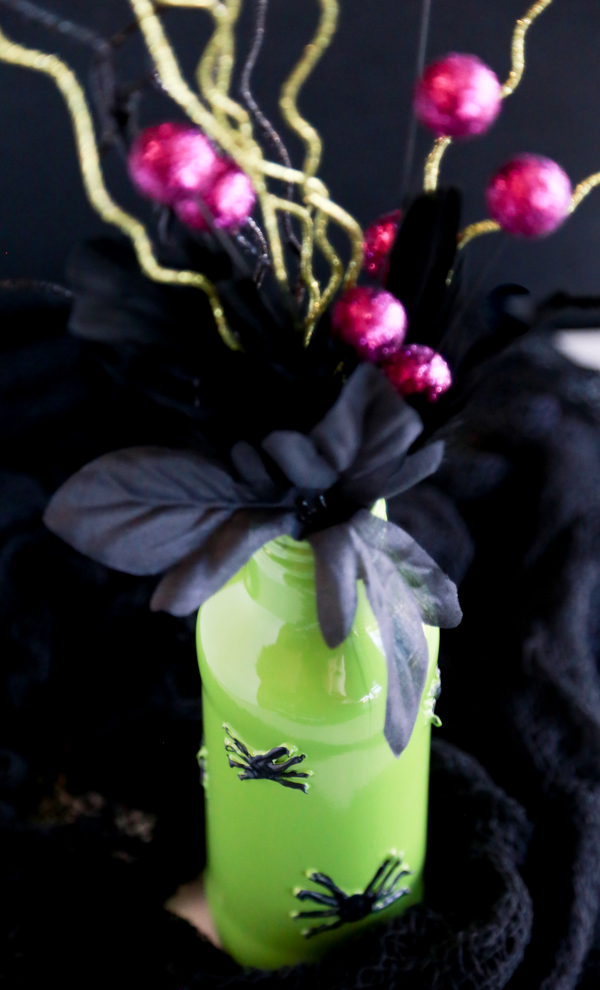 These clear glass tall beverage bottles come with plastisol lined white metal lug caps which also make them great for housing gourmet sauces, dressings, drinks and more. They're also great for juicing. I love to pour the finished juice in one – it always looks so bright and colorful.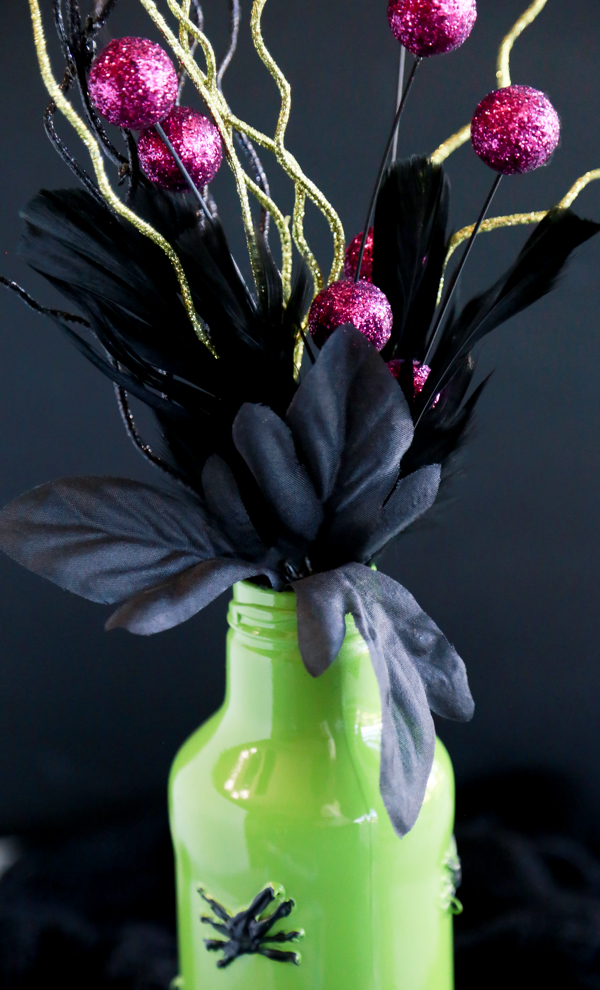 Need more Halloween in your life? Check out these posts:
Don't forget to pin this Painted Spider Vase to your favorite Halloween board on Pinterest.