All things bread have a pretty special place in my heart. I can say no to a lot of things, but bread isn't one. But I'm okay with that. It's not a problem to really like bready, doughy things, right? I mean, look at these Easy Garlic Parmesan Knots, y'all. This right here makes my little heart happy.

What I really like about this Easy Garlic Parmesan Knots recipe is that it's fool-proof. You really can't get this one wrong. In about 20 minutes, you can have delicious, buttery, garlicy knots ready to serve.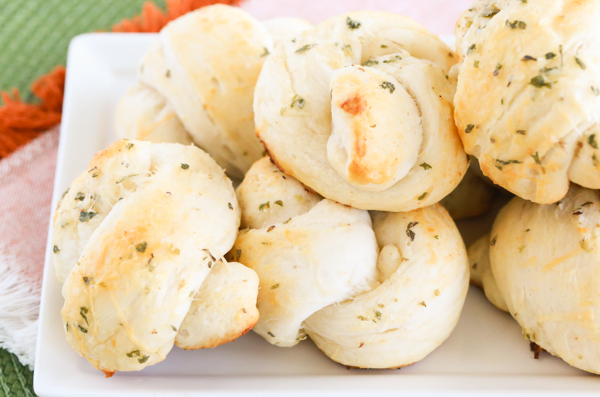 I'm down for that! What about you?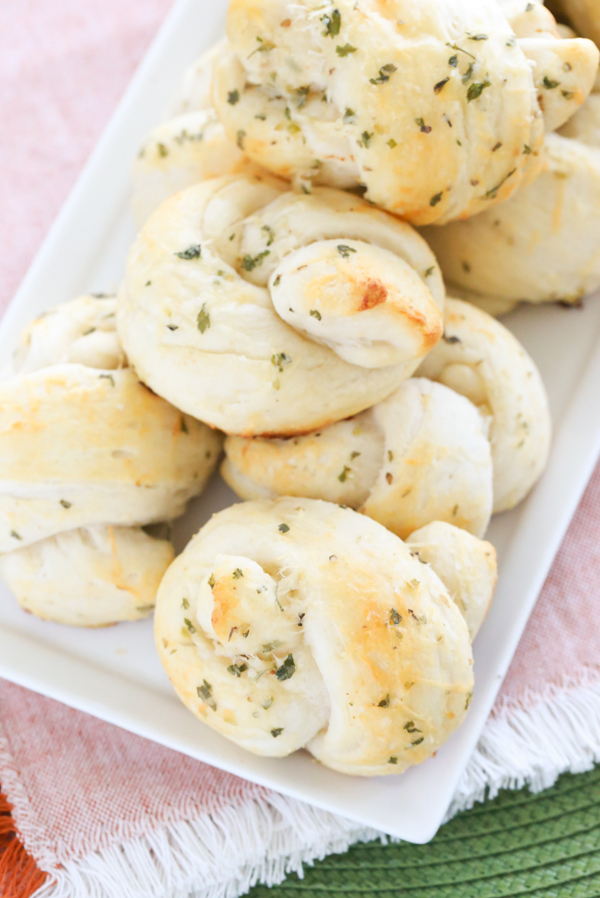 Now lets get to the good part – the recipe!

Easy Garlic Parmesan Knots

Easy Garlic Parmesan Knots Using Refrigerated Biscuits
Yield: 16

Prep Time: 10 minutes

Cook Time: 10 minutes

Total Time: 20 minutes

You can't go wrong with these buttery, delicious garlic knots using refrigerated biscuits.
Ingredients
1/4 cup (1/2 stick) unsalted butter, melted
1 tablespoon freshly grated Parmesan
1 teaspoon garlic powder
1/2 teaspoon dried parsley
1/2 teaspoon dried oregano
1/4 teaspoon salt
1 tube (16 oz) refrigerated buttermilk biscuits
Instructions
Preheat oven to 400° F. Spray a baking sheet lightly with nonstick cooking spray. Set aside.
In a small bowl, whisk together butter, Parmesan, garlic powder, parsley, oregano, and salt. Set aside.
Take the biscuits from the tube and cut each one in half making 16 pieces. Roll each piece into about a 5 inch piece and tie into a knot, tucking the ends. Place knots on prepared baking sheet and brush each knot with about half of the butter mixture. Place baking sheet into the oven and cook for 8-10 minutes, or until they're golden brown.
Remove from oven and brush with remaining butter. Serve immediately.
It doesn't get any easier than this! There is absolutely no reason you shouldn't be able to make these. Even if you boil water, you should be able to whip up a batch of these Easy Garlic Parmesan Knots in no time.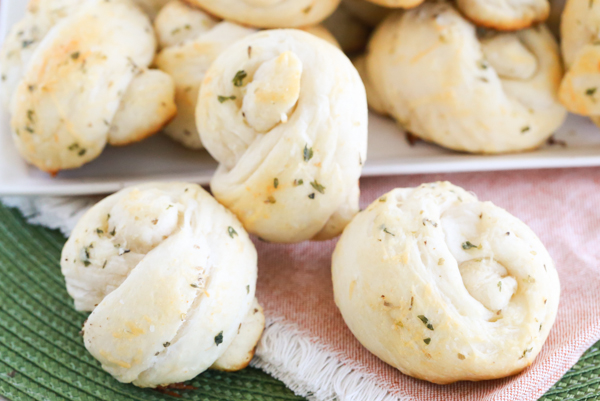 I love the way these little morsels of buttery, garlicy goodness melt in your mouth. Every single time I make these, the entire batch of 16 is gone in under 10 minutes, y'all. There are 5 of us, but still. ALL 16 GONE! Every. Single. Time.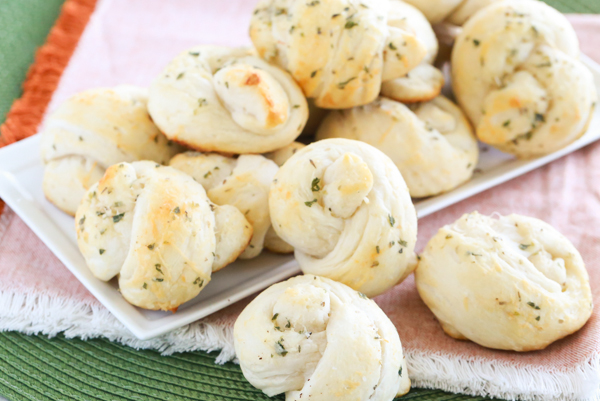 It's pretty hard not to inhale the entire batch as soon as they come out of the oven. But don't take my word for it. Try these Easy Garlic Parmesan Knots and let me know what you think.
---
Before you begin making these, here are some items that will come in handy in the kitchen and make preparation and serving easier.
Silicone Basting Brush SetGet it now!
Mini Grip-EZ Slim GraterGet it now!
Porcelain Serving PlattersGet it now!
---
If you're looking for some more doughy goodness, check out these Easy Cheesy Garlic Pull Apart Biscuits!